Amara La Negra Addresses Safaree Dating Rumors; 'We're Testing the Waters'
The "Love & Hip Hop" star talks dating while raising twin girls and what she's looking for in a partner.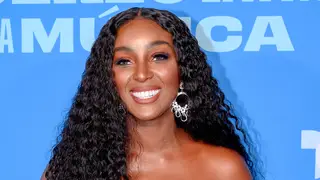 When Amara La Negra joined the cast of "Love & Hip Hop: Miami," she instantly became a breakout star. The stunning beauty with glistening brown skin had her storyline centered around her life experiences as an Afro-Latina woman and her music career.
Currently, La Negra's attention has been building a real estate career and raising the twin girls she gave birth to in 2022. The singer and Allan Mueses, the twins' father, had a short-lived relationship. She is raising her girls while caring for her mother, with whom she has an extremely close relationship. However, she is also active on Chispa, a new dating app for Latin singles.
BET.com recently caught up with the 32-year-old about "Love & Hip Hop: Miami" and what's new in her life.
BET.com: How is filming going?
Amara La Negra: Filming has been great—we've been shooting a lot. And obviously, it has its ups and downs. It's crazy because there are a lot of things that I wouldn't want to share about my life. But then, at the same time, I think it's a beautiful thing to be vulnerable and open and have people follow my journey.
BET.com: Speaking of your journey, you recently joined Chispa. I'm sure that guys must be surprised to see you on the app.
Amara La Negra: I'm so busy filming, working, and being a single mom of twin girls, and I have my real estate business. I have so many things that I'm juggling and handling all at the same time, going out to lounges and clubs and all these other places to meet people; it's not the easiest thing for me. So Chispa is a great way to swipe right/swipe left and find the right people you connect with locally.
BET.com: The app is for Latin singles; as a Dominican woman, is connecting with somebody of a similar heritage important to you?
Amara La Negra: Many people born and raised in the United States come from a Latino background, which is nice. I'm very open-minded to whatever God has planned for me. But I enjoy being able to date someone culturally that I am on the same frequency [with], and we understand each other. I'm really big into culture—even if it's not another Dominican. Colombian, Venezuelan, Honduran, it doesn't matter. I like to be able to enjoy the cultural aspects of our heritage.
BET.com: How are your girls?
Amara La Negra: I'm so in love with them. They are beautiful and charismatic. I love that as an only child, I now get to live the experience of sisterhood through them and the love and bond they have for each other. I think that everybody knows that my mom and I have always been very close. But now, having my daughters has made us even closer. Now more than ever, I understand the meaning of family and unity.
BET.com: There must be so many great moments and challenging ones too.
Amara La Negra: I didn't necessarily choose to be a single mother, but I didn't have much choice. I will never let my girls down. That causes me to have to work even harder, you know, not twice as hard, but three times as hard.
I always make sure that my girls are well taken care of. And no matter how much I work, they're still on my mind. I don't get much sleep because when one wakes up at 3:30, and I feed her and change her diaper and put her back to sleep, the other one wakes up at 4:30. It's hard, but I'm still trying to enjoy the journey and enjoy the process because they grow up so fast.
BET.com: What's it like dating as a single mom?
Amara La Negra: Even before I had the girls, I was focused on generational wealth. I wanted to ensure that I could give them a good life and provide for them. Because of that, my dating life has changed a lot. I'm no longer just dating for looks or fun; I'm only interested in someone mature, ambitious, goal-oriented, with good morals and principles. Someone with morals and values is more important to me now [more] than ever—because it's not just about me anymore, it's about my girls. That's one of the reasons why I joined Chispa.
BET.com: Guys on the app must be surprised when they click your picture or talk to you.
Amara La Negra: Many people don't believe that it is me. They're like, 'Oh, this must be a scam.' But, believe it or not, some of the prettiest, wealthiest, most educated, and financially stable women are still trying to figure it out and are still trying to find someone that makes sense. I respect everybody's way of dating, but I want commitment; I want something solid with a foundation and structure.
BET.com: The fans would kill me if I didn't ask about the nature of your relationship with Safaree.
Amara La Negra: Safaree and I have always been friends. We went through our ups and downs at one point, but we've always been friends. And it was the people, the fans, that brought us together. Everybody kept saying that we were dating and should be together, then we were like, you know, why not? Let's try. Let's just date.
So we're currently dating; we're testing the waters. We're not in a solid or exclusive relationship. We're in the process of hanging out, getting to know each other, spending a lot of time with each other. But why not date a good friend?
I also think that right now, even though a lot of people won't believe it, I've been celibate since I ended my relationship with the father of my children. I don't want my next relationship to be based on sex. For all the people that are sexually open and free and do as they please, I love and respect them, but this is just my personal experience. I want to date and get to know someone well before I exchange physical energies.
On the new season of "Love & Hip Hop Miami," Amara's next storyline will focus on her dating life, raising her daughters, and growing her business ventures.
The premiere date for the new season has yet to be announced.
Editor's note: This interview was edited and condensed for clarity.