Everything You Want To Know About Ed Quinn – From The Cast Of Tyler Perry's 'The Oval'
He explains why this role taught him that you have to be careful what you wish for.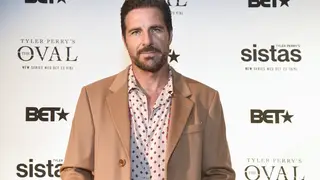 Tyler Perry's The Oval perfectly walks the line of scandal and family, and its leading man Ed Quinn is at the center of it all. Quinn plays newly elected president of the United States Hunter Franklin who has met his match in his wife and First Lady Victoria Franklin (Kron Moore), who hails from a powerful family.
Quinn is no stranger to Hollywood, having been acting for more than 30 years. He's appeared in more than 50 television shows, including NCIS: New Orleans, One Day at a Time, and Mistresses to name a few. We chatted with Ed Quinn to learn a bit more about him, his background and why this role taught him that you have to be careful what you wish for.
How did you find out you booked the role of Hunter Franklin in The Oval?

Tyler hasn't told me yet how he chose me, but I went in to read with Raven [Drummer] and immediately, she left the room and came back and we read another scene and then she just looked at me and said, 'Are you available?" and I said, 'Yeah.' And then she said, 'OK,' and I got in my truck and the phone rang and it was from a Georgia number and it was Tyler Perry, and we started a conversation. He has a certain way he likes to work — he likes to work very fast. He likes to go at sort of a blazing speed and he wanted me to talk to John Snider from The Haves and the Have Nots and just get an idea of what I was getting myself into, but the more he talked to me, instead of scaring me off, it was more of a challenge. So, next thing you know, we were making a TV show.

Your character has quite the scandalous life immediately entering the White House. What about this salacious character attracted you to the role most?

I think this is for the entire First Family. We're all feeling a little trapped, but there's been this inertia, this momentum — the quest to get to the White House and the damage is done to each of us individually, to Victoria and my marriage, to our children, it is unfathomable. And the way that Hunter sort of acts out and has this kind of crazy other life, it's more of a rebellion or a pressure release. You know? You've got to be careful what you wish for, and I think everyone was so focused on the White House. Now that they're there, what are the ramifications?

While the show, thus far, has not outwardly addressed the progressive optics of the Franklins being an interracial couple, this is a topic that is being celebrated after the show's premiere. How does it feel to be a part of TV history in this sense?

I'm so proud to be a part of it and I'm really proud of the fact that Tyler doesn't put a bell on it. It's never really addressed. It's like, in Tyler's world, it should just be, and although the optics of it are definitely something to be celebrated, what's nice is that the whole story doesn't revolve around them being an interracial couple. They are a couple and they are a power couple and the craziness that takes place in the White House and the upstairs and downstairs and all. But I think we all want to live in a world where an interracial couple in the White House is normal. It's ordinary. Race doesn't matter and I do like that.

The show opened with a pretty physical scene between you and your on-screen spouse, played by Kron Moore. How was it filming this and how'd you prepare?

That was actually the hardest scene for me of the entire season. We shot it once and it wasn't right — Tyler didn't like it. So we had to reshoot it and he wanted it to be such a crazy, over-the-top spectacle. I once did kind of a crazy scene on CSI: New York. I went from being the love interest to… a bag of bones, and I really did not enjoy filming that scene and being violent… And so, I swore I'd never do it again and then Tyler comes calling for this scene and so when we reshot it, it was pretty crazy, but I'll tell you the one funny thing was, as we changed my wardrobe to get my wardrobe right, all of a sudden, my stunt double wasn't matching very well. So stunts ran Kron and I through it all and Kron and I did it and then Tyler looked at me and goes, 'Are you OK with the stunts?' I didn't really know what he meant by that in the moment, and all of a sudden, I had to get in and do the scene with Damita Jane [stunt double], and she is the sweetest thing on the planet off-screen, but she just looked at me and went, 'Sorry.' You know, actors are always like, 'Oh, I want to do my own stunts.' Yeah, they let the actors do their own stunts and then they send them home and the stunt people do them, because the stunt people are a whole different level of badass. The first person who ran the set when we went through it was Tyler and he was like, 'Are you OK?' I'm lying on the floor like, 'I need an ice pack and some Advil.' So one of the reasons that scene is so crazy is it's me with a real stunt woman and I got my ass whooped.

Are there any standout similarities or differences between you and your character?

I think there's a child-like aspect to Hunter. Wanting to have a good time and kind of have fun. That gets squashed all the time because he finds himself being the president. But there's a dark side of him and a realization that the people that got him to the White House, now he has to deal with [them], and I would never make that deal with the devil that he has made.

How would you describe the essence of your character in three words?

Can't control him. And that's, as I was saying, the fun part of him, the kind of playboy aspect of him. But, as we'll see, you'll see through the series that Kron's parents are the ones with the power and they're really the ones that got us to the White House, and what you'll see in season one is Hunter doesn't like it and so he wants to clip the ties with them and that's a scary proposition because they are terrifying human beings. So it becomes pretty serious, but that's Hunter's nature: can't control him. And even the people who put him in the White House know he's going to figure a way out.

Tyler Perry's The Oval airs Wednesdays at 9:00 p.m. ET on BET.