Yung Joc & Kendra Robinson Celebrated The New Year In Their 'Dream Home'—Here's How The Lovebirds Plan To Start Fresh In 2023!
The married couple chatted with BET Lifestyle about their love language, rebuilding trust in their relationship, and more.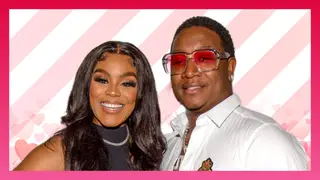 Yung Joc (born Jasiel Amon Robinson) and his wife Kendra Robinson celebrated the new year in their "dream home."
The stars of Love & Hip-Hop Atlanta recently purchased a new home together and seemed to be in good spirits as they chatted with us about their future plans as a married couple, which includes "spring cleaning" their relationship by leaving the past in the past.
"Jasiel and I are intentionally sifting through what we allow into our lives and into our space. When it comes to our marriage, we filter that by sticking with God and praying a lot—both together and individually," Kendra shared with BET Lifestyle exclusively.
"My husband and I have God present in the middle of our marriage."
She continued, "My husband and I have God present in the middle of our marriage and we use Him kind of like the fertilizer to grow our union. That's what we've been trying to do. I think that has been helping a lot."
Keep scrolling to read our interview with the lovebirds!
BET.com: How did you celebrate the new year as a couple?
Kendra: We recently bought our dream house, so we celebrated the new year in our new home. It was amazing!
BET: Congratulations on achieving your big milestone as a couple! How are you both building a stronger relationship in 2023?
Yung Joc: We've taken more time to get to know each other. I feel like in a relationship, you are always learning new things about your partner because you are both always evolving.
BET: How are you restoring trust in your relationship?
Joc: I feel like building trust with people takes time. Set small goals, so that person can trust you. Show them through your words that it means something, and that you're not just pacifying the situation.
Kendra: I agree with what my husband said. I'm also allowing time to take its course. I think Joc is trustworthy. That's why I both agreed to marry him and also made the decision to continue to be married to him.
I'm just allowing time to do what it does, which is pass. I'm soaking up the benefit of time as it passes because as you go, things get better and easier.
In addition, Jasiel is being intentional. He continues to prove to me that he is trustworthy and that I can trust him. He's shown me that I don't have to worry about anything other than taking care of our house, my health, and getting money.
I'm relying on my faith in God. God continues to work on us and keep his hands on us.
BET: Trust definitely builds with time. What have you both learned from your couples counseling sessions with your Pastor?
Kendra: Communication is key. You have to both communicate and listen with the proper spirit. Not necessarily listening to the crime, but listening to understand where your better half is coming from. I've also learned the importance of accountability.
The pastor is awesome. He's helped us a lot, and he's going to continue to help us.
Joc: I learned that when I'm approaching anything involving my marriage, I have to always keep my wife's heart in my mind. One of the things that I've learned to do is think things out before I come to her with anything. That way there won't be any anxiety.
BET: How do you read the love language of your partner?
Kendra: I think that Jaisel's love languages are words of affirmation, physical touch, and receiving gifts.
Joc: Kendra is an attorney, so she's a person who appreciates the beginning, the middle, and the end of my intentions when it comes to her—that's her love language.
BET: What do you love most about your partner?
Joc: I just love the fact that Kendra's serious about her relationships and with people in general.
Kendra: I love Jasiel's natural desire to be a provider and the way he loves.
BET: What advice do you have for couples who may face trials in their relationship?
Kendra: I guess what I'll say is be true to yourself. Don't ever lie to yourself about what you're feeling, how you're feeling, and why you're feeling it. And always make sure that you're expressive with that. I think that bottling up how you feel or downplaying an emotion just to save face for the next person or their situation, is just a bad idea. 
I think you should just be vocal, say what's on your heart, say what's on your mind, but also have a fertile enough soul or spirit to be corrected when you need to be corrected, and make whatever proper changes you need to make for the betterment of your relationship. If you need to sacrifice, you just have to be able to do that.
Joc: Every relationship is going to have some differences. That's just a part of life. In nature, seasons change. You have to change with the seasons as well. Relationships are very similar to the weather. You have to know that the seasons are gonna change. Cloudy days are gonna come and they're gonna go. You just have to process it all accordingly.
Sometimes you have to allow the natural occurrences of life to take place in a relationship. Take it in, get through it, and continue to love the person that you're loving on.
BET: What three attributes do you want more of from your partner in the new year? What can we expect from your relationship in 2023?
Joc: More laughter, and that comes through the concept of having trust. Trust is very, very, very important. So definitely more trust, more laughter, and more fun.
Kendra: Like Jasiel said, I want us to laugh more, have more time to spend together, and have more time just completely to ourselves because we really haven't had that since we've been married. That's just what I anticipate and hope can manifest itself within the next year.
Editor's Note: This story has been edited and condensed for clarity.