Diddy Posts Heartfelt Video Tribute To Mentor Andre Harrell, Anointing Him As 'Andre The Great'
Harrell passed away suddenly at the age of 59.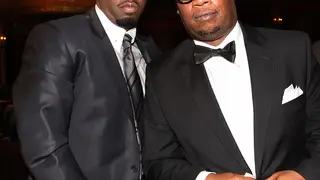 The music world is still mourning the loss of famed record producer and music executive Andre Harrell. Now, Diddy is honoring the man he credits to giving him his start in the business with a video tribute and a new title: "Andre The Great." 
Diddy posted on Instagram about his longtime friend and collaborator, "This is a song Baby Face wrote in remembrance of Andre Harrell. Who I have officially given a new name ... From now on he will also be known as ANDRE THE GREAT!!!!!"
RELATED: How Andre Harrell Introduced Halle Berry To The World
Watch the touching video below:

Andre Harrell passed away on May 7 at just 59 years old.
Harrell was one of the architects of a new wave of R&B music called New Jack Swing. After founding Uptown Records in 1986, the music icon worked with Guy and producer-performer Teddy Riley, Al B. Sure, Jodeci, Heavy D and the Boyz and Father MC.
Harrell eventually signed Mary J. Blige but perhaps his most notable achievement was when he hired an enterprising young intern, Sean "Puffy" Combs. He was quickly promoted to an A&R role, which led Diddy to discover and sign the Notorious B.I.G.
According to the New York Times, Andre Harrell died of congestive heart failure.