Tiffany Haddish Reveals She Has Experienced Multiple Miscarriages
"I've got a uterus shaped like a heart."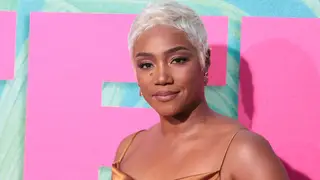 At times, Tiffany Haddish appears to be an open book. But in a recent interview, she revealed that she has been keeping a very private matter close to her chest.
During a no holds barred interview with The Washington Post, the comedian opened up on the numerous miscarriages she has experienced. During a call with her doctor's office about a previous miscarriage that she had, she said, "Well, I'm going to be honest with you." She continued, "This would be my eighth one [miscarriage]."
Using humor to make light of a heavy situation, she added, "I've got a uterus shaped like a heart. It just won't keep anything in."
Although Haddish's pregnancy journey has been challenging, the outlet reported that her most recent miscarriage had only "slowed her down for a couple of days." She kept planned engagements on her calendar, including a party at Eddie Murphy's house, a celebrity appearance, and work-related commitments like voice-over sessions and fundraising meetings.
According to the outlet, Haddish took parenting classes last year to prepare for her family's expansion through adoption, but is unsure if becoming a mom is something she still wants to do.
In the past, The Girls Trip star has been transparent about the difficult moments she has experienced in her life, from being in the foster care system to her academic pitfalls and being an adolescent growing up in L.A.'s South Central, as depicted in her memoir The Last Black Unicorn. However, regarding this part of her journey, she chose to keep it private to avoid public scrutiny. That is, until now.
She told the outlet, "I don't want people saying: 'Are you okay? Are you all right?'" she says. "Like a wounded animal, I just rather go in a cave by myself. Lick my wounds."