Black CEOs Who Are Paving The Way For The Next Generation Of Female Leaders
From beauty to spirits, these powerhouses are breaking all kinds of glass ceilings.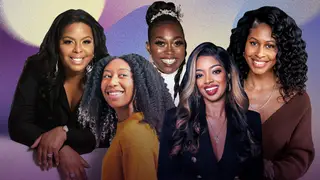 Though women made up approximately 49.6% of the global population in 2020, when one looks at the number of chief executives for the world's biggest companies who also happen to be women, that number is just 8.1%. And last year, the number of Black women in that cohort was just two. So progress is happening, but it's occurring at an extremely slow pace.
But luckily, there are thousands of companies in the world, so looking at the chief executive landscape is just a small microcosm of how many Black women are making waves in leadership around the globe. In the U.S. specifically, before the setbacks caused by the pandemic, Black women were the fastest-growing demographic in entrepreneurship. And many have taken on the dual role of founder and CEO, which gives them an even more significant stake in their companies' outcomes. So now that the economy is recovering, unemployment is at one of its lowest levels ever, and consumers are feeling confident making plans, these executives are once again able to start thinking about the long-term success of the brands they work for and continue to build back a lot of the gains that occurred in 2020 after a big mainstream push to support Black businesses.
This kind of stewardship is happening across industries, with Black women CEOs making poignant waves in the lifestyle space as the go-to trendsetters for what's next for centuries. These powerhouses are disrupting the venture capital space and funding businesses led by Black and Brown women, wellness by utilizing ingredients people of color have cherished for millennia to help us prioritize our wellbeing, spirits as social care is also of extreme importance, and so much more.
Here, 5 Black women CEOs who are paving the way for the next generation of female leaders share their words of wisdom.
Arian Simone | President & CEO of Fearless Fund

Claim to Fame: As one of the brains at the helm of the first venture-capital fund built by women of color for women of color-led businesses that are looking for pre-seed, seed-level, or series A financing, Simone wants to help Black women startup founders get the funding they need to launch their businesses. As an author, entrepreneur, and philanthropist, she is super passionate about seeing women of color get ahead and get the resources she knows are out there to impact communities all around the world with their innovations. Through the Fearless Fund, she has partnered with major companies like the Tory Burch Foundation and Mastercard to further her mission of empowering small women business owners.

The biggest lesson she's learned: "Patience is the biggest teacher of all for me."

What she'd tell her younger self now: "Back in college when I owned my retail store, I kept thinking we were failing because there would be a fluctuation in revenue every day. Sometimes we would hit our goals, and sometimes we wouldn't, so I kept thinking we were backsliding. As I look back now I see we weren't failing—I just wasn't patient and there was a difference. I wasn't aware that you just have to ride the wave. So, I would tell my younger self to be patient and give yourself grace."

On what her parents have taught her: "To seize the moment and give myself credit for always overcoming. They taught me that when an opportunity comes my way, it's my responsibility to move on it."

Trinity Mouzon Wofford | Founder and CEO of Golde

Claim to Fame: Golde is your fave's favorite beauty and wellness brand and Mouzon Wofford is both the founder and CEO leading the company. From their yummy latte blends to kitchen-changing tools like their Superwhisk, they believe in self-care through superfoods and the world is catching on. Golde is sold in some of the biggest retailers in the world now, including Target and Sephora.

On the power of resilience: "What determines your power as a leader and an entrepreneur is not how you ride the wins, but how you push through your learnings with a relentless belief in your mission."

What she'd tell her younger self about her future career:"Don't ever stop having fun with the work."

On luck and how to stay ready for it: " Capture those moments of opportunity and jump on them. Those moments are your little cracks in the sidewalk that allow you to grow through seemingly impossible circumstances."

Dia Simms | CEO of Lobos 1707

Claim to Fame: The spirits business has traditionally been a boys' club, but Simms is helping break the glass ceiling as one of its powerful chief executives. She's no stranger to iconic moves with past roles at Combs Enterprises, Bad Boy Entertainment, and the Department of Defense. As an HBCU grad, Simms continues to give back to her community as a mentor and both a past and present board member of organizations including Boys and Girls Club of America, Network for Teaching Entrepreneurship, and Thread, Inc.

On the power of creating your own path: "I started at the Department of Defense, jumped over to pharmaceutical sales, managed several global enterprises, and have now found my passion for spirits and brand building. Each one of those experiences taught me something about myself and how to build a better business. I can't say a linear career journey would have done the same!"

Why excellence is transferable across industries: "This is something I learned early on in my career, but it could have been learned even earlier. Own the moment and job at hand. If something is worth doing, it is worth doing well. And if you are already doing it, you might as well give it everything. Incremental efforts and striving for excellence can bring you a heavy, well-earned return."

On why she values curiosity: "Something my mother used to always say to us as children was 'what does not knowing have to do with finding out?' I think that's something that has always stuck with me. At the end of the day, we're all students; everyone has something to learn and everyone has something to teach. Never let not having all the pieces in place stop you from chasing a dream or figuring something out."

Alicia Scott | Founder and CEO of Range Beauty

Claim to Fame: Scott began her career in the fashion industry, where she noticed the dearth of hues for melanated skin backstage at runway shows and photoshoots that aligned with the difficulty she faced in shopping for her own makeup. After trial and error and formulations that triggered her acne and eczema, she embarked on creating her own brand that uplifted and enhanced her complexion, took care of her skin, and is now doing the same for countless others.

On the power of having a good circle of support: "I'm so grateful to have a founder community who I can vent to, ask questions, give advice, and have an overall understanding of the ups and downs we face especially as Black founders."

Why she wants young women to know that work isn't everything: "Don't let your title or what you've built be the only thing that defines you. There is so much more to life than being consumed by work without being able to appreciate all you've accomplished or without enjoying your loved ones and friends."

On how she came to believe she's deserving of what she wants in life: "My dad taught me to have pride in my work no matter what that is, to always put my best foot forward, and that's what truly helped me grow my brand. He also showed me the power of networking and making a great and lasting first impression along with building relationships. Both of my parents have been extremely supportive of my founder journey which is also a blessing."

Shontay Lundy | Founder and CEO of Black Girl Sunscreen

Claim to Fame: If you have melanated skin, you've probably applied sunscreen at some point in your life and balked at the white cast it left on your skin. Lundy has changed that with Black Girl Sunscreen, which was made to protect Black and Brown skin, as well as dispel the myth that melanated folks don't have to invest in sun protection. The founder and CEO also joined a special cohort of Black women in the summer of 2020 when she secured a $1 million dollar investment in the company, through private funding.

On the biggest lesson she's learned: "That business is just business and tomorrow is always a new day."

What she would tell her younger self: "Life requires courage and bravery. You don't always have to have those, but you should at least try to."

On what her grandparents instilled in her: "​​My grandparents always taught me to do my best in everything; whether it was playing the violin or being a cheerleader. 'Give it your all and don't quit' is what they'd often tell me."