Put Some Respek On Her Name: Reginae Carter Wants You To Know She's Not A Spoiled Brat
Lil Wayne's daughter is ready to show a different side.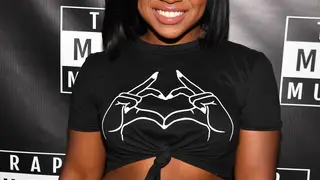 It's no secret that some haters think Reginae Carter, daughter of Toya Wright and Lil Wayne, is a bit of a diva. She has had some serious clap backs on social media and while she was on the reality show Growing Up Hip Hop there were some critiques of her attitude. Well, the 19-year-old is well aware and ready to change the perception.
In an interview with Page Six, Reginae reveals she wants people to focus more on her work rather than an idea of her on reality television -- and she wants folks to know she is not a spoiled brat.
"I'm just excited for people to see my growth," she said. "I was on a show not too long ago called Growing Up Hip Hop and I was portrayed — a lot of people thought that I was a spoiled brat and just really like disrespectful to my parents, to my mom. It wasn't a good look. I want people to know this is the real me. Me and my mother are like best friends. I would never disrespect my mom. I want people to see me work for what I really want in my life."
Well, she is off to a good start. Reginae appears on Lil Wayne's The Carter V on the song "Famous."