BJ The Chicago Kid: Keeping the Soul in Music with 'Gravy'
The critically acclaimed artist talks about the creative process behind his highly anticipated joint project with super-producer Yeti Beats, sharing insights on the collaborative magic, the influence of his Chicago roots, and the essence of 'Gravy'.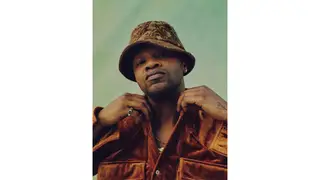 BJ The Chicago Kid is committed to keeping the soul in music. With critically acclaimed discography, seven Grammy nominations, and being one of the most sought after singer/songwriters on the scene, the Windy City native has earned a reputation as a superb musician. And on Sunday, November, 26, he performed with Coco Jones on the "Soul Train Awards" 2023.
After moving to L.A. at the age of 19 and writing songs for other artists, BJ came to prominence with the release of his independent debut studio album, Pineapple Now-Laters, which landed him a deal with Motown.
He followed up In My Mind in 2016 and 1123 in 2019, along with numerous features and EPs that displayed his church-influenced vocal ingenuity and his penchant for writing emotive songs about love and relationships.
After four years, BJ is set to release his highly anticipated new album, Gravy, a joint project collaboration with super-producer Yeti Beats. The album features Robert Glasper, Chloe Bailey, Freddie Gibbs, CoCo Jones, and Phillip Bailey of Earth, Wind, and Fire.
With Gravy, BJ is showcasing his versatility as a musician and taking his artistry to a new level.
BET.com caught up with BJ and spoke about Gravy's creative process, how he connected with Yeti Beats, and the influence that Chicago has on his music.
BET.com: The city of Chicago is one of the most iconic music cities in the country and is known for its storied history of Black music. How has growing up in the  "Windy City" inspired and influenced you as an artist?
BJ The Chicago Kid: The same things that make the city tick and tock are the same things that can inspire everybody from there. Even if they moved out of Chicago, you never forget your upbringing or inspiration. You remember why you are the way you are; the city is a big part of it. I would say growing up in that city, even if you didn't have a dad in the home, you were exposed to certain things that only Chicago has that can help mold you into the kind of person that possibly travel all over the world and do what they love to do. They'll teach you how to survive, teach you when to talk when to shut up. That's the rulebook of Chicago that shaped me as an artist.
BET.com: It's been four years since you released your last full-length album, 1123, and a lot has happened worldwide. How have you grown as a musician on Gravy?
BJ the Chicago Kid: Good question. My last project, 1123, was back in our original habitat. Gravy was done with Yeti Beats, known for his production with Doja Cat. Yeti and myself are wanted to work on a project for a long time but during quarantine, it finally made sense. This album is more experimental like Gnarls Barkley. It's more or less, BJ and Yeti than BJ by himself. Some of the songs on the album may have a more pop edge and a simpler format than what I normally do. But I came to work with Yeti to learn a few things that I didn't know about music and him the same with me. We brought both of our crowds together to have a good time. This is more like two scientists together in a laboratory having fun.
BET.com: How did you in Yeti meet?
BJ The Chicago Kid: Levi Maestro, a good friend of mine, introduced us years before we got together to make music. At the time, we were busy, and going through personal things that prevented us from working together. Once quarantine happened, we were available to make it happen.  The Indications, an incredible soul band and group was available. Charlie Burrell, an incredible artist, musician, and producer, was also available. So we all went down and had a ball in Memphis at Royalty Studios, where Al Green recorded his albums. It was like recording in a museum and it was an incredible experience.
BET.com: Memphis is another iconic city known for Black music. Was it always your plan to record the album there?
BJ The Chicago Kid: To be honest, Yeti made that call. Being in Memphis enhanced everybody's creativity and inspiration being in that place recording. We had all the time we wanted throughout to create music. Yeti is responsible for that so I'll give him all the credit for that call.
BET.com: You described the album title as "Gravy, smothers everything." But you know, when it comes to gravy, you gotta know what you're doing. It can be a tedious process. Is that how you approached this album?
BJ The Chicago Kid: You don't want it to be lumpy [Laughs]. You want a lot of onions in there. You wanted to be still balanced. Some gravy is lighter and some is darker. Some are thicker and some are thinner, depending on how they make it. But you want to put it on almost everything when you get that one you love. Gravy is that cool, that feeling when you have on your favorite suit but it's that feeling every day. Gravy is why you walk the way you walk and talk the way you talk. That's Gravy. It's that cool sh*t.
BET.com: On the album, you have some great guest features with CoCo Jones, Andra Day, Freddie Gibbs, Robert Glasper, and Chloe Bailey. But one feature you have on the project with the legendary Philip Bailey of Earth, Wind, and Fire. How was that experience?
BJ The Chicago Kid: It was humbling in so many ways. My dad put me on to their music and now to have a song with him years later is amazing.  There are so many incredible dots in that timeline.
BET.com: Lastly, what do your day-one fans and new listeners take away from Gravy when they hear it?
BJ The Chicago Kid: I think they will feel the collaboration of my world and Yeti's world coming together, but most of all, I would love to leave the interpretation up to them. I think that's the cool part about music. The same song can have a different meaning to you than it means to me. The words can feel different to you than they feel to me, and I never wanted to tamper with that. So I think that's the beautification of even learning from your music after you've written it a certain way that you started, but at the end of the day, someone else can explain their point of view, and you see it differently. I think that's the magic about it. On Gravy, it's Yeti's world and my world coming together. There is some good singing and songs, and hopefully, they love it.