Draya Michele Sets The Record Straight On Cosmetic Procedures She Has Had Throughout Her Career
The BasketBall Wives alum said she has never had a BBL.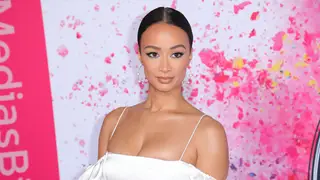 Draya sets the record straight on how often she had gone under the knife.
During a conversation with The Shade Room, the reality star and model shed light on the plastic surgeries she has had. "I've never said this before, by the way," before she listed the cosmetic procedures, she said, "Yes," to.
The host, Thembi Mawema, wasted no time and got right down to business, asking if the reality star had any work done. "I don't have a BBL," Draya admitted. "As far as the BBL goes, I've never gotten a BBL."
After that, Draya revealed how her breasts have evolved. "I'm on my second boob job…because the first ones was way too big…they were 10 years old. I got them removed, and got a lift and then I got smaller implants."
In 2011, Draya became a household name when she was cast in the series premiere of VH1's Basketball Wives. Two years after that, she said she got butt shots that were "the illegal kind…" While this procedure has risks, she admitted to not being afraid of getting it done.
"I've only touched my butt one time, very mild," she shared. "One round, the most mildest thing you can get because it was set up to get multiple," explaining, "you do a little bit, and then you can stack it up."
Due to her status at the time, Mawema asked why she chose to get the procedure illegally. "I don't think it was about the price. I think it was about who can do it and who had the track record of being able to do it. And I trusted the person who did it."
Along with having her derrière done, she confessed to getting liposuction, something she was opposed to before 2021. "I was like, 'f - - - - it, I'm gonna try it. So I tried it. I went to the best in the business."
Following that procedure, she had another. "I was so thin in the stomach, I had a little bit of sagging, so I went to another doctor, [a] great doctor."
Whether or not she had work done on her face, Draya responded, "No, everything is natural," she said.