INTERVIEW: Elly Karamoh's Stylistic Journey Is Nothing Short Of Inspiring
The Parisian native is the head stylist to Steve and Lori Harvey.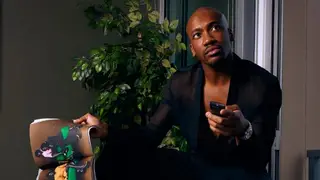 Elly Karamoh sits comfortably at the intersection of style and fashion. Growing up in Paris prepared him for his destiny as a celebrity stylist. And he even attributes his love for Black culture to the influence of BET and the way the platform always showcased the beauty of Blackness. "BET was the first network I watched when I first moved to America," the Parisian native told BET.com. "It's a network that really displayed Black people and their artistry like no other. From a European boy's standpoint, I had never seen such an eclectic, artistic group like that."
Karamoh would watch 106 & Park for inspiration. For him, the vibes and the swag were unmatched because there was an era where there were no stylists, and you really got to see people's energetic authenticity. "We were in France like, 'Okay, I gotta get a durag like Bow wow! I wanna look like Mike, I wanna look like Bow wow!"
Now, with clients like Serge Ibaka, Sabrina Elba, Jacob Lattimore, and Monta Ellis, along with Steve, Marjorie, and the consummate main character, Lori Harvey, the young West African boy in love with fashion has evolved into a global staple in the fashion world.
In an exclusive interview with BET.com, we learn more about Karamoh's upbringing, how he defines style, what it is like to work with the Harveys, and how it feels to live inside a dream.
BET.com:  Tell us about Elly Karamoh.
Elly Karamoh: Elly is a fashion enthusiast. Ellie is an immigrant first. I'm so proud to be from Paris, France, born and raised. As a teen, I moved to the States with a hunger for fashion and to have a voice in fashion. I've always been infatuated with that creative world. I've always wanted to know more about designers and photographers. Elly's a hustler, too, you know? I've been molded to be a hustler. I've always been a natural creative. I've always been different, which categorized me, at first, as weird, special, odd, and foreign. I am an older version of my younger self. I haven't really changed. I've never wanted to be nobody else. I feel like the hunger and the youth is finally translating into my work.
BET.com: When did you fall in love with fashion? Do you remember the exact moment that it happened?
Elly Karamoh: I have several moments when I feel like it happened.  I remember when I was in Paris going to my auntie's wedding when I was three or four years old. I just remember all the guys and the girls getting ready for the wedding, and it was like an afternoon wedding. It was really beautiful. Because my family is from West Africa, at every wedding, there are two sides to the wedding. There's a traditional part, and then there's a formal part. So the formal part, I was a little groomsman, and I remember the time it took to get the gray suits out, the time it took for my sister to prepare with the bridesmaids, and the time it took for my auntie, my mom.
I remember somebody blessed my auntie with a pair of Karl Lagerfeld white shoes. And I remember the oohs and the ahs around that object, and it infatuated me because I realized how significant a garment can be.
I also remember watching the news in Paris there would always be a fashion segment related to couture and educating the public on couture and what's happening. It would show called Karl Lagerfeld's apartment. Sometimes it would showcase John Galliano's work.
BET.com: That's crazy, especially cause you were so innocent, so your perspective is so fresh. We know there's a difference between fashion and style, but how do you define style?
Elly Karamoh: Style is so unique to an individual. Style doesn't have to be a label. Style is DNA to me. It's authentic. And to me, style defines a person's attitude and expression in pictures. Fashion describes a time. That's one of the reasons I take so much time studying design, because fashion, although it describes the time, it also describes now. There's so much talent out now, and I feel like the fashion houses' creative directors can describe their time and their DNA. I love to displace style with fashion when I dress my clients because it allows them to occupy a new space. It allows them to tell a story on their own terms. But I use fashion as a tool and apply their personal style. I really take time to study that because style is personal. Fashion is subjective.
BET.com: That's perfect. So how do you think your identity as a black man has shaped your journey in fashion?
Elly Karamoh: My identity is so strong now at 29 years old. I'm very confident within myself, within my voice. I know what I bring to the table because it was such a fight for me mentally. I didn't understand why my love for art was such a combative battle for others. I didn't know it would be such a debate to be a black boy loving fashion because I didn't understand the difference between loving fashion or loving soccer or science or law. But because I'm West African, it was a challenge because I was categorized and didn't understand. It has made me comfortable in uncomfortable spaces and allowed my identity to be much more resilient. I feel like I could stand anywhere now because fashion has certainly strengthened my identity.
BET.com: That's so good. Speaking of Black men, you've broken the internet a couple of times with your incomparable looks on Steve Harvey. What's your favorite part about working as his stylist?
Elly Karamoh: Oh man. I love, I love, love, love Mr. Harvey. He is so involved in the creative process because it was a creative process that took almost five years. It's a complete 360 from the 'Steve Harvey' America who has gotten to know over the years. It was a development to change his physical appearance and keep his authenticity. What I love about Mr. Harvey, he shared so much during the journey. He's a father figure, he's a mentor, and he's so interesting. His personality is so electric. So it feeds my creativity when I dress him. When I'm told he's hosting the NFL Awards or a special episode of Celebrity Family Feud, or he's going to vacation in Abu Dhabi, it allows me to dive into a new world for a new audience. He's a chameleon, so I just love working with him. We fight when it comes to fittings because he's gotten so much more involved in his new narrative of a fashion icon. When I come up with new ideas, he kind of wants to stay subtle on the same range. But I have been teaching him that range is so important to his fashion narrative. You can't work in fashion, be front row in fashion, and not have range. But overall, 10 outta 10. Chef's kiss!
BET.com: Which look is your favorite?
Elly Karamoh: Oh man, I don't think I have a favorite look.
BET.com: I mean, they're all amazing but I just wondered if one of 'em was like, "I did that!"
Elly Karamoh: Respectfully, I feel like that for every look because I just would never put Mr. Harvey in something that would make me doubt myself. That's one thing I tell aspiring stylists when they ask for quick advice, and I just dive into giving them advice because I feel like no one gave me advice, and I didn't have anyone to really pour into me. I try to tell them when you dress your client, always aim for the best dressed. Always aim for the top spot. Never think, 'I'm just gonna put this on there.'
Even when my client's going to breakfast, it's going to be a moment. It's not about to be feathers, but I want it to be impactful. I compare myself to artists not in the same category as me, like Jay-Z or Shakira. When they put out music, they don't really put on music and say I just want this to be a radio hit. They want it to be a global sensation. That's the mindset I go into now. If it happens, it happens. If it doesn't, it doesn't. But at least before I put it out there and it is released, I feel like it's a hit. So no matter what the response is, it can't really hurt me.
BET.com: Cause the intention is good. I love that. Now you're styling the ultimate main character, the other Harvey, Lori Harvey. Tell us how this stylist partnership came about since you two were already friends.
Elly Karamoh: I've known her since she was 16. She's always been infatuated with fashion. She's always been a part of the fashion world, a product of Marjorie Harvey and Steve Harvey. She's always been exposed to that world. Over the years, I've watched her grow and hire many amazing, talented stylists, and I think everyone has applied their own aesthetic to Lori, and it hasn't always hit. And not because they're not talented. I just think you really have to dive into the person you're dressing. You have to dive into their aesthetic, their DNA, who they are really, and who they want to be. It's also a character you feed into when you dress celebrities. You have to dress the persona more than the actual person you meet behind closed doors because Marilyn Monroe is a Marilyn to the public group, but when she closes the door, she's someone else. When Beyonce gets off stage, she's Giselle, or when Rihanna is behind the scenes, she's Robyn. And I feel like, with Lori, I dress Alexandria. I get to dress the It girl who Lori Harvey is, but I know what Alexandria wants. Seeing what Lori and I have created is phenomenal because it's such a natural thing for us. We're so close. We watch documentaries together. We talk about fabrics together. We highlight fashion coverage together. We just talk every day, all day. So this collaboration was really organic, and I'm so happy that the world really feels our connection more than just me styling her. I think people understand how committed we are to each other, which translates into like the confidence she brings out when I dress her.
BET.com: Absolutely! We feel it every time. Do you have any specific goals in this new collaboration with her?
Elly Karamoh: I'm so bad with goals. Everyone always asks me, "What are you gonna do? Five years, two years? What's the plan?" I just go with the flow. This isn't a new journey for me. It is a new stage for me, so I want to grow. Hopefully, I elevate and become the most famous and iconic male artist in fashion. Whether it's designing, fashion editing, or styling, I just want to be the best. I think I'm aiming that way, but I just hope I am for the long run.
BET.com: It's already happening. What advice do you have for folks trying to find their personal style?
Elly Karamoh: I would say understand your body type to develop your style  DNA. Simplicity works. Fashion speaks with confidence and character more than the clothing.
BET.com: That's such good advice. Last question: how does it feel to be living inside of a dream?
Elly Karamoh: Oh man, that's a good question. It's so crazy and overwhelming. Lately, at night I've been thinking, what did I get myself into because I can't leave my work now. It doesn't matter if I choose to go out in Chicago or Atlanta, Miami or LA or if I'm at the airport, it doesn't matter anymore. I'm attached to my work. And whether I want to be having fun in the club or having fun at the beach with my friends, if someone's gonna approach me and I'm gonna have to get back to work mode. And I always appreciate the person coming to me and appreciating my art. Mr. Harvey always tells me, "You can't complain about what's on your plate when the whole goal was to eat." What it feels like to be a dream — I'm highly grateful. I feel blessed and overwhelmed.
This article has been edited and condensed for clarity.