'Raising Dion' Star Alisha Wainwright On Her Selfish Superpower And Why She Admires Michael B. Jordan
In this superhero series a young boy grapples with his unique gifts.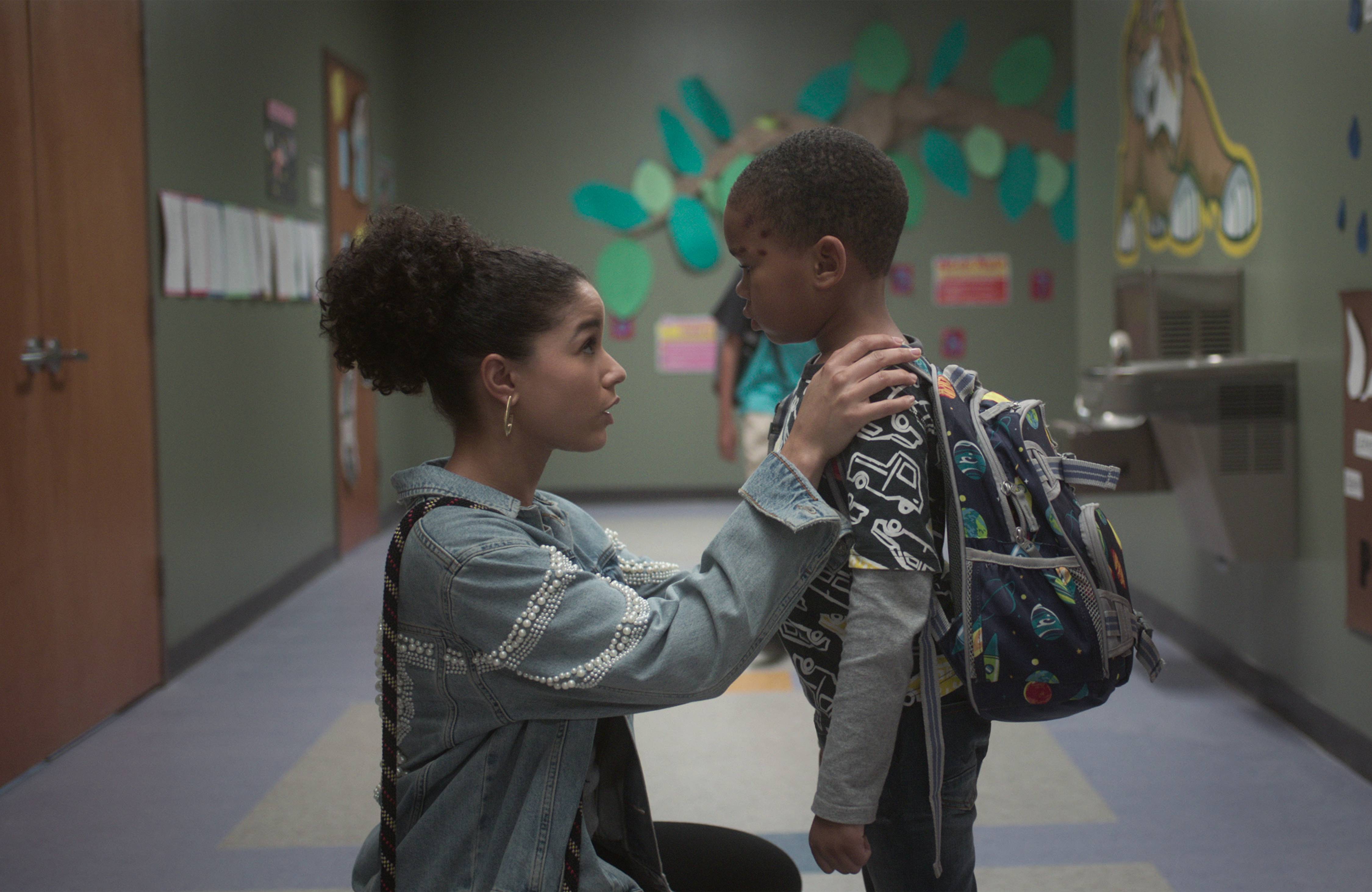 After satisfying our superhero fix with original series like Luke Cage and streaming exclusives like Black Lightning, Netflix is bringing even more melanated might with their latest offering, Raising Dion.
The sci-fi family drama premieres on October 4 and is inspired by a comic book and short film masterminded by writer/director Dennis Liu. The project tells the story of a Black single mother named Nicole, who upon the tragic death of her husband (played by Black Panther and Creed star Michael B. Jordan) discovers that her young son, Dion (played by newcomer Ja'Siah Young), has supernatural abilities.
This dynamic storyline caught the attention of Jordan, who also serves as executive producer for the 10-episode series. The role of Nicole is taken on by another actor who is versed in the art of playing a character with special abilities — actress Alisha Wainwright of Shadowhunters.
BET caught up with the "werewolf" turned "wonder mom" about her role in Raising Dion, her thoughts on how special single mothers truly are, and working with equal parts heartthrob, hero and Hollywood influencer Michael B. Jordan on this game-changing series that celebrates Black families and strives to expand the breadth of our stories.  
BET: What do you think makes Raising Dion so special and unique from other superhero series? 
Alisha Wainwright: I think there are a lot of aspects to the show that make it unique. I think the obvious is, the show circles around a Black family and follows a young boy that has superpowers. It's something that people not only in the comic book world but also entertainment viewers at large were hungry for in the zeitgeist — they wanted a show that had diversity, that could tailor to some of the things they wanted to see that were representations of themselves. That was probably one of my favorite and easiest reasons for why I even wanted to be involved in the project.
Secondly, I think you have these shows about superheroes, and everything's very fantastical, but what I like about Raising Dion is it's from the perspective of the mother, so you're dealing with a lot more real-world issues. It just so happens that they're elevated because her son has superpowers. I love that the show keeps it grounded by keeping it about family, and themes about friendship, and coming into your own skin at school. But also, you have the incredible elements like being able to move things with your mind. 
BET: Many would argue that single mothers have superpowers of their very own, and possess a very unique or special skill set. What was it like portraying a single mother, and were there any real-life single moms who you took a page from and modeled your character around? 
Wainwright: Thank you so much for gathering that point about the show! I think that one of the messages that Dennis Liu, the content creator, wanted to get across was that as much as Raising Dion is about a kid with superpowers, it's about a mother who had to control and mother this kid while also still feeding him, taking him to school every day, and paying the bills. Obviously, it's a heightened version of reality, but it's a kind of obstacle that women all over, not only in our country but around the world, are facing — having to raise young children by themselves.
My mother was single and raised me by herself, and so it was easy to pull from my own personal experience with my mother, and how strong she was in the face of adversity; not only dealing with racism at work, but also trying to fight for equal pay, trying to put food on the table, and keep me happy and fun, keep me in after-school activities and all the things that my friends were doing. But she was having to juggle the weight of that by herself. So that was my primary focus when I was looking for inspiration, but also there are a lot of other beautiful women in my life that are raising kids by themselves, and they were able to kind of show me the positive side.
Because yes, I think TV and film is really great about showing the very dramatic, the edgy rough sides of single parenting, but Raising Dion is trying to focus on the positive aspect of that life, because people are in single-family homes and that doesn't make you any lesser than. It's just a new set of challenges that you have to work around. I don't feel like I ever wanted for anything when I grew up, and I hope that "Dion" doesn't feel like that with the way that "Nicole" has raised him. 
BET: Talking of mothers, word on the street is that Raising Dion star and executive producer Michael B. Jordan, who plays your deceased husband in the series, is a huge "momma's boy." Can you confirm that rumor? 
Wainwright: You know, I can't confirm that [laughter]. I didn't have the chance to meet his mother, but what I will say is that having him as an executive producer opened so many doors for the show to get made and he wouldn't have put his name behind it if he didn't believe in the value that the show is trying to push forward.
I'm super proud and grateful that he chose to executive produce the show, and not only he but Netflix and MACRO and all the other producers that came together to believe in the concept, because it was crowdfunded, and the idea had the backing of hundreds of thousands of people because they believe in this — wanting to follow the journey of a young mother with a young kid with special abilities. I'm just really grateful to be involved in the project, and I think Michael was inspired by Dennis Liu's concept, and he's just an advocate for a lot of the value that the show shares just because he's involved. 
BET: MBJ is crushed on by so many people! Having worked with him on this project and seen him up close and personal, how huggable-lovable-kissable would you say he is on a scale of 1 to 10?
Wainwright: Well, you know what's funny, my frame of reference for Michael is as a producer. He is one of the most kind and generous people on our producing team, along with Charles King, and all the people at MACRO, and all the folks at Netflix, so for me having his collaborative aspect on the team was really great. I feel like that primarily shaped the way I thought about him, and think about him — as a creative person — but obviously his creative mind is attached to his body [laughter], which people tend to focus on.
But he's a very respectful actor and he just wanted to make a great show that would reach a wide audience, so in that regard, I'll do any project that he has on his dock, and he has many, because he's just trying to advocate for young Black people, and Black people in general, to tell our stories in a way that's not something we've seen already. Obviously, he's a beautiful person, but I also think he's so admirable in what he's trying to do with his business, and I respect that. I would love to emulate that myself. So, more so than a heartthrob, I think of him as a role model. 
BET: Was it much of a shift transitioning from playing someone with special powers in Shadowhunters and having a father/guardian (played by actor Isaiah Mustafa) to playing the guardian and parent of someone with special abilities? 
Wainwright: I think Shadowhunters was way more fanciful. There wasn't as much reality because a lot of the world of Shadowhunters was based in a fictitious kind of fantasy, but it wasn't that hard because I think Shadowhunters required a wider sense of imagination and world building, whereas Raising Dion is a little bit more grounded in the day-to-day, so that's almost a little bit easier to play because it's a little more directly relatable to your own personal life.
It was so fun to watch Ja'Siah [who plays Dion] believe he had superpowers. I mean, it's adorable watching a little kid with an imagination like that. It's really incredible, and I think he has such a vibrant imagination and loved playing with the idea that he was a superhero. I don't mind sharing the superhero abilities with other people across different platforms — he deserved it.
BET: You kind of favor a cross between singer Alicia Keys and actress Gugu Mbatha-Raw. For Fast Color we asked Gugu what superpower she longed to have as a child, and of course Alicia has a beloved song called "Superwoman" — both sort of apropos to this conversation. What particular superpower did you long to have as a child?
Wainwright: That's the nicest compliment, thank you! It's so incredible how many movies and films are circling around the concept of having special abilities. I think it's something that everyone has in one point in their life thought about. I definitely love some of Dion's skills, but also what I like about the show is that he can't just make things happen whenever he wants. He has to kind of feel it and want it, and then things happen.
I would say, it would be cool if, like, I could move things whenever I wanted them to come. Or it would be amazing... oh my gosh, I would love a superpower where if I thought about a kind of food, made by a specific person or in a specific place, I could make that food appear in front of me, because sometimes there's nothing better than having something that my auntie bakes!
I'm from Florida and my family is Jamaican and Haitian, but my auntie is Jamaican, and having something home-cooked in California when I'm home missing my family, or like being hungry for Thai food from Thailand... that would be amazing to get something from right off the street without having to go all the way over there. It's a very specific [power] that wouldn't really help a lot of people, but it would make me very happy [laughter].