John Legend And Jesse Williams Team Up For A Woke New Project
They're bringing history to the big screen.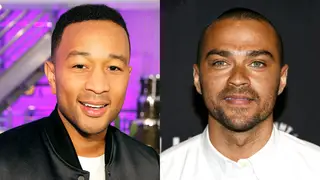 John Legend and Jesse Williams are known for outwardly displaying their passions for social justice and the fight for civil rights in the Black community, and now they are merging these sentiments in a new film called With Drawn Arms, focusing on the 1968 Olympic protest.
According to Deadline, Legend and Williams with both produce the film which follows the story behind the now iconic photograph of gold medalist Tommie Smith and bronze medalist John Carlos at the 1968 Olympic Games in Mexico City, raising black-gloved fists during the "Star Spangled Banner."
Both athletes, who competed during the 200-meter dash, were suspended for the pro-Black gesture and were even threatened for the act. Instead of backing down, however, they continued to stand in solidarity by using their closed raised fists as a symbol of protest against racial oppression.
Both Legend and Williams spoke on the significance of this story being told in today's climate.
"We are excited to collaborate with true artists in Glenn Kaino and Afshin Shahidi to bring this powerful story to the world in a fresh and compelling way," Legend said. "In this current climate, we are once again being charged to stand up to bigotry, fear, and hate. We are inspired by this story and honored to be a creative partner on this film."
Speaking more specifically on the two men who have now gone down in history for their iconic peaceful protest, Williams added that their stories deserve to be told in a broader context — outside of the iconic photograph.
"Tommie Smith is more than an iconic poster or risky act of defiance that inspires people the world over," he said. "He is a living man, whose incredible journey is worthy of examination. I couldn't be more excited to join forces with this team of filmmakers, to share his reality and challenge our notions of heroism in the process."
With Drawn Arms is currently still in production in Los Angeles and will be co-directed by Kaino and Shahidi. It is reportedly set to be released in October 2018.
Get more Jesse Williams news with BET Breaks, above.