Vanessa Simmons Talks New Film 'Deadly Entanglement'
She also chats about motherhood and her "love/hate" relationship with social media.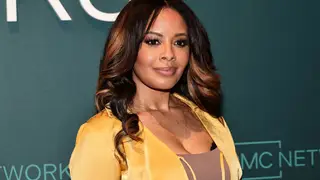 Vanessa Simmons has created a lane for herself since she was younger, entering into the spotlight at the age of 22 on her father Rev Run's reality show, Run's House. After a spinoff showcasing her business venture, Pastry, with her sister, Angela Simmons, called Daddy's Girls, she continued on with her entrepreneurial endeavors and shifted into the world of acting. After Vanessa and Angela sold the company, Vanessa partnered with Yummy Extensions, which offers the "best natural human hair extensions."
With 20 acting credits and a mother of one, Vanessa is showing she can be a supermom and a superstar in the same vein. The 39-year-old recently starred in the BET+ film Deadly Entanglement with Monica Calhoun, which follows an "ex-wife who doesn't know how to let her husband go–  first she tries seduction, then deceit, finally, if she can't have him, no one will."
Vanessa chats with BET.com about the film, doing her own stunts with Calhoun during filming, motherhood, her relationship with social media, and which member of her family is the most active. Bet you'll be surprised.
BET.com: What motivated you to participate in this film?
Vanessa: No one has ever seen me in a role like this before – this was a role you would never imagine myself in. When I read the script, it reminded me of the films I would watch where I find myself screaming at the television at the same type of character I'm playing in this film like girl, get it together (laughs). It was very exciting for me to put myself in that position and that role to take it on – it was a bit challenging and I had to do a few stunts on my own, but it helped me grow as an actress so I can be taken seriously, Working with Monica, who we don't see often and I've been watching her since I was younger, so imagine me getting ready in the makeup room and I'm asking God if this is real.
BET.com: What was the conversation like with Monica during filming?
Vanessa: She's like a big sister to me – she helped me while we were filming and when I was insecure about things, she would help me through it. There was a bit of pressure as I'm sharing the screen with her and I just didn't want to make her look bad because she has this amazing track record as an actress. I concentrated on being the best I can be and not overwhelm myself by the fact that I'm sharing the screen with this powerhouse actress who has been doing it all my life.
BET.com: How was the fight scene with Monica Calhoun? How did you train and prepare for that?
Vanessa: I was shook (laughs). It was an early morning and we had to go through training – while we did stunt doubles, they relied on us to deliver because they had to capture our facial expressions so I was scared but because she was locked in, it allowed me to go deeper as an actress. It was pressure but it helped me grow as an actress and have more faith. I just sunk all the way deep into my character and reacted as if I was Tammy.
BET.com: While an actress, you're also a businesswoman with Yummy Extensions. Now we can't forget the business you had with Angela called Pastry. How has your business mindset grown since then?
Vanessa: [Angela] and I were blessed to start a business at such a young age before there were a lot of younger people in that space and excelling in it. We were able to be at the forefront of being entrepreneurs and the idea not being so far-fetched. Not only am I a student of acting, but also a student as a businesswoman. I transitioned into wellness due to the pandemic and we all began to realize health is the truest form of wealth we can have. I started compiling different articles and experts, providing information to my family while retaining it for myself. I began to realize that I shouldn't gate keep this information as I have a large platform and I should share it with other people to leave behind a lasting legacy and outlive me but help improve the quality of people's lives. I have shifted gears a bit and I wanted to be a credible source to make wellness accessible and uplift our community. I'm in a wellness boss babe mode now.
BET.com: Looking at Pastry now, what are your thoughts on the brand?
Vanessa: Unfortunately, we aren't involved in the brand anymore but I am super proud the brand is able to stand and serve the dance community, pivoting in that direction. That will always be a highlight of my life to be able to build a brand like that and see it still standing after 15+ years – it's a blessing and it's cool to see it's still thriving in another form. Still proud of it.
BET.com: Who are some other bosses you admire and look up to?
Vanessa: I have so many bosses I look up to – I love women who take charge in their respective fields. I love [Tracey Edmonds] because she's a boss babe, a boss mom, and she defines it for me. I've had an opportunity to work with her and admire her when I was able to meet her in person. I admire the ladies who are doing it like [Kim Kardashian], whose been able to excel with Skims and create a lasting impact. I admire anyone who puts their best self forward and inspires a generation who will come after them. It's a women's revolution and I'm loving it all right now.
BET.com: Can you share an acting tip and a business tip?
Vanessa: The tip applies to both – always be a student of the craft and never stop learning because there's always more to learn to enrich what you're doing. I'm still in classes in acting to excel in multiple ways and as for business, make sure you have people you look up to who have the blueprint on where you want to go so you can have it in front of you. Never stop learning even if you made it and you feel you're super successful – there's more you can learn.
BET.com: In the film, Tammy does end up pregnant with baby #2 at the end — is Vanessa ready to have more little ones soon?
Vanessa: This is the question of the summer (laughs). I will say, eventually, but I am about to turn 40 years old which is crazy so I definitely need to make some choices on that end pretty soon. We'll see – while I am pretty private with my personal life, I'll just say we'll see.
BET.com: What's the best part about being a mommy? You make it seem so effortless.
Vanessa: I'm glad I make it seem that way (laughs). The best part is seeing my daughter grow as she's now 9 years old – she's excelling so much in school. I remember seeing Ray J crying taking his kids to school the other day and it really touched me because I cry every single time I drop my daughter off from school and she's now going into the 4th grade. It's amazing to watch a little person grow and I'm trying my best to give her the best life so it's a blessing and they are a blessing from God – seeing her personality development is great to watch. She's going to do theater camp and she said she may follow into my footsteps so that makes me happy.
BET.com: Many reality shows are getting rebooted and resurfacing — would you ever want to see Run's House return?
Vanessa: You must have your ears to the streets, Ty (laughs). Well, just keep your eye out for that as I'm working on some special stuff with my family and you never know.
BET.com: Although a very popular figure in the media, you still manage to stay out of the spotlight as much as possible — how do you keep your audience entertained and share the bare minimum still?
Vanessa: It's a challenge because people want to be connected to you in all ways on social media. They want to know everything and if they don't see it, they don't think it's happening. It's definitely an interesting balance for me but I do it for my own peace of mind as I have to have something special and private for myself. I put my all into my work and everything I have going on entertainment-wise while keeping those private moments for myself so it can remain special. What's secret is sacred.
BET.com: How would you describe your relationship with social media?
Vanessa: It's a love hate thing – I love taking photoshoots and sharing special moments, but with all the information and everything going on on social media, it can be overwhelming. You can become very consumed so I love it and then at times, it's too much and I do a digital detox which I recommend for everyone to do every couple of months because it's necessary. I do love being able to be connected and reach out to people easily who support me the most. It's all about balance.
BET.com: Does the family have a group chat? Who's the most active there?
Vanessa: So I have two family group chats – the most active person is Mama Justine. She's sending the TikToks and beauty content. She may not be there, but she's on there sending us things and keeps it running daily.
You can now stream Vanessa's film, Deadly Entanglement, on BET Plus now.