10 Talented Black Chefs To Inspire Your Mother's Day Meals
Follow these culinary creators to elevate your cooking game.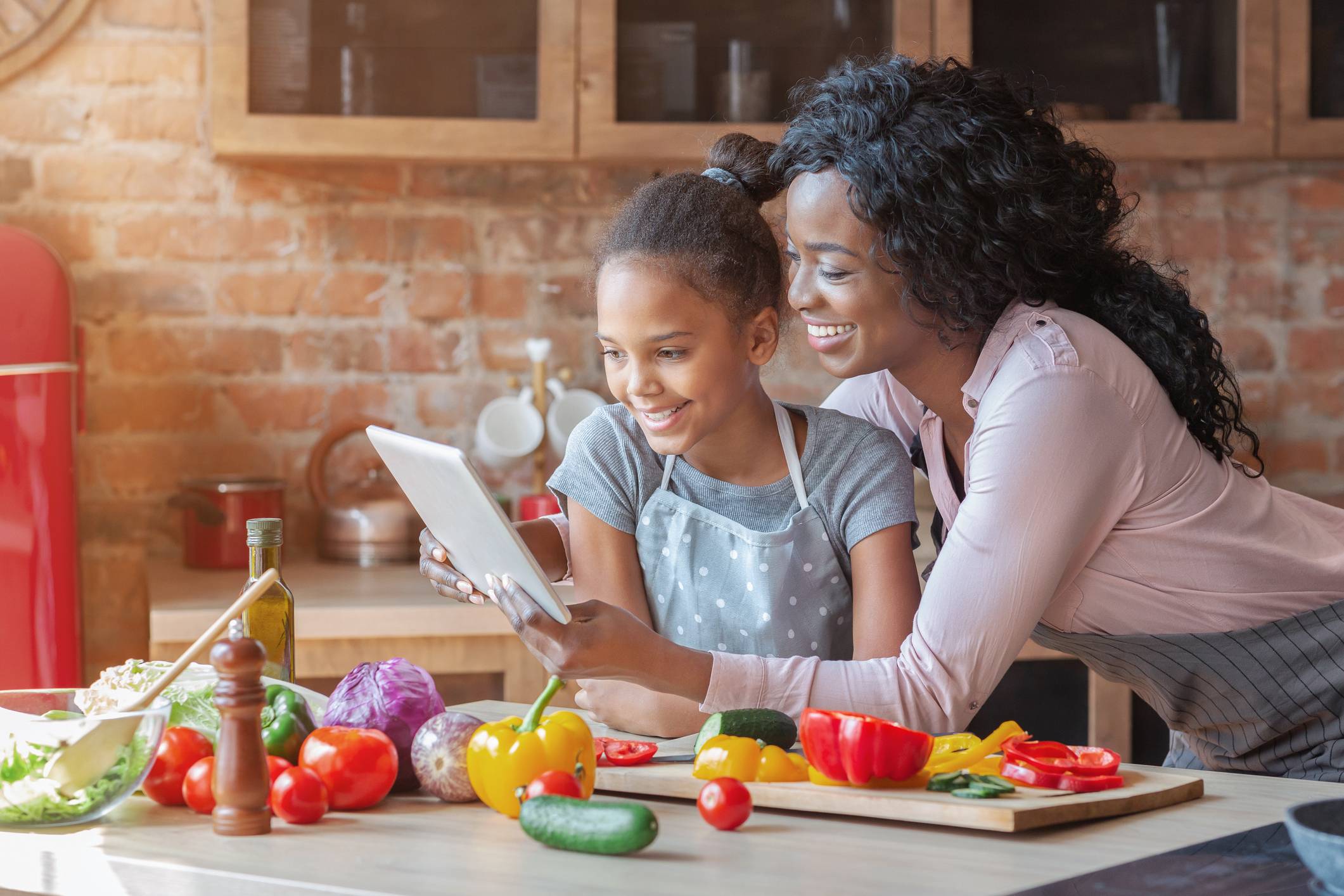 You've been cooped up in the house for a while now with self isolating, social distancing and lockdown rules still in full effect in many places. It has forced a lot of people who may not have been so familiar with their kitchens to use cooking for both sustenance and creativity. 
This year, to celebrate your mom or the motherly woman in your life, cooking a great meal will be appreciated more than ever, especially since a lot of local restaurants are still closed for business. And, while we encourage folks to order from local, Black owned restaurants that are able to provide amazing food to-go, if that's not an option in your area, we got you.
Here are 10 classically trained chefs and self-taught, home-grown foodies who will inspire you to create fantastic dishes that will let mom know exactly how much you care.
@Sonofasouthernchef

Lazarus Lynch is a New York-based chef who serves up soul food with  ontemporary flair. In addition to showing off drool-worthy food pics on Instagram (along with lifestyle flicks), the Soul of a Southern Chef author provides instructive content on both YouTube and TikTok.

@BlackFoodie.co

The Black Foodie IG account is bursting with yummy inspo for your own kitchen. Created by Eden Hagos, this @blackfoodie.co also big ups  Black-owned restaurants and chefs, offers IG Live cooking tutorials and advice on creating the best home dining experiences. And if you want to keep it all the way Black, check out their user curated list of Black-owned food brands that sell products online.


@StoveTopKisses

If cooking is one way you want to show your love this Mother's Day, then check out Danni Rose's account where she flexes her kitchen skills without making it intimidating for the amateur cook. Rose, a native of Birmingham, Alabama, breaks down delicious recipes into simple steps. Maybe it's because she's been cooking since she was 10 years old or a committment to her deep Southern roots, but Rose is able to present her food with both range and respect. Want to try some decadent strawberry crunch pancakes or a savory oven-baked seafood boil? Danni Rose has you covered.

@IAmEricaBarrett

Erica Barrett, proprietor of Socu Kitchen and Oyster Bar in Alabama and founder of Southern Culture Artisan Foods, does all things in the kitchen. She's a chef, entrepreneur, reality show alum (she made it to Shark Tank), and a real estate investor. Somehow this busy lady finds time to post meals to her account that will definitely have you throwing on your favorite apron.

@TheKitchenista

Angela Davis, also known as "The Kitchinista," is a self-taught cook, food blogger, recipe developer and mom of two residing in Detroit who knows how to take you step-by-step to make meals that come out tasting divine. You will feel accomplished after previewing her account and IG videos to help you organize a Mother's Day brunch including recipes for cocktails, smoked paprika deviled eggs and a one-pot meal. You will feel like you learned something useful (because you did). Another plus? The Kitchenista also posts full recipes on her blog.

@dariuscooks

If your mom is into mouth-watering food that will make her eyes rolls back with each bite, then this is the account for you to follow. Chef Darius Williams posts food that is rooted in the tradition of his Mississippi heritage. Whether it's golden brown fried catfish or a traditional red velvet bundt cake, this is the chef that can take your creations to the next level. Simply drop your email in the comments of one of his posts and the full recipe will be sent to your inbox. You can also check out more of his recipes from his new cookbook, Stories from My Grandmother's Kitchen. 

@kelisofficial

Kelis has come a long way from having that milkshake bring all the boys to the yard. The Grammy nominated singer is also a mom who had more than a vested interest in cooking. So much so, that she went on to study at the famed Le Cordon Bleu culinary school. Now, she's the host of Netflix's new culinary competition show, Cooked With Cannabis. She frequently posts about organic ingrediants that come straight from her garden which inspires her to try and develop new recipes, especially while quarantining. Check out some of her favorite, snack recipes from her book, My Life On a Plate for you and mom to enjoy while you both Netflix and chill.

@grandbabycakes

When Jocelyn Delk Adams isn't uploading photos and videos of her adorable daughter, she's posting incredibly stylized images of her food that looks more like works of art than items for consumption. Her recipes are traditional but with a fresh, modern twist including Homemade Honey Baked Ham, Grandbaby Lemon Pepper Wings, Grandbaby Cheese Grits and much more. Even if you can't spend the day with your favorite motherly influencer, make something good and drop it off so she doesn't have to cook for herself on her big day.

@bryantterry

As the Chef-in-Residence for the Museum of African Diaspora in San Francisco, Bryant Terry is all about keeping it real and that includes being an advocate for all people to have access to healthy, sustainable food. The James Beard Award-winning chef just released his fifth cookbook in April, Vegetable Kingdom with recipes for those committed to that vegan life. Make mom something healthy with one of Chef Terry's delicious and nourishing vegetable inspired sauces or spreads. 

@chocolateforbasil

First Jerrelle Guy started the food blog, Chocolate for Basil and then she transferred her energies onto Instagram. The result is the massively popular page with over 67K followers. Plus, her first cookbook, Black Girl Baking, garnered her respect from several industry leaders.  She must be doing something right. Check out her account for a selection of recipes (there are plenty of dessert options) including one for Granola Crumb Cookies made with lots of chocolate chips that moms can do together on Mother's day with their kids to create a lasting memory.