Herschel Walker's Senate Campaign Passes On Debate With Incumbent Rev. Raphael Warnock
The date Walker agreed to is not one of the three the Warnock team signed on to do.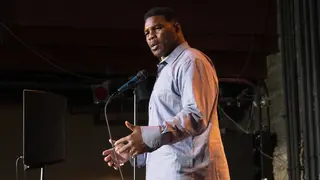 Georgia Republican Senate candidate Herschel Walker says he has turned down an invitation to debate incumbent Sen. Raphael Warnock in Macon, Ga.
Warnock agreed to participate about a month ago. The invitation was sent in June, and Walker's campaign offered no reply until his response in which he declined to appear.
Macon station WMAZ reports that Walker's explanation for why he should skip the debate might be easy to remedy – there is no Sunday night football on the Thursday night when he's invited to take part.
"You've got people that are contributors to his campaign and it's in this room that only two people gonna see it on a Sunday night, I think. NFL Football," said Walker, a Heisman Trophy winner who also played in the NFL with the Dallas Cowboys. "I am giving you an opportunity to be statewide so everybody can see what it is, see the contrast between the two of us. I don't know how you can ask for anything better."
CNN reports Walker has accepted the opportunity to meet Warnock in a policy debate. However, the Oct.14 debate offered by local station WSAV is not one of the three debates that the Warnock campaign has accepted.
Walker told Fox news host Sean Hannity on his program that he would debate Warnock at that event.
"I have accepted a debate in Savannah, Georgia, in his backyard, that we can debate October the 14th, in front of a crowd, that it'll be his people, because we're in his backyard," Walker said. "This debate is going to be about the people. It's not about some political party. It's not about the press."
Current polls show Warnock holding a slight lead over Walker. Most recent numbers say Walker trails by about 4%.