7 Winter Hair Care Tips For Gorgeous Spring Tresses
These expert recommendations for curly and coily hair will help you achieve bouncy and healthy locks.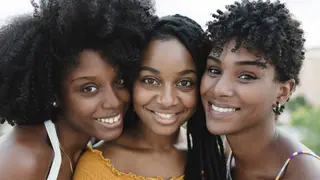 Spring is less than a month away, and that's good news as cooler temps can wreak havoc on your precious locks. You may notice static, dryness, split ends, dullness, and lifeless-looking hair. This may be particularly obvious for those with type 3 (curly) and type 4 (coily) hair as these hair types are more prone to becoming damaged.
"During the colder months, your hair and scalp are drier, and you must make sure to replenish what is lacking to avoid damage caused by dryness," says Mielle lead hairstylist Jatina Nixon. "Lack of moisture can lead to brittle hair and breakage plus unwanted scalp issues such as flaking, irritation, and inflammation," she says.
Here are winter hair care tips for having healthy hair this spring to avoid breakage and dryness.
Limit Harsh Chemicals

Hair products often contain chemicals that can leave your hair feeling dry because they strip the natural oils from it. So avoid ingredients such as sulfates, parabens, lye, and alcohol. Instead, look for hair care products that primarily contain ingredients with names that are recognizable and close to nature.

"If you have type 3 or type 4 hair, look for botanical ingredients and oils like avocado, coconut, rosemary, lavender, castor oil, and shea butter," says celebrity hairstylist and founder of NTRL by Sabs Sabrina Rowe Holdsworth.

Keep Hair Hydrated

Consider How Often You Wash

If you tend to have oily hair, washing it frequently can help to avoid the build-up of oils, but you still need to factor in your hair type. "If you have type 3, you can wash your hair a couple of times a week, but type 4 should only be once a week as more than that can lead to drying," says Rowe Holdsworth. "Rinsing and conditioning is a great option between washes if you need to re-wet the hair after a sweaty gym session," she says. 

Avoid Product Overload

Just because your leave-in conditioner or frizz tamer does a great job doesn't mean more is better. "The most common mistake I've seen people make with their hair is using too much product, " says Nixon. Doing so can lead to product build-up. "It can cause the hair to be weighed down, resulting in an unfavorable outcome when it comes to styling, and [can affect] hair health," she says.

Use a Satin or Silk Pillowcase

While you may like the feel of a soft cotton pillowcase against your face, consider an alternate option. "Silk pillowcases help reduce friction when sleeping, which helps protect against breakage and frizz," says Holdsworth. "They can also help retain moisture, while a cotton pillowcase would absorb oils and moisture from the hair," she says.

Limit Heat Styling

While getting a blowout, using a flat iron or curling iron can give you a sleek look, but they can also increase your chances of damaging your hair. "I love soft rollers and flexi rods for those wanting more control in the outcome without heat," says Holdsworth.

See Your Hairdresser

Although hair care products can help protect your hair, getting regular trims from a hairstylist is also essential. Split ends not only cause your hair to look unhealthy and blah, but getting them snipped can encourage hair growth. Plus, a hairdresser can help determine the best regimen and products for your hair.