It's Been Past Time to Put Respect on Jazmine Sullivan's Name
From awards, accolades, and everything in between — the Grammy-nominated singer is finally getting her flowers.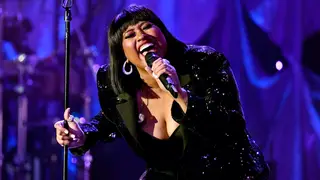 We've known Jazmine Sullivan to be that b***h since she first stepped on the scene. Over the course of her 14-year career, she's given us highs, lows, broken windows of people's cars, and her recent effort — Heaux Tales — has been met with damn near-universal praise from listeners and critics alike.
She's always been honest about her feelings concerning fame and the pressure people have put on her while being an artist. But in a January 2021 interview with NPR, she said that the breaks between albums have helped her. "The more that I'm living my life, my regular life, the more that I'm able to write these songs and these experiences that I don't know if I would be able to write if I was constantly moving or constantly doing things," Sullivan told the non-profit media organization. "I don't know what tomorrow brings, and I wouldn't want to lose so much of my time. "
After she released Heaux Tales — the awards, accolades, acclaim, and most importantly, flowers, seemed to just come flying her way.
And while she has always been ours, the music industry has never been kind to anyone for that matter, but to Jazmine specifically. Stress and strain that comes with being in the spotlight would take its toll on the Philly O.G. When she took to Twitter in 2011 to say that she was "indefinitely leaving" the game that we've all come to love to see her in, it was concerning to read that she didn't find any fun in crafting new melodies. Without her fans and those who really delve into the personal reflections in her work, listeners might have had to wait even longer for projects like Reality Show and featured appearances alongside Frank Ocean, Bryson Tiller, and Mary J. Blige.

Thankfully, with Heaux Tales, a revival of praise is coming from all over the place. On social media, a Twitter account called @TheRnBHub posted a compilation video of Sullivan "receiving flowers from her peers and music legends" that went viral. It amassed over 412,000 views and over 16,000 likes on Twitter. One of the R&B queens, Monica, said what we were all thinking after the year that Sullivan has had: "I love that right now, she's getting the respect that she always should have gotten." She then goes on to mention that the Heaux Tales songstress was "singing people under the table at 11, 12, 13 years old." If you've never seen an 11-year-old Sullivan belting the lyrics to "Home" from The Wiz, do yourself a favor and watch right now.
Mary J. Blige spoke highly of Sullivan in her clip, "What I love about Jazmine is that she just goes for it." Chaka Khan shared that same sentiment in her clip, "She ain't no joke," the Queen of Funk was recorded saying. "I love her." Fantasia and Beyoncé said that Sullivan was one of their favorite artists. The video ended with a clip from Sullivan attending a Beyoncé concert where she noticed her and showed her some love, calling her "one of the best."
It's hard not to be blown away by how effortlessly she throws in a riff in the middle of a song, quickly oscillating across the musical scale, and doesn't even bat an eye. During her performance at a Netflix event, she sang the riff-heavy "Girl Like Me" featuring H.E.R. and ad-libbed some new variations. TikTok caught wind of her performance and users did their best to mimic Sullivan's incredible vocal performance while singing in tandem with a 30-second clip from the original video. The #JazmineSullivanChallenge currently has over 25 million views on the app and people quickly learned that her talent isn't easy to replicate.
In the aforementioned NPR interview, Sullivan mentioned that she was "nervous" to ask H.E.R. to collaborate with her. "I hear that people, you know, they've been influenced by me or they like my music, but I never know how people are going to feel," Sullivan told NPR. She said that she was "shocked" when H.E.R. agreed to be on the song and that it "warmed [her] heart."
Her humility is definitely destabilizing and it caught Netflix podcast hosts, Sylvia Obell and Scottie Beam off guard when they interviewed her for their Okay, Now Listen live event back in November 2021. They were talking about Sullivan writing and singing the song "Insecure" for the show of the same name and getting Bryson Tiller to be a featured artist. "That's another person who I didn't think would want to collab," she told the two hosts, who were both stunned and then went on to remind her of all of her hits and replied back, "I'm gonna need you to stop saying that! Stand in the power of your vocals and your legacy!"
It is that legacy that she took a firm hold of during last year's Soul Train Awards. Her refreshing honesty, vulnerability, and advocacy for women — specifically Black women — to embrace themselves in doing whatever they want, however they want to do it, has been a consistent theme in her work. Talking about Heaux Tales, she told Rolling Stone, "I feel like it was the authenticity of the project that resonated so deeply." She continued, "We've been silenced for so long as women, and it's good to hear other people speak it because you feel like you're being seen. I feel like a lot of women, and especially Black women felt seen with hearing these stories from these women, from my friends, from me."
RELATED: 3 Songs From Jazmine Sullivan's 'Heaux Tales' Album That Prove Why It's Nominated For 'Album of the Year'

As she becomes more comfortable with the idea of people knowing who she is, a snippet, released last December, hinted that there is possibly more for the singer to say. "Jazzy's Tale," which teases a Heaux Tales sequel, builds on the artist's choice to welcome contradictions without judgment. Sullivan isn't afraid to bust a window out your car and for sure isn't afraid to tell you to "pick up your feelings."

As the architect of one of 2021's best albums and a mainstay within the R&B community, it is long overdue for the world to catch on to her amazing artistry, and give her the flowers that she overwhelmingly deserves.
---
Moises Mendez II is a freelance culture writer based in Brooklyn, New York. He covers digital culture and entertainment through the lens of race, gender, and sexuality. You can follow him on Twitter and Instagram @moisesfenty.