UPDATE: MC Lyte Hosts Harlem Festival of Culture Featuring Live Performances by Ferg, Cam'ron, Bell Biv DeVoe, Coco Jones, Fat Joe, Remy Ma, Wyclef Jean and More
The hip hop icon reveals how she plans to keep the energy lit throughout the three-day festival and why today's female rappers are more than just pretty faces.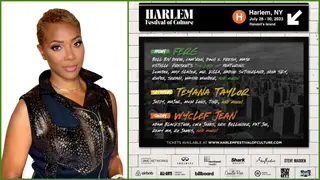 UPDATE, 07/28/23: The event coordinators for the Harlem Festival of Culture provided the following statement about this weekend's event: 
On Thursday, July 27th, President Biden called on Americans to 'listen to public officials and stay indoors' due to the excessive heat advisory and poor air quality. After strong consideration to this severe weather impacting New York City, it is with a heavy heart that we have made the tough decision to cancel this weekend's Harlem Festival of Culture with public safety in mind.
Our primary concern for the Festival was to put on an enjoyable and safe experience for all, and with the current forecast, it does not support a safe festival experience for attendees, workers or partners. While this untimely announcement changes our planned activities, this decision could potentially save lives.
---
Harlem has always been a bastion of Black culture. The music, the food, the art, the dance, the people, and the particular point of view combine to create a place that is special to our past, present, and future. This is why Harlem will always be internationally recognized as the "Black Mecca of the World," particularly during the summer of 1969, which is well documented in Questlove's Academy Award-winning documentary, "Summer of Soul."
This weekend, Harlem reinvents itself once again with the inauguration of The Harlem Festival of Culture, a three-day music festival showcasing some of today's most talented artists, many of whom were born and raised in the community. A veritable vortex of Black music and Black culture, the Harlem Festival of Culture's mainstage takes place on Randall's Island, with additional performances at The Apollo and other venues in Harlem.
The star-studded lineup includes Harlem's own Ferg, Cam'ron, Doug E. Fresh, MA$E, and singer/choreographer extraordinaire Teyana Taylor. The event will also feature performances by Adam Blackstone, Bell Biv DeVoe, Coco Jones, Eric Bellinger, Fat Joe, Jozzy, MAJOR., Muni Long, Remy Ma, Ro James, Tink, and Wyclef Jean. And as an added bonus, Grammy award-winning singer-songwriter Estelle will curate the Dancehall LinkUp with special appearances by reggae and dancehall luminaries Lumidee, Max Glazer, Mr. Killa, Nadine Sutherland, Nina Sky, Rupee, Serani, and Wayne Wonder.
An event this epic could only be shepherded by an equally amazing host. And the crowd will be lucky to see the incomparable hip hop icon MC Lyte working to keep the crowd entertained and engaged. BET.com asked Lyte about her hosting duties, the significance of bringing this three-day festival to Harlem, and ushering a new generation into the next 50 years of hip hop. 
BET.com: What are you looking forward to the most as the official host of The Harlem Cultural Festival?
MC Lyte: Let me tell you what a lineup this is! There will be no time when I have a moment to breathe because of this venue, this occasion, and this lineup. I don't know if New York has ever seen anything quite like it. So, I am excited to be a participant.
BET.com: When we think of you as an MC, we know you represent Brooklyn. How are you connected to Harlem?
MC Lyte: Harlem means hip hop. Honestly, it was where I listened to my first dose of hip hop with Treacherous Three, The Cold Crush Brothers, and the Funky Four Plus One More, with Sha Rock. To me, Harlem means City College, The Apollo, Lenox Avenue, and North General Hospital, where my mother used to work and where I would take the train sometimes and meet her after school. And so, for me, Harlem means culture.
BET.com: The lineup is fire! Who are you most excited to see among these artists?
MC: Lyte: It's so rich in talent and in representation of different eras, which I really can get into. When I hear somebody like MA$E, it just brings me back to a really good time in hip hop. It brings me back to, you know, "Cold Rock a Party," which is a song that Puffy [Bad Boy] remixed. But MA$E was right there in the studio.
And as a matter of fact, there were two lines [in that song] that I was saying quickly, and he was like, 'Lyte, take out some of the words and let those two lines breathe.' And it was magical, because that's just who he is. As an artist, Ma$E is going to take those pauses, and I'm just excited to see him perform. It's been a long time.
Of course, my sister, Remy Ma, is on the bill. We just had her at the Kennedy Center for the "I Am Woman: A Celebration of Women in Hip Hop 2023." But then you've got Cam'ron, and I can't wait to see what he's wearing. He's probably going to come out in pink polos and pink pants. And he's going to throw down with the song 'Hey Ma,' which is one of my favorite joints.
We also have Wyclef Jean, who did an off-Broadway play with me back in 1991, along with Lauryn Hill, Lisa Nicole Carson, and Darren Henson. We had a fantastic time getting to know one another, and we're still very close to this day. His performances should be seen all over the world. Everybody should say they have seen a Wyclef Jean performance at least once because he just does everything. He's a true musician. Bell Biv DeVoe. I mean, that's fire, which goes without saying! The list is long, as you can see. But I'm excited to see them all. And, best of all, I have a front-row seat.
BET.com: The 50th anniversary of hip hop is being celebrated all year. Did you ever fathom that we would be celebrating like this when you started out?
MC Lyte: No, as a matter of fact, I didn't think that far. I didn't even think I'd still be in hip hop. I always thought that I was going to retire at 27, get married, and have some kids, and that would be the end. It has turned out way differently. I've just given it all to God.
There is no way that I could have told myself that we'd be here 50 years later. Absolutely not, but I'm overjoyed. Just as we talk about the past, we should also talk about what hip hop will look like in the next 50 years. And that's up to us. We need to come together and kind of plan what we want to see.
BET.com: What are your thoughts on some of today's female MCs in hip hop, namely GloRilla, Flo Milli, Doechii, Latto, and Ice Spice.
MC Lyte: Oh, my goodness, I mean, everyone you just named is who the kids are listening to today. It just so happens that I know Flo Milli. I've spoken with Latto and GloRilla. Actually, I had the opportunity to meet them at the BET Awards this year. You know, I am just ecstatic that this many women are actually on the scene at once. I felt like, for some reason, everyone disappeared at one point, and Nikki Minaj had to hold the whole game on her back and prove that it was a necessity that we have women in this industry.
We have women making moves everywhere else. We have presidents and executives who are leading the charge with record labels, management companies, and production companies. We have directors, producers, and writers, but it was imperative that we get some women in the front as well. Big up to Nikki for holding it down for as long as she could, to the degree that her success became an example of what other record labels could do.
What you see today is an example to other female MCs that they shouldn't give up and should still keep on pushing until they arrive. Ice Spice, Flo Milli, GloRilla Lola Brooks, Tierra Whack, and Rhapsody are just the beginning. This is not just people putting out music saying, 'I'm an artist.' These are people doing their due diligence as recording artists, and that was refreshing to see. So yeah, I'm here for it.
---
The interview has been edited for clarity and length.