Behind The Scenes: Get To Know Darnell Lamont Walker, Emmy-Nominated Writer From Netflix's 'Karma's World'
As a Black male writer in the children's space, Walker says representation should always matter.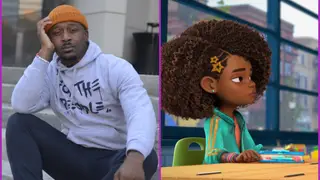 Darnell Lamont Walker is a poet and playwright-turned-screenwriter with a mercurial mind who's shared his words in nearly every corner of the world flawlessly, but certainly not overnight. Walker is also a death doula, a writing teacher and creativity coach, a bridge helping people get from where they are to where they want to go, and a world explorer who should be mentioned with the likes of Abubakari II, Isabella Bird, and Matthew Henson.
And if all that doesn't make Walker one of the unicorns he urges us to still believe in, add one of his newest titles to the list – Children's Media Writer.
Not many have had the extremely eclectic life Walker's had up to now and even though I insist on calling him a rarity in this interview, he refuses to accept the title. Now living between his cabin on top of Blood Mountain in the Chattahoochee National Forest and the rest of the open world, Walker is undoubtedly rising to his peak as a multi-hyphenate creative. Not only does his name bring smiles to the faces of the industry professionals I spoke with about working with Walker, but it also appears and will appear in countless episodes of children's programming by the end of 2023.
Representation matters for Walker. He was 16 before meeting a Black writer who let him know the world was much bigger than he imagined. His first dive into the children's space was with his self-published children's book, The Most Beautiful Thing in the World, about a little boy whose dreams of being a pilot are crushed when he learns he'll soon lose his sight. His mother takes him on a journey around the world to see all the beautiful things before he is no longer able to, and it's in this big, wide world that he discovers the most beautiful thing in it is his mother. Unbeknownst to Walker at the time, this book would send several families to do this very thing. When Walker wrote what he thought would be a one-off trip into kid's media, was that this book would not only turn into the script that got him to Sesame Street, but it would also be the first of many works bringing disabilities to places they rarely go. 
The break came when Walker flew to New York City to meet with Halcyon Person and Sarah Wallendjack at 9 Story Media Group to discuss what would be his first job in children's television - Karma's World, from creator Chris "Ludacris" Bridges. Walker's episode, "Friendship in a Flash," has received incredible reviews and is available on Netflix. Wildly, this first job led to Walker's first Emmy nomination. Four months after that meeting, Walker packed up his Los Angeles apartment and found himself back at 9 Story for his first full-time children's job with the Blue's Clues & You writing team.
Always one to keep the momentum high, Walker leveraged his growing credits for more. This led to him writing for shows your kids have heard, seen, or will soon love on Nickelodeon, PBS, Netflix, Apple, Wondery, and more. It also led to the creation of what Walker says is one of his most important projects, Our Song. Inspired by his friend's son, Our Song is the story of a little boy born with ectrodactyly, "a condition characterized by the absence or malformation of one or more of the fingers or toes," according to rarediseases.org, and a father whose fear of a heartbroken son causes him to stifle one of his son's biggest dreams. This story is necessary for all kids, especially those who will one day, if it hasn't happened already, be told they are limited because of a disability. This script is beautiful.
BET.com: You've written stage plays like Damn Women, which won awards, and audio plays like The Muck, which won a grant from the Classical Theater of Harlem. Those are for grown folks. Now your name and your work are being seen by kids. Is writing for children something you've always wanted to do?
Darnell Lamont Walker: Not at all. In the grand scheme of my dreams, that one is still a baby. Born about five years ago when I left Johannesburg for New York to fellowship with other writers in the Sesame Street Writers Room. I'm one of those writers who was always open to writing any creative thing. Now I can't imagine not writing for those humans who matter most. Kids are special, you know, and it's wild where dreams and being open will take you. I'm a Black kid from Charlottesville creating cartoons for kids with folks like Traci Paige Johnson and Angela C. Santomero and Aliya LeeKong and Ludacris. [Laughs] Ludacris!
BET.com: And now you're nominated for your first Emmy. Dreams do come true, don't they? How does that feel?
Walker: I'm still processing that. Still finding myself at crosswalks and dinner tables with a little downtime and alone time to think and I feel a tear welling up in my eye. But you know, the biggest part of that dream is being able to take my mom to the ceremony. I remember being a kid and thinking about this moment and how I'd take her as a way to pay her back for pouring so much into me. I think as soon as I called to tell her to get a gown, she called all her friends to tell them how her baby was taking her to the Emmys. Black mamas are special, aren't they?
BET.com: Tell me though. How was it writing for Karma's World?
Walker: It was incredible. A lot of the initial excitement was because it was my first real job as a children's writer, but when that faded just a little with each draft, I was still part of a dope dream Chris had been working on for about a decade, and that kept the momentum high for me. I love watching dreams come true. Hope is important. And even though I was just freelancing, I got to be part of a writing team with Halcyon Person and Keion Jackson, two writers I still look up to who really knew what they were doing.
BET.com: What's your episode about?
Walker: The class is put into groups, and Karma's paired with the cool new photographer kid in class, Sam, who has dyslexia. Karma has misconceptions about dyslexia and tries to do all the work for the team, but she quickly learns from Sam, who's not at all limited by her challenges, that there are ways to work together.
BET.com: Wow. I knew many people with dyslexia growing up, but I don't think I've ever seen an animated character with dyslexia, and I watched all the Saturday morning cartoons.
Walker: That's why episodes like this are important. I had a few friends with dyslexia growing up, too, and I wonder what would have been different for them if they had a character like Sam to watch.
BET.com: And characters like the little boy in the animated short film you're developing now.
Walker: Yeah. In Our Song. A little boy was born with a condition called ectrodactyly. His hands are cleft. I know I've never seen that on screen. At least not in a positive light. But I have seen many children in the world, one of them is my homegirl's kid, Christopher, who deserves to see themselves in roles we see every day when turning on the TV. I scream "representation matters" every chance I get in this industry, and it's important to me that my work reflects that. That's one of the things I loved most when I was at Blue's Clues & You. Josh [Dela Cruz] is there. He's Filipino-American. And he's a real person. Do you know how many brown and Black kids watch him and say, "I can do that? Of course, I can!" All of them. Or it's become so normal, it's not a conversation they need to have. That's a beautiful thing. Same thing with Karma and her big hair. Man, ain't that beautiful!
BET.com: What's the most important thing to you right now?
Walker: My happiness. I put that above every single thing in my life because if I'm not happy, nothing will work. Nothing will feel good. No relationship, no job, no hobby, and no meals I cook. So I maintain my happiness however I can. Meditation, letters, journaling, music, laughing, traveling on a ship up the Adriatic, road-tripping across the country with my son, and no real agenda. It's all happiness to me.