Trae Tha Truth On Devastation In Houston: 'It's Like Katrina All Over Again'
The artist spoke candidly with BET about the immediate and long term goals for rebuilding the city that is currently underwater.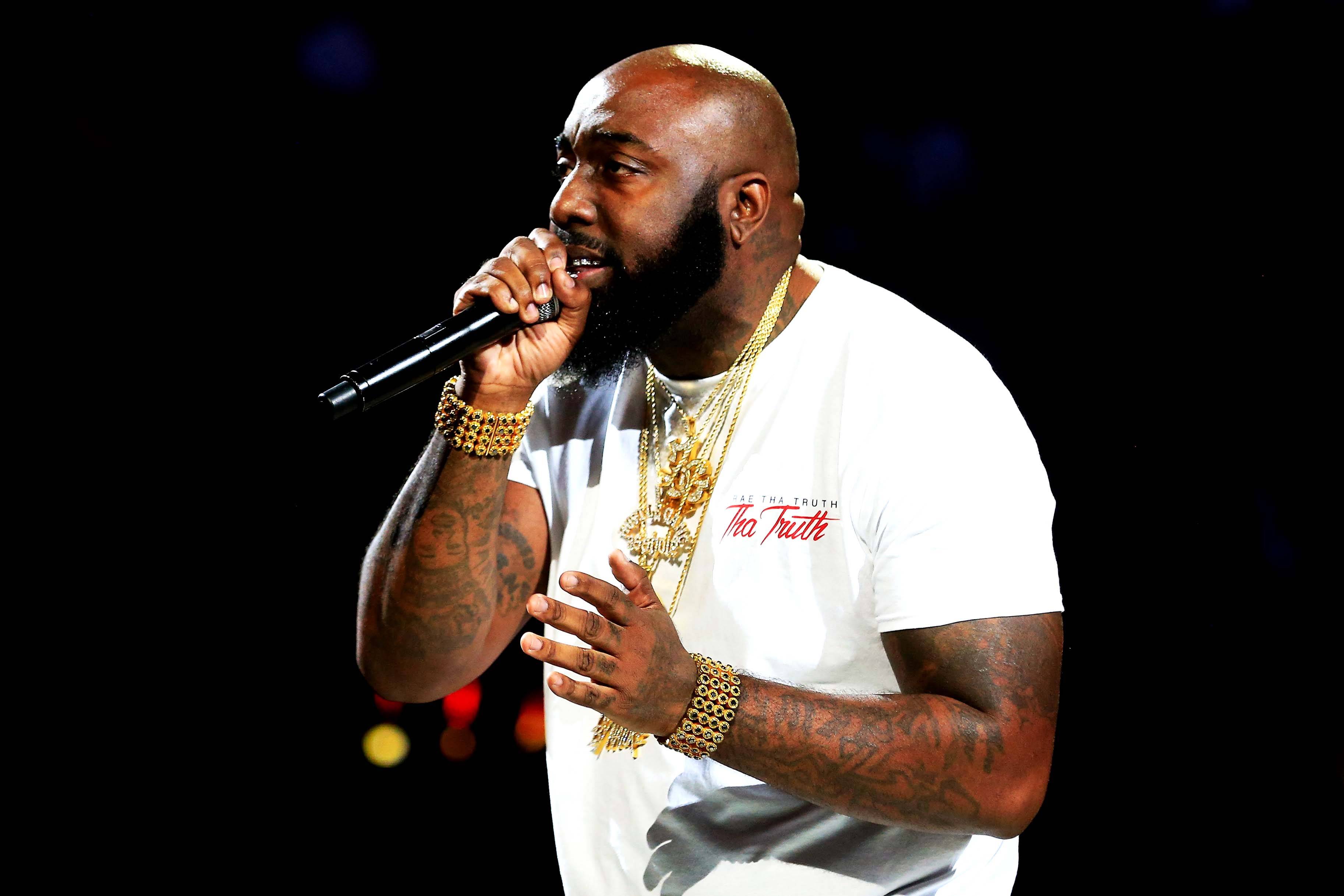 Trae Tha Truth has been on the ground in Houston since Monday (Aug. 28). With a team of other volunteers, the recording artist has leapt into action, boating residents — whose homes are under six feet of water — to safety, as well as gathering as much support and supplies to help the city rebuild in the aftermath of Hurricane Harvey.
The natural disaster that swept through Texas this past week has tragically taken the lives of dozens of residents in the area, but with a number of generous donations and hands-on action, the city is capable of recovering.
In response to the devastation and in an effort to provide resources for Houstonians, Trae launched a GoFundMe account. And since its launch, the account has already raised more than $30,000 for relief efforts, but Trae says his mission is to get to $250,000. All proceeds will be directly funneled to Trae's foundation, Angels by Nature, which will then provide resources to communities, including Houston and the Golden Triangle — Port Arthur, Beaumont and Orange.
As for Trae himself, he is currently making his way up to Beaumont, where he will join Bun B to evacuate more residents. "We're going to hit the ground running," Trae told BET during a brief phone interview. "We're going to use trucks and we're going to do everything."  
Trae acknowledges that there is a lot that can be done, whether that is in the heart of the city or outside. Trae Tha Truth spoke with BET the plans for his GoFundMe and the immediate and long terms goals for rebuilding the city that is currently underwater.
For those looking to donate to Trae's direct relief fund, click here.  
BET: Can you give us a better understanding of what is happening on the ground in Houston right now?
Trae Tha Truth: The water is starting to go down in certain areas, but it's so much water in the city. In certain areas, it's gone down in and in other areas it hasn't moved at all. It's like you can go down the street and it can be dry. Then once you make it down to the end of the block, it's full of water.
As far as evacuation is concerned, how it that process moving along?
People are being evacuated, but they're not evacuating necessarily to another city. They're evacuating to shelters. It really wasn't a route to get out of the city. I'm actually meeting Bun B in Beaumont. We're coming to help them right now in these high water trucks.
We know you've been on the ground boating residents to safety, but how many would you say you've had to evacuate in the past couple of days?
We can easily say towards 100 or so. We've been going since Monday night. We haven't even made it to Beaumont yet. We're going to hit the ground running so we can get there. From Houston, just to get there, we have to travel through probably two feet of water at least five or six miles. There's a lot of separation, but we're getting there.
You recently announced the GoFundMe, which has garnered $30,000 already. But for people asking, where is this fund specifically going to?
[It's going to] my charity. A lot of people are just seeing this right now, but this is what I do for my organization Angels By Nature all year. What happens is everybody donates to all these different organizations and what people have to understand is, as soon as you donate, people are not stopping what they're doing to go get everything and give it to people. The reason I created my GoFundMe is for the immediate [relief]. [The other organizations] are going to raise more money than I could ever raise. And hopefully by that time, it will have finally kicked in. But right now, I'm trying to raise $250,000 to split between Houston, Beaumont and different places like that... No kids are in school right now… Some of the schools are flooded and their homes are flooded. You have to think, people need baby food, toiletries, water. When the kids go back to school, they're not going to have no supplies or clothes. So I'm raising money and going through the neighborhoods. Anything they say they need, if we have it and are able, we're going to go get it hands on instead of waiting for something to come in the mail. People need help right now. I know it can get overwhelming and frustrating because everybody wants [immediacy]. But sometimes people really do need right now.
Obviously there's the immediate need, but then there's the long term. What is it going to take to rebuild the city? What do people need to rebuild their lives?
We're going to need help at the least through the rest of the year.  Imagine a lake or an ocean with houses poking out of it. The whole neighborhood is underwater. Even when the water finally goes away, there's so much damage, people still can't go home. And when they do go home, all that has to be fixed because water leads to bringing mold and everything else. So it's just a bad situation period. It's just like Katrina all over again. Some people are leaving and going to other cities to figure out what their next move is going to be.
For people who do want to help, there's been a debate about which organizations are actually serving the people directly…
The reason that I'm doing [my GoFundMe] is because if we hit our goal or go over, then that's more that we can help [directly]. With the Red Cross, there's no exact way to know how much of the donations are going to be used because you're donating to a corporation. It just goes to the company. My advice is for those who want to help immediately, they should donate to mine. We're going to use trucks and we're going to do everything hands on.
Like you said, this is definitely a difficult and frustrating time, but would you say that everyone in Houston is uniting in good spirits?
Yeah. It's not just Houston. A lot of people came in with boats from other cities. We would've never been able to get half the stuff we got done if those people hadn't came. So everyone is united. Everyone is just trying to make it to the next day. A lot of people are donating supplies to the point they don't have storage. But it's not only Houston; you got Corpus, Galveston, Beaumont, Brookwood, people everywhere who are in need. So I know we can't save the world, but at the end of the day, we can try and do whatever we can do.
Any final words?
I want people to help in any ways you can help. Anything can help. And for all of us that have platforms, help push the link and try to raise money for those who can't get out of here.