Idris Elba Gets Candid About Going to Therapy to Treat 'Unhealthy Habits'
The actor admits he is an "absolute workaholic."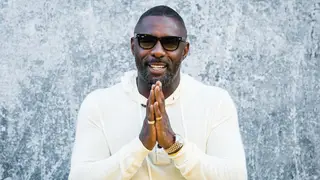 Idris Elba is addressing his mental health.
During an interview on the Changes with Annie Macmanus podcast, the actor revealed he had been privately battling an unhealthy professional habit that he is currently seeking therapy for, as reported by Insider. As he strives to improve his life, Idris opens up on this tendency to do too much.
"I'm an absolute workaholic," he confessed to the host. "That isn't great for life."
Elba has been in therapy for about a year to treat his compulsive work habits. "It's a lot of work," he said.
Macmanus commented on her experience in therapy as being stressful. "That's just the beginning part because I have felt the same," said the actor. "And it's probably good to go through that because once you start getting comfortable with the silences, that's when the magic starts to happen."
With the help of therapy, Elba said that he has been considering changing some of his behaviors.
"It's not because I don't like myself, it's just that I have some unhealthy habits that have really formed," he explained. "And I work in an industry that I'm rewarded for those unhealthy habits."
He continued, "Nothing that's too extreme is good; everything needs balance. But I'm rewarded massively to be a workaholic," while adding. "Those are pathways that I had to be like, 'I've got to adjust.'"
When time permits, he winds down in his music studio away from the lights and camera.
"My studio in my house, I just love being in here," he noted. "I'll open that laptop and be like, 'I don't know what to make today,' and it'll come out like this or that. And I'm exhilarated by that and also so relaxed by it."
"I could work 10 days on a film, underwater sequences holding my breath for six minutes, and come back and sit in [the studio] and [feel relaxed], more so than sitting on the sofa with the family — which is bad right?" he said. "This is the part where I've got to normalize what makes me relaxed, it can't be all work."