Missy Elliott Defends Flyana Boss Amid Criticisms Over Their 'Repetitive' Marketing Approach
The best-friend duo made a splash on Tik Tok with their viral record 'You Wish.'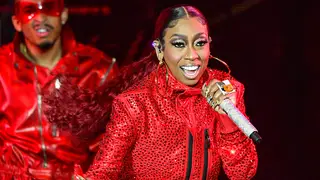 Best friends Folayan and Bobbi LaNea, better known as the sprinting musical duo Flyana Boss, have swiftly become the latest sensation to conquer the internet. Their infectious presence has garnered widespread attention from fans online and even Grammy
Award-winning artist Missy Elliott, who recently stepped in to defend the duo against criticisms surrounding their perceived repetitiveness.
It all went down when a critic on social media called out the girls over their marketing approach, asking "How many times they gon do the same thing in different videos for this song?" In their visuals, the girls are seen running through crowds of people while rapping their hit song "You Wish."
Missy quickly came to their defense, even drawing references from her own career to illustrate the significance of consistency for emerging artists.
"This old school tactic — if you do a bunch of things, you confuse the audience. They don't know who you are. That's why most successful artists have eras and, for that era, they consistently do the same style and sound, so you build a particular fan base," the rapper wrote in response to the Twitter user.
Emphasizing her point, the Virginia native reinforced the rationale behind the girls' approach, writing, "Example: My first album, I wore finger waves the entire time. My sound was a futuristic vibe even down to the way I danced; it was a jerky move. But all the elements established the type of artist I was…"
The "Work It" rapper reiterated, "You must be consistent when you are a new artist."
Earlier this month, Flyana Boss took to Twitter to wish the legendary musical icon a happy birthday, expressing, "We wouldn't know how to be Flor or a Boss without you." In a heartwarming response, Missy Elliott shared a clip of herself running down a hallway, mirroring the energetic style that the duo embraces in their own videos.