Obama: I Will Be My Black and Brown Brothers' Keeper
President Obama launches program to help young men of color reach their full potential.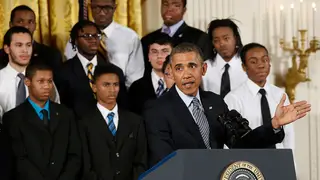 It's that time in a president's tenure when he begins to think about what's next. The nation got a glimpse of what's next for President Obama when he unveiled his "My Brother's Keeper" initiative to help young men of color reach their full potential.
Surrounded by a group of Black and Latino teenagers in the East Room of the White House, the president talked about how the odds for success have unfavorably stacked up for boys and young men of color. Despite examples of extraordinary achievement, such as Gen. Colin Powell, Transportation Secretary Anthony Foxx and the president himself, they are statistically more likely to grow up in homes without fathers, less likely to read at grade level by fourth grade and more likely to end up in the criminal justice system.
"The worst part is we become numb to these statistics. We're not surprised by them. We take them as the norm. We just assume this is an inevitable part of American life instead of the outrage that it is," Obama said. "But these statistics should break our hearts. And they should compel us to act."
Foundations, businesses, state and local officials, faith leaders and others participating in the "My Brother's Keeper" initiative will partner to intervene and expand opportunities for the young males at key moments in their lives. That includes providing access to basic health and nutrition, high-quality early education and mentorships. They also will work to ensure that they stay in school and prepare them for job opportunities. Parents will have to do their job as well, by making sure their children fulfill their responsibilities as students.
Although the president's newest budget does not include a line item for the program, groups have invested $150 million to it and have agreed to invest an additional $200 million over the next five years, according to the White House.
"Broadening the horizons for our young men and giving them the tools they need to succeed will require a sustained effort from all of us, Obama said, adding that, "We all have a job to do and we can do it together -- black and white, urban and rural, Democrat and Republican."
The president signed a memorandum at the event establishing the My Brother's Keeper Task Force, which will be chaired by Broderick Johnson, assistant to the president and cabinet secretary. Tasks will include identifying best practices and how federal policies and programs, state and local officials, businesses, foundations and others can support the initiative's efforts.
Speaking directly to the young men behind him and those watching on television as he closed his remarks, the president reminded them that while he and others are committed to providing them with the tools they need to success, they also have a role to play in that success.
"It may be hard, but you will have to reject the cynicism that says the circumstances of your birth or society's lingering injustices necessarily define you and your future," he said. "It will take courage, but you will have to tune out the naysayers who say if the deck is stacked against you."
To underscore his point, Obama cited Maurice Owens, a member of the White House staff previously featured on BET.com, as an example of how it is indeed possible to alter the course of one's life.
"Moe didn't make excuses. His mom had high expectations. America needs more citizens like Moe," Obama said. "We will beat the odds."
BET Politics - Your source for the latest news, photos and videos illuminating key issues and personalities in African-American political life, plus commentary from some of our liveliest voices. Click here to subscribe to our newsletter. 
(Photo: Win McNamee/Getty Images)