Mother and Daughters Wrongly Detained in California Win Record Settlement
Alameda County offered the family $700K before a jury set the payment at $8.25 million.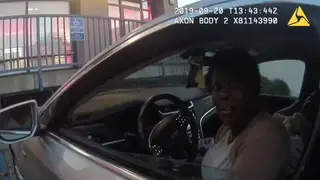 In September 2019, outside a California Starbucks, a mother and her two teen daughters were forcibly detained, but a jury was convinced it was for no good reason. Now they're owed $8.25 million after winning a settlement from the county sheriff's office in compensation for violating their civil rights.
According to reports, Aasylei Loggervale and her teen daughters had been driving all night. They left home in Las Vegas at 10 p.m. to make the nine-hour trip to Berkeley City College in California in time for Loggervale's oldest daughter to take a statistics test early the next day.
They stopped in Castro Valley, Calif., early in the morning, and Loggervale pulled into a Starbucks parking space. They were about 30 minutes away from their destination, and the driver and daughters intended to have some coffee and use the restroom.
That's when an Alameda County Sheriff's Office deputy rapped on the car window.
The deputy, Steven Holland, informed Loggervale during a dispute that was caught on body camera that he was looking into local car break-ins. Then he and another deputy, Monica Pope, demanded to see Loggervale's ID. But she objected, arguing that she had not broken any laws and questioned the purpose of the interaction.
They were held for an hour without being given a reason and then released without being charged. The family said they were traumatized by the experience and charged in their lawsuit that they were subjected to racial profiling, false arrest, invasion of their privacy, and violations of their 1st, 4th, and 14th Amendment rights.
The internal review of the deputies' behavior revealed no wrongdoing. A grand jury, however, determined that the deputies and the county were accountable for the claims made in the case.
After a two-day civil trial in San Francisco in which the jury deliberated for 16 hours, the mother and daughters were awarded this record sum from the Alameda County Sheriff's Office.
The jury determined that Deputy Steven Holland was responsible for $2.7 million to Loggervale and $2 million to each of her daughters, Aaottae Loggervale and Aasyeli Hardege-Loggervale, who were then 17 and 19, respectively.
The jury also determined that Pope, who helped Holland detain the woman and her children, was responsible for both daughters' $750,000 damages and that Alameda County was responsible for the deputies' acts.