The Most Definitive Hip Hop Videos of 1997
25 years later, these visuals still stand the test of time.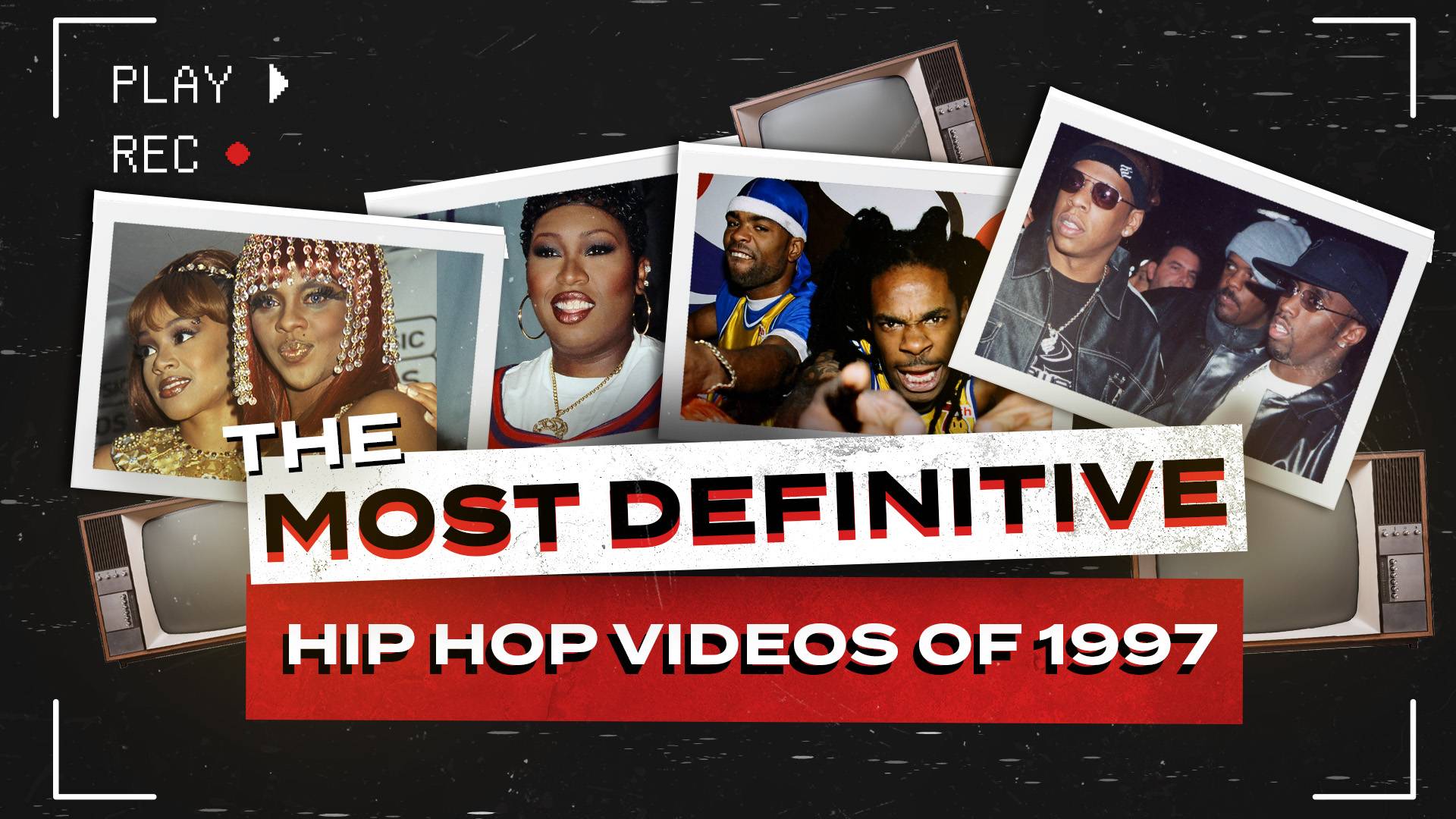 When hip hop elbowed its way into mainstream American culture once and for all during the 1990s, rap became the dominant pop music culturally and on the charts. Music videos (still issued mainly through BET, MTV, and VH1 in a pre-YouTube age) helped fuel that multi-platinum era of excess-as-success, and the year 1997 stands out as a GOAT moment for hip hop visuals. 
Over a dozen clips directed by Hype Williams in '97 surely led to his one and only feature film Belly in 1998; his fish-eye lens dominated the Rap City basement and the cultural zeitgeist. Many other directors also put their visual stamp on '97 hip hop: Diane Martel, Paul Hunter, Brett Ratner, and more.
The Most Definitive Hip Hop Videos of 1997 celebrate the silver anniversary of all the champagne dreams, luxury whips, crack choreography, and movie homages on display from that year's elite rap maestros. Hop in a Hummer and take the trip down memory lane.
The Notorious B.I.G., "Hypnotize"

The Notorious B.I.G., "Hypnotize"

Hollywood-level theatrics saturate The Notorious B.I.G.'s fifth video, a high-budget affair showcasing sexy mermaids swimming in a tank, predatory helicopters trailing a Versace-clad Biggie's yacht, and a car chase—backward!—with Sean Combs behind the wheel, evading a squad of enemies on motorcycles. 

Released the same month that assailants murdered Biggie in L.A., "Hypnotize" captured the sky's-the-limit spirit that embodied Bad Boy Entertainment and its star MC before fatal tragedy struck.

Wyclef Jean, "We Trying To Stay Alive"

They say fashion evolves in 20-year cycles, so seeing Wyclef Jean, Pras, John Forté and the gang decked out in a 1970s disco fever aesthetic for the video to 'Clef's solo debut single "We Trying To Stay Alive" is absolutely fitting for this late 1990s extravaganza. 
Produced by Academy Award winner Roman François Coppola, the visual defines big-budget Clinton-era superfluity: dramatic peaks, gripping creative direction, and a climatic dance battle that concludes with both Team Wyclef and his adversaries being arrested. 
The song "We Trying To Stay Alive" samples classics by the Bee Gees and Audio Two ("Stayin Alive" and "Top Billin", respectively) both of which are elevated by The Refugee All Stars genre-melding rhythms—creating a track and video that transcends generations.

Camp Lo, "Luchini AKA This Is It"

Camp Lo—rappers Geechi Suede and Sonny Cheeba of the Boogie Down Bronx—join rappers like Craig Mack and Smoothe da Hustler for captivating 1990s hip hop heads for a brief shining moment that decade. 

The duo's video for "Luchini" made the most of their 3:59 of fame. They pull off a heist rocking rubber masks of Richard Nixon and Jimmy Carter, while sporting their signature Cooley High caps in a diner for most of the clip, oozing never-forgettable charisma.

Redman, "Whateva Man"

Redman is one of hip hop's greatest showmen and the video for "Whateva Man" is a poignant example. The subdued, laid-back barfest is maximized through a comedic recreation of the classic "Blues Brothers" film. 

Method Man plays sidekick to Red as the two embark on an uproarious journey from the penitentiary to a college dorm room, climaxing with Reggie Noble's head served on a platter as a family eats dinner. 

In an era where multi-million dollar music videos seemed to be the status quo, "Whateva Man" stands out by keeping its creativity grounded.

Master P, "Make 'em Say Ugh"

The South (New Orleans to be exact) had something major to say when a cadre of No Limit soldiers—ringleader Master P, Fiend, Silkk the Shocker, Mia X, and Mystikal—stormed a basketball court to make us all say "ugh!" during a period dominated by rap acts from New York and California. Despite the presence of feisty Mia X, this Michael Martin-directed clip felt full of testosterone. 

With the heavily strip club-influenced video vixen era around the corner, it's telling that the cheerleaders in this video were a barely noticeable afterthought. With "Make 'em Say Ugh!," Master P drove his No Limit tank onto the Billboard charts with the precision of a slick military maneuver.

Will Smith, "Men In Black"

Futuristic technology, house party-ready line dances, singing aliens—the music video for Will Smith's "Men In Black" is the perfect chart-topping companion to its blockbuster namesake. 

The Robert Caruso-directed visual is not only stunning by late 1990s standards but still impresses today through its jam-packed action and comedic flare. It's a towering example of how to capture the essence of a film while crafting standalone greatness.

The Notorious B.I.G., "Mo Money Mo Problems"

The shiny suit era of hip hop found its dominant image in this Hype Williams-directed clip, featuring Ma$e and Puff Daddy floating in a wind tunnel, dancing in a Stanley Kubrick-like illuminated tunnel (a Hype video signature) and grooving in extremely sheeny outfits to a choice sample of Diana Ross's "I'm Coming Out." 

Framed by a comical skit casting Puff as a professional golfer (inspired by the recent rise of Tiger Woods), with cameos from boxer Riddick Bowe and the LOX's Sheek Louch, "Mo Money Mo Problems" epitomized the period of hip hop overtaking pop music.

Lil Kim, "Crush On You"

Lil Kim took inspiration from the movie The Wiz and turned it into an undeniable cultural touchpoint by, for the first time, dawning multi-colored wigs in each scene, pushing fashion and style in the process. 

Lil Cease features on the track, while the late Aaliyah and Uncle Luke make cameos as a gaggle of dancers get down on a color-changing checkerboard floor. It's bright. It's flashy. It's everything that epitomizes the Bad Boy era.

Busta Rhymes, "Put Your Hands Where My Eyes Could See"

Firmly establishing Busta Rhymes as rap's most amazing video artist this side of Missy Elliott, "Put Your Hands Where My Eyes Could See" raised the high standard set by 1996's "Woo Hah!! Got You All in Check" — creating one of the most visually over-the-top music videos of the decade. 

Inspired by the 1988 Eddie Murphy comedy Coming to America, director Hype Williams recast downtown Manhattan's cavernous Surrogate's Courthouse lobby as an African palace. Busta bathes with nubile Nubians, evades a rushing elephant (tusks in hand), preens in Day-Glo body paint, and sets the stage for tribal choreography by Fatima Robinson. 

An absolute must-see rap video from day one.

Lil Kim, "Not Tonight (Ladies' Night Remix)" ft. Angie Martinez, Da Brat, Left Eye & Missy Elliott

Lil Kim's "Not Tonight" (Ladies Night Remix) felt like a seminal moment in hip hop history. Five female MCs riding jet skis and speedboats and commandeering what seems like a private tropical hideaway with a bevy of men catering to their beck and call with various clips from the movie Nothing To Lose spliced between the chicness. 

Add high-profile cameos from Queen Latifah, Blaque, Xscape, Total, Changing Faces, and both the video and the track are an exercise in unity and undefeated lyrical skill.

Missy Elliott, "The Rain (Supa Dupa Fly)"

If one single Missy Elliott video gets committed to the Black Smithsonian for all time, "The Rain (Supa Dupa Fly)" wins hands down. Her black inflatable bubble suit remains one of the 1990s' most indelible video images. 

But her humor deserves mention too: when Missy lyrics off-handedly mention Yo-Yo, the rapper magically makes an appearance (along with Elliott's production partner Timbaland, Puffy, Lil' Kim, Lil' Cease, 702, and Da Brat). 

The playfulness extends to the clip's randomly distorted eyes and lips, director Hype Williams's trademark fish-eye lens, and Missy beatifically sitting on a hill ("like Lauryn") flipping her hair. The whole thing sings of hip hop perfection.

Foxy Brown & Jay-Z, "I'll Be Good"

Lyrically speaking, Foxy Brown's "I'll Be" (featuring Jay-Z), is luxurious, sophisticated, and salaciously charged, all of which Brett Ratner captured seamlessly in the simple yet stylish music video. Hov's decked in a jet-black suit. 

Foxy oozes elegance and rugged seduction. Toss in DJ Funkmaster Flex and a cascading array of backup dancers and the quintessential late-1990s upscale vibe is complete. The "I'll Be" video stands tall through its high-class minimalism.

The Wu-Tang Clan, "Triumph"

The video for Wu-Tang Clan's 1997 return to the hip hop nation runs rife with questionable CGI effects, even by the standards of the day. Ol' Dirty Bastard, RZA, and the other members of The Clan transform into killer bees, swarming throughout New York City—inciting a jailbreak, giving sight to the blind, omnisciently observing the Earth from outer space, and other amazing feats. 

Filmmaker Brett Ratner (X-Men: The Last Stand, the Rush Hour trilogy) lensed a maximalist music clip for hip hop's greatest collection of outsized personalities, staging their comeback in a commercial era of rap going pop. They killed it. 

Blink and you'll miss the Quincy Jones cameo at the 5:36 mark.

Freak Nasty, "Da Dip"

Freak Nasty's "Da Dip" was a favorite of grade school dance teams nationwide in the 1990s and a glimpse of the colorful music video explains its popularity. Director Frederick J. Taylor's simplistic approach perfectly visualizes the levity and charm of the platinum-selling song. 

It features various people of all demographics dancing in front of a yellow background—complete with an Elvis impersonator, a grunge rock guitarist, elementary-age cheerleaders, and a rotund digital dancer doing "da dip." Freak Nasty's biggest hit is still galvanizing fun for all ages.

Gang Starr, "You Know My Steez"

Take one of hip hop's most boom-bap, streets-dedicated rap groups and cast them in a commercial music video inspired by Star Wars creator George Lucas's sci-fi cult classic THX-1138, and the result looks like this Gang Starr video. Trapped with fellow baldheaded inmates in some future dystopia, Guru eventually climbs up and escapes later to freedom. 

Director Terry Heller intercuts a neighborhood posse of roughnecks throughout, including DJ Premier and Public Enemy's clown prince, Flavor Flav. Liberation never sounded so hardcore.

Scarface, "Smile" ft. Makaveli (2Pac) & Johnny P

Scarface's "Smile" (featuring 2Pac and Johnny P.) video opens with a shot of a BMW 750iL, the same model which his friend and icon Tupac Shakur was riding in when he was gunned down in Las Vegas. 

It then moves to Scarface walking through the woods dressed as the grim reaper until he reaches a clearing where Tupac is rhyming while being crucified. At its conclusion, there's a scene where two men are fighting in a tiny boat until both of them fall into the water. 

The entire experience is brooding, and foreboding, and doubles as a tribute to Scarface's fallen friend, as well as a reminder that conflict in close quarters can end with all parties underwater.

Busta Rhymes, "Dangerous"

Director Hype Williams enlisted actor Bill Nunn (Menace II Society) and his signature fish-eye lens to shoot five minutes of lighthearted entertainment for the follow-up to Busta Rhymes's groundbreaking "Put Your Hands Where My Eyes Could See." 

The plot (divorced entirely from the song's lyrics) involves hype man Spliff Star and Busta as an escaped criminal and a Lethal Weapon-era Mel Gibson-ish cop… but both in whiteface. There's a strip-club dance-off, a Crenshaw bus hijack, Busta mugging for the camera dressed in Bootsy Collins regalia, etc. 

At a time when the Brooklyn MC appeared in Hollywood films like Higher Learning, Busta's videos definitely qualified as mini-movies.

LL Cool J, "4, 3, 2, 1" ft. Method Man, Redman & DMX

Eighties-spawned wordsmith LL Cool J ushered in the mid-1990s surrounded by young lions of hip hop on posse cuts like Craig Mack's "Flava in Ya Ear (Remix)" and the Phenomenon sophomore single, "4, 3, 2, 1." 

Def Jam labelmates DMX, Method Man, and Redman sit in a cypher before the video segues into Method Man as a gold-chain rocking mummy surrounded by Scream-masked zombies and other high-concept scenes. 

Director Diane Martel broke through the era's blizzard of Hype Williams videos to craft her own classic.

Will Smith, "Gettin' Jiggy Wit It"

"I met Ali, he told me I'm the greatest," Will Smith jokes on "Gettin' Jiggy Wit It," four years before Ali earned him his first Oscar nod. The former Fresh Prince enters director Hype Williams's famous illuminated hall of mirrors (complete with disco ball), among other set pieces, for a carefree romp filmed in Las Vegas. 

Williams's videography constituted the visual standard of mid-1990s hip hop culture, and Hollywood's largest leading man was right there in it.

Def Squad, "Rapper's Delight"

The video for Def Squad's "Rapper's Delight" cover captures the epitome of hip hop essence. The experience plays out like a day and night adventure with Redman, Keith Murray, and Erick Sermon. 

The trio rolls in a drop-top red convertible, stopping at a diner before hitting the block party where the b-boys and b-girls are in full effect. By covering hip hop's first hit song, Def Squad introduced one of the culture's most important offerings to an entirely new generation.

Chris Rock, "Champagne"

Everybody catches comedic strays in Chris Rock's "Champagne" video. Directed by Troy Miller and featuring Kool Rock Ski from the legendary Fat Boys, the visual opens with a spoof on the beginning of The Notorious B.I.G.'s "Hypnotize" video. 

But instead of a speedboat cruising off of the Florida Keys, he and Rock Ski are cruising in Lake Eerie. The rest of the hilarious feature plays out in a similar fashion—from the Missy Elliott and Lil Kim look-alikes to Chris closing the video dressed as Tiger Woods. "It's all good, y'all. Tiger Woods, y'all," he raps, mocking the golf superstar. 

The "Champagne" video is side-splitting cultural commentary on hip hop's addiction to excess.

Missy Elliott, "Sock It 2 Me" ft. Da Brat

Here comes Missy Elliott and Lil Kim bum-rushing a distant planet decked in what look like Mega Man-inspired space suits. They're marching. They're running. They're grooving away from giant robots hot on their tales. 

And just when all hope seems to be lost, Da Brat swoops in looking like Sonic The Hedgehog riding a space bike ready to save the day. Hype Williams compiled a bodacious experience for Missy and Timbaland's sultry yet bombastic classic.

Puff Daddy ft. Ma$e, "Can't Nobody Hold Me Down"

It's hard to make sense of the video for Puff Daddy's "Can't Nobody Hold Me Down" video (featuring Ma$e). The beginning opens with Diddy mid-nightmare. Then he and Ma$e are cruising in a Bentley in a desert somewhere unknown. 

Then they're dancing in shiny football jerseys in an even shinier, multilevel soundstage. It's all over the place in the best possible way and a towering example of the fact that, even in the shadow of the passing of The Notorious B.I.G., Bad Boy can't be stopped.

Bone Thugs-N-Harmony, "Look Into My Eyes"

Bone Thugs-N-Harmony's "Look Into My Eyes" first appeared on the soundtrack to the movie Batman & Robin and the video does an exceptional job of turning Downtown Los Angeles into Gotham City. 

Krayzie, Lazy, and Wish are perched atop the Eastern Building, then later, mobbing in front of the Orpheum Theater and each cut blends in seamlessly with the scenes from the DC Comics film. It's a rare blend of late 1990s movie marketing and hip hop mass appeal.

The Firm, "Firm Biz"

Of the eight-million stories in naked New York City, director Hype Williams collaborated with Nas, AZ, and Foxy Brown to spin a gangster narrative. 

Feds chase a man through an abandoned building before he leaps through a window, escaping an inexplicable explosion; En Vogue's Dawn Robinson sings a hook reworked from Teena Marie's "Square Biz" at a swanky soirée as a bubble machine blows; Nas and AZ hang a Joe Pesci-looking mobster off a bridge. 

What does it all mean? Hip hop opulence circa 1997, that's what.

Miles Marshall Lewis is a recognized pop culture critic, essayist, literary editor, fiction writer, and music journalist. He is the author of 'Promise That You Will Sing About Me: The Power and Poetry of Kendrick Lamar' (St. Martin's Press).

Justin "The Company Man" Hunte is an award-winning journalist, producer, and creator of 'The Breakdown,' a popular video series on YouTube. The Los Angeles-based multihyphenate currently serves as the Vice President of Production & Acquisition at Behind The Scenes Network.