Women's History Month: 5 Black Women Comics Who Should Be On Your Radar
The ladies are sure to provide a laughing-good time.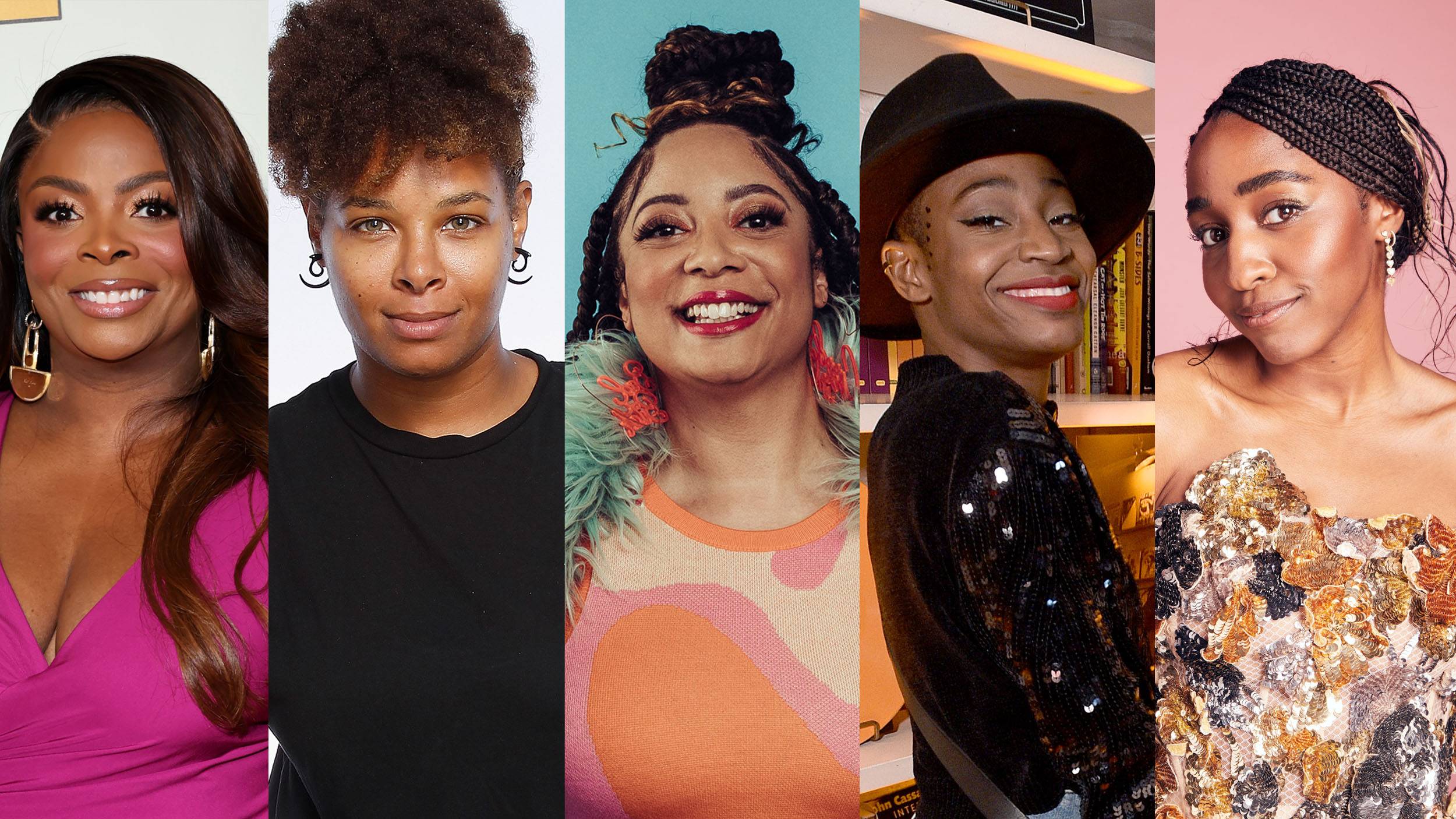 It's only March, but 2023 has already provided some of the best shows, television, and streaming has to offer, and with several new candidates available for binging comes a crop of new comedic Black female talent filled with burgeoning household names.
Stand-up comic Janelle James' climb to stardom is full steam ahead thanks to her performance on ABC's critically acclaimed series, Abbott Elementary. Meanwhile, comic writer and producer Ayo Edebiri's comedic styling can be found in shows like Abbott, Big Mouth, and More.
Breaking into the comedy world is often extremely tough, but these five female comics are undoubtedly sliding their way through the cracks and onto your screen. These artists are bringing a fresh approach to comedy and television, and we're eagerly excited to see where their artistry leads them. So, in honor of Women's History Month, here are five Black female comics to watch in 2023.
Janelle James

Comedian, actress, and writer Janelle James is television's latest breakout star. The Virgin Islands-born entertainer has quickly gathered a significant fan base thanks to her role as Ava Coleman in the Primetime Emmy Award-winning television series Abbott Elementary.

She initially got her footing in the comedy world in 2009 at an open mic she attended while living in Champaign, Illinois, and has since appeared in projects, including Chris Rock's Total Blackout tour and Netflix's comedy series The Comedy Lineup. Although James describes her style of comedy as "just talking s**t" her talent proves she's all business.

Ashley Ray

Los Angeles-based stand-up comic Ashley Ray is on her way to becoming everyone's new favorite black queer star. The Chicago-born writer is best known as the host of the popular podcast TV, I Say w/ Ashley Ray. 

Marie Faustin

New York-based stand-up comedian Marie Faustin has been steadily hustling her way through the comedy scene as the co-host of the weekly podcast, The Unofficial Expert and the weekly comedy showcase Comedy at the Knit at The Knitting Factory in Brooklyn, NY.

The Haitian comic has been developing her skills in the art form for over a decade but has recently seen a rise in popularity after appearing on Comedy Central, GQ Magazine, MTV, VH1, and much more. She is currently the host of, Why Are You Single,  a new live game show that helps determine whether contestants are the problem.

Chaunté Wayans

Rising stand-up comedian Chaunté Wayans may come from a bloodline of comedic royalty, but she carving her lane in this funny business. At 19, she relocated to Los Angeles, quickly becoming a rising stand-up comedian star, actress, writer, and founder of Anotha Way Productions.

Chaunté has made several appearances in feature-length films and on television series, including Scary Movie 2, Dance Flick, Wild 'n Out, and more. Viewers can catch Chaunté's latest jokes on Netflix's Headliners, featuring her uncle Marlon Wayans.

Ayo Edebiri

You may want to remember this name: Ayo Edebiri. The comedian, writer, and producer began her career in 2013, and has since been featured on Comedy Central's Up Next and has credits in several successful shows, including  Dickinson, History of the World, Part II, and more.

In 2020 the 27-year-old replaced voice actress Jenny Slate as Missy on Netflix's Big Mouth, and she currently stars in the critically acclaimed series The Bear as Sydney Adamu, a talented yet inexperienced young chef who joins  The Beef as the new sous chef. The Boston native is a writer for the mockumentary comedy horror What We Do In the Shadows, and you can also catch the rising comic as Ayesha Teagues in Quinta Brunson's hit show, Abbott Elementary.