Director's Cut: Benny Boom's Impact on the Golden Era of Music Videos
The renowned filmmaker, known for directing visuals for icons like Nicki Minaj, LL Cool J, and Busta Rhymes, delves into video directors' transformative impact on hip-hop.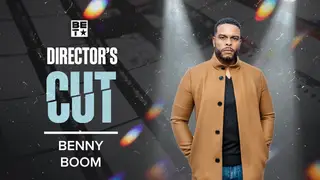 Benny Boom helped to define the Golden Era of music videos by being the creative visionary behind some of the best visuals of all time. With his attention to detail and vivid imagery, Benny Boom raised music videos into the realm of high art.
A graduate of Temple University, his videography includes videos for Nas, Nelly, Kelly Rowland, Lil' Kim, Ciara, Jermain Dupree, Monica, Mobb Deep, and many more.
He's also directed commercial projects for companies such as SEARS, Nintendo, Reebok, Footlocker, and Jolly Rancher, through his production company Gorills Flix, Inc.
BET.com caught up with Benny Boom, and spoke about his iconic videography, what makes a great filmmaker, and why video directors deserve their flowers.
BET.com: How did growing up in Philadelphia influence you as an artist?
Benny Boom: Growing up in Philly was interesting because you can have a very narrow vision of the world, at least in my time in the late 70s, all the way through the 80s as a child. Everything is Philly, Philly, Philly, Philly [Laughs. But the first experience I ever had with a film was Rocky II. I was one of the kids chasing Rocky around the city.
BET.com: Do you always know you want to be a director?
Benny Boom: I knew I wanted to be a director early on. I went to Temple University, and I was a double major in film and African-American Studies. There was a brother that I got cool with, but I  hadn't seen him. I happened to run into him on the subway in Philly, and he was moving his girlfriend back to New York with him. I had applied to the DGA training program in New York, which is the assistant director's program, but I didn't get in and I was a little disgruntled around that same time. He told me he was working for Spike Lee as a location manager. I had no idea what a location manager was. He said that he could get me an opportunity. I said, "Man, that'd be great" because I was planning on moving to New York at the end of the year. He said to call this number, and I asked for Adam when I got to New York. When I moved to Brooklyn my frat brothers had a house on South Portland around the corner from South Elliott, which was the headquarters of 40 Acres and a Mule, Spike Lee's headquarters. Adam was true to his word and told me to come on set, for no pay, but I had the opportunity to grind while Clockers was being filmed. I got to meet Mekhi Phifer, Hassan Johnson, and Elvis Nolasco, who I'm still cool with.
Benny Boom: After Clockers,  I went to work on Die Hard 3 and that was a long experience. Then I worked as a production assistant on a Woody Allen film and I was the only Black employee involved in the film. Putting his personal issues aside, Woody is one of the greatest directors ever to live. I had a front-row seat to watch, how to talk to the actors, how he looked at the scene, how he blocked the scene, and how he changed the script. I was standing right there, quiet and silent, but learning.
BET.com: Unlike most video directors, you honed your craft on the sets of motion pictures. How did you transition into the world of music videos?
Benny Boom: I still wanted to be involved in music. I was a rapper at the time trying to make it in the music business In New York. I was battling, performing, and recording. Then some friends from Channel Live finally dropped the record and I became sort of like the third member of the group. I also was recording with the Timbo King Royal Fam. In 1995, I interned in Def Jam's music video division and one of my homegirls from Temple, Kymberlee Norsworthy, just got a job there. She told me to see if the video department needed help. During that time they were doing "Month of the Man" when Method Man and Redman were dropping projects at the same time. I  had a cubicle outside of her office and I remember this cat walking past and he came past a couple of times introducing himself. He was from L.A. and stopped and introduced himself. He said, "How are you doing? Man? My name is Paul Hunter. What do you do? I'm just getting started. Def Jam gave me a couple of things. The interesting thing is that Hype's assistant director was a guy named Mike Ellis who was Spike Lee's assistant director. So I already had a relationship with this directing team,
BET.com: After being an assistant director working with Hype Williams and Little X, how did it feel to direct your first video?
Benny Boom: So the first big music video I directed was in 2000. It was "Wild Out 2 K" for Channel Live. and it was tied to the Flavor Unit. They were the first ones to give me a shot. They trusted me because Q-Tip was supposed to direct the video. But I was always around them now that I could do it but they didn't know me as a director. The hard part was getting Queen Latifah and Shakim (Compere) to let me do it.  They just completely took a chance and that launched my career.
BET.com: You directed both versions of Diddy's "I Need a Girl." How was it to give a treatment to those songs?
Benny Boom: Those were busy days. It was so competitive between myself, Chris Robinson, Little X, and Darren Grant. I was the new guy on the block but the real competition was Chris and X. A lot of street guys would say they wanted "That Look." That's all I would hear. But Puff saw the evolution of videos and he knew me from the assistant director for Hype and X. He gave me a shot and we did four videos together in a row.
We did "I Need a Girl "Part One and Two, the "Special Delivery" remix, and "Every Day" with G. Dep and Faith Evans. We did all those videos in about two weeks. It was boot camp because Puff would call you to Daddy's House at midnight, and you gotta go. My oldest son was a newborn but I had to make those sacrifices [Laughs].
BET.com: You also directed "What Happened to That Boy" before Cash Money and The Clipse started beefing with each other.  How was it to work with Birdman during that era?
Benny Boom: So I got a call from Baby that he was interested in working with me. I had already worked with them as an AD with Little X on Prodigy of Mobb Deep's "Young Black Entrepreneurs, " featuring B.G. So, I couldn't wait to work with The Clipse and Baby. There's a crazy story behind the video. We shot it in New Orleans in the Magnolia hood and it was a two-day shoot. So the first day all the film was loaded backwards. We didn't know until the second day when the Director of Photography saw the mags and he was like, "Yo, y'all doing something different?" He said every mag is loaded backward. We had to shoot the whole video over again [Laughs].  "What Happened to That Boy" was an experience but Baby was cool about everything. Even today, I can pick up the phone and call him anytime.
BET.com You went to another level when you began working with Nicki Minaj. How was it to work for Nicki as she rose to superstardom?
Benny Boom: So that was crazy because that was the beginning of the run that I and Nikki had. We did "Beez in the Trap," "High School," and then "Pound the Alarm," which we shot on the Fourth of July in 2012 in Trinidad. It was her first time returning as Nicki Minaj, the superstar. I was with Hype and X when we did "Big Pimpin," so we had already been to Trinidad to shoot a video so I knew how to maneuver to get things done. We were able to recreate Carnival. All those people came out and this wasn't February. It was July and they came out for the video and it was amazing.
BET.com: Lastly, as we celebrate the 50th anniversary of the birth of hip-hop, how important have video directors been to the worldwide growth of rap music and the culture at large?
Benny Boom: It's funny you asked me this because I was thinking about who's important in this evolution of hip hop. So you have the MC, who's at the top of the totem pole. Then you have the music producers, then you have the DJs, and then I don't know where video directors fall in. I'll be honest and say that there is no progression of Hip Hop culture without RUN-DMC's "Walk This Way" video being played on MTV. A video director made that happen. With the song being in heavy rotation and us seeing ourselves on the biggest scale, you can hear the music, but then what does the music look like? Video directors showed you what the songs look like in Hip Hop form. During Hip Hop 50, I think it's time now to recognize the contributions of video directors and I appreciate this conversation because we need that. All of us contributed to the culture. I always felt like the final topping on a hit record was the video. The song could be super hot but it has to have a hot video to bring it to life.