Jazz Saxophonist Lakecia Benjamin's Album Is A Triumph Over Tragedy
The acclaimed musician talks about a tragic accident that changed the trajectory of her album.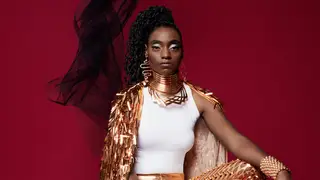 For more than a decade, saxophonist Lakecia Benjamin has been a prominent figure in the contemporary jazz scene, boasting a handful of critically acclaimed albums and sharing the stage with music legends including Alicia Keys and Clark Terry. As a New York native, she has established herself as one of the most recognizable female instrumentalists in the genre. However, in 2021, her celebrated career was nearly derailed by a life-altering car accident.
"I remember because I couldn't raise my arm until this year," explained Benjamin. "It was just fracturing my jaw. I fractured my scapula, broke three ribs and had some neurological damage. I was having some trouble communicating and just understanding things that were being said to me."
Despite everything, Benjamin continued to tour and work on her recently released album Phoenix. The album features guest appearances from storied activist Angela Davis, acclaimed poet Sonia Sanchez and multi-instrumentalist Georgia Anne Muldrow among others. A project filled with wall-to-wall perseverance, Phoenix is another reminder of Benjamin's unrelenting creative intensity.
Speaking with BET.com, the saxophonist describes pushing through the damage caused by the almost deadly car accident, creating the album and the future of Jazz.
BET.com: Phoenix was inspired by a near-fatal car accident that dislocated your jaw. Do you remember the process of getting your mouth back in shape to play sax?
Lakecia Benjamin: Right after the accident, we had some scheduled; some really big shows because the pandemic had shut everything down. So these are really big opportunities. So the next week I played at the Pittsburgh Jazz Festival. I didn't practice or anything the whole week. I hired a tour manager to help me carry me around. I took all my casts and stuff off and would try to play on the stage, and if I couldn't play, then I would just let the audience know that I tried my best and did not want to be a no-show. I was able to play through that show. It was excruciating, but I was able to get through it. I got a lot of thank you for even trying statements. The next three weeks, I had a three-week gap, and I was now supposed to go on a month-and-a-half European tour. We were talking to the doctors about what we should do. Could there be further damage done to the jaw? Because at first we thought it was dislocated, and turns out it was a complete fracture.
So we spoke about it and then I went with it because of the type of music we were playing, I felt that there was a very spiritual kind of calling. Then I said I would rather try because I had a lot of people, depending on me including my management and my agents. Everyone needs income. So I said I would give them my best shot. So we ended up doing that tour.
I think I was lucky that I was playing that Coletrane music, because that has healing property, drive and a push since I felt like that was my purpose. The audience fuelled me and them feeling that that kind of spiritual exchange was helping. I think on this stage, I was doing really well. I mean, there were moments where it was bad, but most of the time I was doing really well. It wasn't until we said thank you for coming out that I got to the side feels, I would be in excruciating and debilitating pain. Every night, I'd be in my hotel freaked out, I couldn't really get dressed, raise my arms or move around. We're traveling, playing after playing. That was the height of the pandemic. I would say outside of the stage, it was miserable. However, on the stage, it was some of the most life-inspiring music and interactions I've ever had in my entire life.
BET.com: Can you explain the process of creating some of the compositions for Phoenix and what you were looking to express thematically?
Lakecia Benjamin: I guess I was looking to highlight month by month what was happening for me. So that's why I had the 12 songs to just say, each month is kind of a representation of how it started for me. And that's why we start with the sirens and everything because that's how it started for me. It started for me just in chaos. I wanted to just bring the listener into a similar world. Most people hadn't gone through that kind of car crash, but they have gone through some type of siren experience; whether they're hearing the ambulances for COVID, school shootings, or the ambulances or even police violence. I felt that we all were in that state of kind of alarm, and I wanted to put the listener into that space. And then let's travel through the album together.
BET.com: Angela Davis helps you open up Phoenix with "Amerikkan Skin." Why have such iconic activists served as the introduction to the album?
Lakecia Benjamin: Why not my brother? These people that are guests on the album, even before the accident had, were in mind for a new project. We had already been having discussions and things like that. Because this album is highlighting my personal story and also society's reflection of that, I wanted someone that was, as soon as you hear their voice, you know who they are. I wanted someone great enough to introduce this. I wanted someone that represented and embodied that as soon as you heard her, you knew who she was. It kind of commands you to listen. If I just spoke those words, it would be nice, but there are some people that just draw you in from the moment they say something. Also, all of my guests are female outside of Wayne Shorter.
BET.com: What was your relationship with Sonia Sanchez and how important was she to "Peace is a Haiku Song" and "Blast?"
Lakecia Benjamin: Most of my projects, I may know one or two gets maybe, and the rest I seek out brutally. I find their emails, I find their houses, I locate them, I hunt them down, I beg, I plead. They say, no, I will come back. With Sonya, she was actually excited when I reached out to her and told her, I tell everybody what the story of my album is, what I'm doing, what I'm looking to accomplish, what I'm looking to convey. She was really excited about the message.  What started happening with my guest was to also create mentorship and to create lifelong bonds. I would like to create a life with these individuals.
For the rest of my life, I can go to her for counsel, I can go to her for understanding. I can go to her and say, Hey, what was it like? Anything. So I'm looking to draw off those experiences and then create my own reality from it. With Sonya, we spoke maybe three times a week for at least three to four hours at a time, because she can be long-winded about just life and things that were happening to her. I want to hear what your life has been like. What are you thinking? What do you know? Especially if you're open-minded to sharing that. Then, because she's being very cautious with Covid, how can we get this recorded down?
Finally, one day,  we talked on the phone for maybe what I think was five hours. She was starting to get a little exhausted in her voice. I just said, I'm not trying to be too ambitious but is there a possibility since you've written this piece, that you can just recite it over the phone? And I have a degree in audio engineering. I was like, I will find a way to get this in good quality. We waited three hours, she got some tea, and I actually taped the speakerphone to a 58 stage microphone.
BET.com: You look at someone like Samara Joy winning Best New Artists at the Grammys earlier this year creating a conversation about jazz for the Gen Z crowd. Where do you see the genre heading with younger audiences?
Lakecia Benjamin: As long as the powers that be and the system that's in place allow a natural momentum to go, I think jazz has a wide future because it's a part of Black music. So I feel good about that. I just feel that we have to, as a society, allow those things to happen. I rarely watch the Grammys, but this year I did watch it and I thought it was amazing to see, of course, Samara Joy win the Best New Artist and the Best Jazz Vocal Album. At the same time, jazz drummer Terry Lynn, who's been struggling, fighting and pressing her way to make her voice heard, was part of Best Jazz Instrumental Album winner New Standards Vol. 1. That's a longer road and a different path, and then be the only woman to hold that category two times of any demographic. So I thought it was a great indication regardless of age or whatever's going on, that jazz right now is in the main light. And if we take that momentum, we have a good future as long as we don't try to come up with another gimmick.
BET.com: What do you do to maintain your phenomenal lung capacity because you're such a powerful saxophonist?
Lakecia Benjamin: First, I say keep your eyes on God. Second, I say just play who you are. That's just how I am. I was taught to bring the house down. I was taught that when I played in church. I'm like, let's go. I also do tell in a more institutionalized setting, people ask me in terms about playing sax. Playing is not really about how much air you use. It's about the velocity of the air. So if you spend your time unjustly, you're not going to get anywhere. But if you can speed that air up and focus it almost like a laser, you'll get more. Let's say people think you need a lot of physical weight. You don't need that.  You just need a lot of high-speed air.