Disgusting! Internet Troll Uses Image of Skai Jackson to Mock Manchester Attack
See the young star's response.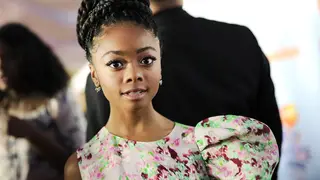 Last night's terrorist attack at an Ariana Grande concert in Manchester, England, has left the whole world shook, especially young artists who fear for their safety every time they take the stage. 
Disturbingly, Skai Jackson was dragged into the aftermath of the horrifying event when an internet troll used a picture of her to mock the deceased.
It's not clear what the intention was of the person who made the original post, but there's no doubt he was using Skai's identity inappropriately, and it's creepy AF. See the post below, and Skai's reaction as well:
See how Skai and her mom celebrate Christmas with the BET video, above.