Avery Wilson on Conquering Broadway in 'The Wiz' Reboot
The singer will play the Scarecrow, a role played by Michael Jackson.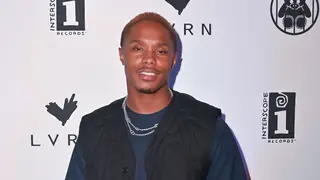 The Wiz is returning to Broadway after nearly 50 years. And the stellar cast includes Wayne Brady, Deborah Cox and powerhouse singer Avery Wilson. The 28-year-old, who recently went viral for belting out "Can We Talk" with Babyface, will play the Scarecrow. The role was played by Hinton Battle in the 1975 musical. While Michael Jackson made the Scarecrow famous in the 1978 film adaptation. It's big shoes to fill in the Land of Oz. But Avery Wilson clearly has the range for his Broadway debut. 
In an interview with BET.com, Wilson talks how he relates to the Scarecrow, his journey in the music industry and his recent viral moment. 
BET: You are playing the Scarecrow in The Wiz and this your Broadway debut. How does it feel to be part of this iconic production?
Avery Wilson: Honestly, I don't have the right words. But I can say as of next year, when we do finally go to Broadway, it'll be 48 years since The Wiz was on Broadway. It's hard to put it in words how I feel other than just truly blessed. There was Hinton Battle, who was the first Scarecrow.  There's actually this amazing picture of Hinton Battle and Michael Jackson together backstage in the dressing room on Broadway. So I'm grateful to be able to keep the torch rolling. That's a very big shoe to fill. But I definitely think that I will bring myself to it as they did. That's what it's really about. It's not about really shaping what they did in another way. I think it's just about me bringing myself and Avery Wilson to the Scarecrow character.
BET: We are in some rough times right now, can you speak to the joy The Wiz will bring to audiences?
Avery Wilson: I think it's so much joy to see an all-Black cast going through this journey of figuring out self-love, and just joy and power in itself. My character, as a Scarecrow, I think that's what really turned me onto it. A lot of us will be in situations where there will be people that will tell us that we're not good enough to do something. Maybe we'll believe it over time . Or we'll hear certain things that don't linger too long in our minds but make us feel away. But throughout the process, you're looking for the answers. And the answers already lie inside yourself. For me, that was the strongest part of the story that really got me. More than the fact that it's Michael Jackson. More than the fact that was Diana Ross, Stephanie Mills. It was to see a character have to go within itself to know that everything you already looked for, all the tools that you're really yearning for, it's all there. I think that that's something that we all need, especially just speaking for my character. We all need to see that there is everything that we already have inside of us. You do have to trust yourself. You do have to allow yourself grace and all these different things. That is joy in itself.
BET: You bring a lot of joy to people because of your voice. You recently went viral for singing "Can We Talk" with Babyface. How did you feel about the response that you got from that viral clip?
Avery Wilson: Honestly, I'm super, super happy about that. It's crazy.  Because about five years ago, I did a video that went viral at Taco Tuesday in L.A. singing "Can We Talk." To be full circle, and finally get a call from Babyface and [him] saying, "I think you're one of this generation's best and I want you to come up here and sing this with me." So when I look at that and see that it went viral, it brought me to a space of just gratitude. I just appreciate it and the fact that Babyface, the man who wrote it himself, called me. I'm always gonna just give my proper respects to that man.
BET: With the Scarecrow, he's looking for a brain. But he doesn't know he already has what he is looking for. How can you relate to looking for that thing that you've always had within you?
Avery Wilson: I would say my most relatable stance with that is obviously my music career. I think so many people will respect what it is I do. But then there's also the other conversation, the other side of the coin. "Where's the music? Where's this? Where's the presence of what the music business is about. It's putting out records and touring." I think a lot of times when I was younger, and I was in past situations and deals, I believed those things that people would tell me that were on my team. I would be distracted and be kind of down and not really believe in myself. Which sounds probably crazy to a lot of people. I would think, I can sing, but I can't really compete. For me to go through six years of a deal and dealing with different big labels — whatever the case may be. For me to really question myself enough to realize that you can't get in a space where you allow people to take something  from you they never gave you in the first place. I think that's the powerful moment for me.
BET: Why should the BET audience come out and support this iconic show?
Avery Wilson: It's excellence. It's something that will uplift every single one of us. You will be able to feel yourself within the situation and in the production that we're in. Some younger people don't even know about The Wiz and they'll be able to connect with. It's something that you don't want to miss. And there's just an amazing cast. Deborah Cox, Wayne Brady, Kyle Freeman — you have just the most amazing people. This is amazing and Black.