Get To Know the Princess of Soca: Nailah Blackman
Crown royalty, Nailah reigns on the throne of Trinidad and Tobago music style, Soca.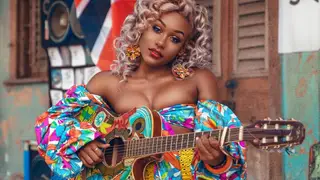 The apple doesn't fall too far from the tree when it comes to princess of Soca, Nailah Blackman. Following in her granddad's footsteps, Lord Shortly, who his fans know as Ras Shorty, is the inventor of the Soca music style. A combination of East Indian and African rhythm. The original purpose of Soca was to bring East Indians, Africans and Trinidadians together.
Nailah brings her own twist to the scene as she infuses a dash of afropop-soca into the already made Soca mix. Her newly created fusion of music is what she calls World Music.
She brings her versatility, sultry and soulful vibes all the way from San Fernando, Trinidad and Tobago (where she is from).
This royal go-getter does not settle for being average. Bringing multiple skills to the table. She sings, plays a variety of instruments and designs the clothes that she performs in. Despite her not officially labeling herself as a seamstress, she sure does have a vision and puts in the necessary hard work to bring her dreams to reality.