Russell Wilson Signs $140 Million Extension With Seahawks, Making Him The Highest Paid Player In The NFL
As part of the deal, the quarterback will be contractually tied to Seattle until 2023.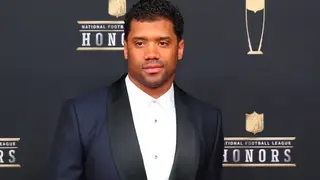 NFL sources told ESPN Seattle Seahawks quarterback Russell Wilson signed a $140 million, four-year contract extension, including a $65 million signing bonus, making him the highest paid player in the NFL.
As part of the deal reached between Wilson, 30, and the team, the quarterback is contractually tied to the Seahawks through the 2023 season, reported ESPN.
Wilson's signing bonus is not only a record high, but the entire deal puts the Seattle star ahead of Green Bay Packers quarterback Aaron Rodgers, who was the NFL's highest paid player last year, earning $33.5 million. Wilson's deal will earn him a full $35 million a year.
The deal also includes a no-trade clause, the source added.
Wilson announced he reached a deal by posting a video to Twitter of himself and his wife, Ciara, lying in bed.
"Hey Seattle, we got a deal," a sleepy-sounding Wilson says while lying in bed next to his wife, Ciara. "Go Hawks. But I'ma see y'all in the morning. Time for y'all to go to bed."
The deal reportedly involved four days of negotiations between the Seahawks and Wilson's agent, Mark Rodgers.
"At the end of the day, my guy wants to live, work, thrive in Seattle," Rodgers told ESPN Tuesday. "Loves this town and its fans. He compromised to stay here. I respect that."
At the end of last season, Wilson seemed unsure about his future with Seattle and even suggested he'd be comfortable becoming a free agent after the final year of his previous contract.
"Oh yeah, if that's what I've got to do," Wilson told reporters. "It's business and everything. I know essentially after the season, I could potentially be a free agent, that kind of thing. I don't think that way. I see myself being in Seattle. I love Seattle, and it's a special place for me."
Wilson, who is a five-time Pro Bowler and the quarterback of the only Super Bowl-winning team in Seahawks history, made a remarkable 35 touchdown passes last season with a career-low of only seven interceptions. Only Drew Brees of the New Orleans Saints and Kansas City Chiefs QB Patrick Mahomes beat Wilson's 110.9 passer rating for the 2018-19 season.