Quincy & Solomon: Meet the Newcomers Behind HBO Max's 'Winning Time'
The two first-time actors shine in their roles as Magic Johnson and Kareem Abdul-Jabbar on Adam McKay's sports comedy-drama.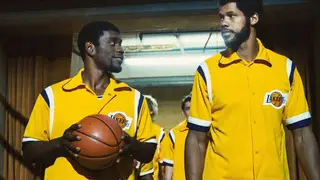 The Los Angeles Lakers is a storied franchise in the annals of professional basketball, full of first-ballot hall-of-famers through the generations, from Jerry West and Kareem Abdul-Jabbar to Shaquille O'Neal and Kobe Bryant.
Now, HBO Max is telling the story of the Lakers' rise and a key figure behind that rise, Jerry Buss, Ph.D., the late majority owner, who laid down the hardwood a generation ago at The Forum to build the dynasty.

The series, Winning Time: The Rise of the Lakers' Dynasty, executive produced by Academy Award-winner Adam McKay, provides an intimate look at one of the more compelling chapters of the Lakers' history, the 1979-1980 season. The story is told through the acting talents of relative newcomers Quincy Isaiah, who mastered Earvin "Magic" Johnson's signature no-look pass; and Solomon Hughes, Ph.D., who perfected Kareem Abdul-Jabbar's skyhook.
They accomplished the difficult feats of channeling the NBA legends through rigorous training, including following strict exercise plans and running numerous drills.
Before joining the cast, both men were in totally different roles. Isaiah, 26, worked as a waiter and bartender while shopping for acting jobs. Hughes, 43, earned undergraduate and Masters degrees at Cal State University, where he also played basketball. He also earned a Ph.D. at the University of Georgia.
Now, both men are playing as two of the most decorated and famous athletes of all time. Their roles have led both men to discover new pathways to success.

With episode 6 on the way (Apr. 10), the duo sat down with BET.com to share their personal journeys, discuss how they prepared to play Magic and Kareem, and how they set each other up for success.
---
BET.com: As Winning Time marked your respective screen debuts, I wanted to ask what sort of materials and books did you both read to get into the shoes of Earvin "Magic" Johnson and Kareem Abdul-Jabbar?

Quincy Isaiah: The first book I read was Showtime by Jeff Pearlman and I got into that before having my audition. Then once I actually booked the role, I dove into his autobiography, then 32 Ways to Be a Champion, a fantastic business book, by the way. After that, I read Believing in Magic by Cookie Johnson.

I would open up anything I could really get my hands on as far as books about Magic were concerned. I wanted to pay attention to everything written about him but also wanted to use my connection to help build out the role.

Solomon Hughes: I'm one of the people who benefitted from the person in that he has written a lot on his own. I read Showtime as soon as I got the call to audition. Prior to that, I read Giant Steps, Kareem's autobiography from 1983, and it was also one of the first big books that I read while growing up. Then I also read Becoming Kareem, On the Shoulders of Giants, which was special to me having grown up in Southern California.

I am a Lakers fan, so pretty much anything he wrote about himself or any interview that was about him made me keen to engage with it. In addition to the books that I read about him, I read books about the people that inspired him. Thelonious Monk by Robin D.G. Kelley, whose wife LisaGay Hamilton is a part of the cast, was an incredible resource. She knew a lot about jazz music from that era and explained how music was so important to Kareem.

BET.com: How much in-person time did you guys get with the actual NBA icons?
Quincy Isaiah: I was able to talk to him, but not so much in person. I had all the videos, the books, and the research available to tap into what was available. The material there enabled me to speak as Magic. Even with the rivalry between him and Bird, the documentaries, and in-game footage, it really felt like I had everything that I needed in order to get into character.

Solomon Hughes: I feel similarly. We benefited greatly from existing in the YouTube era where there are just heaps of interview transcripts and footage, in-game footage, and more to pull from. [Laughs] I got pretty good at changing up the search terms on YouTube to find different facets of Kareem.

BET.com: As first-time actors and teammates in front of the camera, how did you both set each other up for success while filming Winning Time?

Quincy Isaiah: It came from us just talking, man, and understanding that we're in this together. Solomon was — and still is — a great teammate. He was always bigging me up on set and telling me that I got it [laughs]. Even on days where I'm low, he could see that and he would pick me up — and I needed that. I appreciate everything Solomon did for me because he really helped me get through some tough moments.

Solomon Hughes: It goes both ways, man, it's so mutual. One of the benefits that we had was that there were no off days. When you weren't filming, you were doing basketball choreography. [Quincy] and the other coaches had been grinding for months before I was able to come down and join them. He and I would stay in contact through text and then when we get together, once we hit the court, you really build and get familiar with a person.

In addition to what Quincy said, there were days where I would be running low and Quincy would just have the right thing to say. He'd bring the right energy and just kind of pick me back up. Wood Harris, who portrays Spencer Haywood, was an MVP, too. He would talk about how once you find a selfless partner to cherish that because you can't make great art with strangers. And for Quincy and I, our mothers are both from Michigan, and working with him has been incredible. I mean, how can you not be a fan of Quincy Isaiah, right?!
BET.com: Right, exactly! You both are electric on the screen and throughout the series, the old guard/young upstart gets explored as well. Was there anyone on set that served as a mentor to you guys?

Quincy Isaiah: Rob Morgan was it for me, man. He plays my father and him as a parental figure just naturally felt like a mentorship. It was the same with John C. Reilly. I was able to feed off of their energy, but it just hit different with Rob as my dad and with him being a Black man. I was able to adapt the things he was using in his acting process to my own and just use it all up as much as I can.

Remember Steal Like an Artist by Austin Kleon? In it, you learn how to take things from other people's art to create your own works from it. I feel like Winning Time as a show is a perfect vehicle to do that, [and] as an actor, this series opens you up to take these different elements from these actors and make it into my own thing and understand what it is that works for me.

Rob definitely helped me to do that. Even with Jason Clarke, Wood, and Steve Harris, it was amazing to see how generous they were about their experiences and made each day on set feel like a masterclass.
BET.com: This is a good segue to talk about the training sessions you two had to go through to perform on the court as Magic and Kareem. These two NBA icons have iconic moves in their respective bags, so talk about how it was to learn Magic's no-look pass and Kareem's patented skyhook?

Quincy Isaiah: A lot of work, man. A lot of work went into it. We would practice sometimes one hour to two hours a day, five days a week, before we started shooting. Once filming began, any day that we had off from the set, it became basically a basketball day. It would turn into non-stop practice and fine-tuning. For me, the passes, the dribbling, the shot — it was all active to get your body to move and wiggle like it was supposed to because Magic had his own O.G. stride and a unique swag about him once he stepped on that court.

People who are fans of Magic are going to recognize that and those who love basketball are going to know he has a very distinct way of playing the game. I credit everybody on the team that helped in that development process, including my teammates. Solomon would show up and help keep my energy up during workouts.

Solomon Hughes: Yeah, I would just give it my best effort. No one is ever going to shoot it the way he shoots it, right? I'd just have to really devote myself to giving my best effort. Kareem's version is too graceful, too perfect — but I wasn't taking any days off when it came to doing the reps or playing in a practice game. I would train with Idan Ravin and by the time you see us on film, we're invested and not playing around.

BET.com: The effort shows throughout and there are good scenes between you both that really pay off. Has there ever been a time in real life since wrapping with production where y'all were playing on the court and muscle memory had y'all pulling a Magic or Kareem?

Quincy Isaiah: [Laughs] Yeah, definitely. I'll pull off a behind-the-back pass real quick. That's my favorite move, right there. It's never as clean as it was on the show, but I still try.

Solomon Hughes: All of the background basketball guys that we'd play with or against were semi-professional, international ball, and all in all were talented at basketball. Whenever we were filming at the Forum, there was always a one-on-one game going on, or a horse game non-stop. And it was always so competitive between everyone, which meant that I just used the Skyhook no matter what it was [laughs].

Quincy Isaiah: He hit one from the three-point line, man [laughs]. I was so sick. 
BET.com: To turn things a bit more serious, I wanted to get everyone's thoughts about this Brittney Griner situation now that it has been updated.

Solomon Hughes: You can't ignore that race and gender are front-and-center when it comes to this Brittney Griner matter. I think Jemele Hill wrote an article stating that this moment is an indictment of the sporting opportunities for women in the U.S. because of the reality of having to go overseas to make a living in the sport that they love and enjoy. The athletes are making a lot of money for people on the college level.
Then once they become professionals, they're left to be on their own to piecemeal these careers because these leagues have not received the same support that men's professional leagues have gotten. Therefore you have athletes who are wildly popular but aren't making enough like the NBA or MLB, so they have to take these international gigs in order to make money.

Quincy Isaiah: I agree, I agree. I send out my love and prayers to Brittney and her family. I don't understand the situation enough to comment but with her being there I just want to share positivity with her and her family.
BET.com: With the series live on HBO Max now, how do you hope the audience reacts to watching Winning Time? And what is next in the works for you two?

Quincy Isaiah: I just want everyone to keep watching Winning Time. I want everyone to watch every episode [laughs]. Once they finish with episode 10, I would want them to clamor for Season Two. I just want to make sure that we're doing good work and that they are down with us to keep the story going.
---
Kevin L. Clark is a screenwriter and entertainment director for BET Digital, who covers the intersection of music, film, pop culture, and social justice. Follow him on @KevitoClark.