Rap Phenom Lady London on Toxic Love Songs, Underfunded HBCUs, and 'The Boss Tape'
The 25-year-old self taught rapper and engineer has proven she's a force to be reckoned with.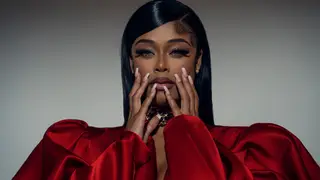 Necessity is the mother of invention. Lady London, a 25-year-old rap siren and self-taught studio engineer found this out when she decided to pursue music full-time. The cost of doing business in L.A., her adopted hometown, was a shock, but London steeled herself and plowed forward.
"Studio sessions got to be very, very expensive," says London in her thick outer-borough brogue. (She's from the Bronx, by way of East Orange, New Jersey.) "Oftentimes I didn't have enough to pay for both the session and the engineer, so I would book out the room for a few hours and essentially teach myself to track-engineer myself. It was a struggle that birthed another talent, to be honest."
London, who completed her B.S. at Howard University before moving onto USC's Keck School of Medicine, has always been quick on her feet. She's probably best known for her nine-minute Sway in the Morning freestyle, where, in a small, still voice, she rasped demurely cutting barbs ("Your mother worked for 45 years to have nothing"). London's feline grace delighted Sway — a good friend of her uncle, the illustrious Chino XL — as well as Sway's millions of unique listeners.
Even before that, it was clear London was highly adaptable and worked well under pressure. Her graduate studies took her on a tour of down-and-out medical facilities in the Global South — the kind of places that are held together with baling wire, chewing gum, and intestinal fortitude. It became clear to London that the U.S.-led financial order is a sieve, expropriating untold sums from vulnerable client states, who could use the money for healthcare expenditures. But London remains attracted to the highest forms of magnanimity. She hopes for a career in public service.
For now, at least, London's MSF rucksack is staying in the closet. She has a recording career to nurture. In January she released Lady Like: The Boss Tape, which London calls a "pretty big deal…it's [her] first project in the marketplace." It's also the first project to reconcile both versions of Lady London. There are two Londons: the sharp-witted battle rapper and the doting romantic.
In this wide-ranging interview with BET.com, London talks about toxic love songs, chronic underfunding of historically black colleges, the crisis of the unvaccinated, and possibly touring with Jazmine Sullivan.
---
BET.com In what ways does Lady Like: The Boss Tape represent a progression for you?
Lady London: I'm really excited about the versatility of it; I think that's what stands out most. It encompasses multiple facets of hip-hop.
BET.com Talk about your music's versatility. How is The Boss Tape versatile outside of your previous work?
Lady London: It touches on every emotion possible. Some of these records are super bold and confident, while others are more emotional. They depict heartbreak and heartache. And then you have the party records that you kinda wanna turn up to. So there are really multiple elements - elements of, you know, musical composition.
BET.com You were a poet for many years. How did your background in poetry prepare you for a rap career?
Lady London: Definitely lyric-wise. It really perpetuated a lot of complex verbiage, in a sense. That's how poetry helped, but I think it also stifled me in a sense because I couldn't catch pockets on beats and stuff like that.
BET.com: Right — poetry is, almost definitionally, arrhythmic.
Lady London: Yeah [laughs]. It was a transition, going from poetry to rap, but for the most part, it was pretty smooth, given my background.
BET.com: Much has been made of your freestyling ability. This doesn't apply to you, but I've noticed that many rappers who excel at freestyling don't make very good records. Why is it that so many talented freestylers flounder in a more structured format?
Lady London: I think it's because the trajectory is totally different. When you're freestyling, your goal is to hit as many punchlines and metaphors and, you know, mind-blowing things — things for consumers to hear — as possible. Whereas songwriting is more of a flow, a vibe. It's about an underlying feeling. It's not necessarily about hitting every line and making sure every line counts.
Learning spacing is important, too, and learning to stay on topic. So I think that's what gets lost in translation. We forget that [freestyling and songwriting] are two totally different art forms.
BET.com: You have a Bachelor's from Howard University, where you double majored in sports medicine and chemistry. How did you decide on that as a field of study?
Lady London: Since I was a kid I've wanted to go into orthopedics, so I kinda stuck with that as a mantra. Initially, I was going to go straight to medical school but decided to get a Master's because I have a passion for global health. I've visited over 22 countries, and I had the opportunity to study medicine in two different countries while I was abroad for my grad school program. And even now, public health and healthcare, in general, are important initiatives to me, important pillars.
BET.com: Did your travels take you to the developing world?
Lady London: Absolutely! I've been to quite a few [underdeveloped countries]. Technically Belize is considered a Third World country; I've also been to rural South Africa. I've definitely had my share of time in those communities, working directly with impoverished people.
[I believe that] access to premium healthcare should be a right, not a privilege, regardless of socioeconomic factors, and that's pretty much what I stand at the forefront of [when it comes to vaccines]. It really boils down to capitalist thought. This is exactly what wealthier countries do: keep the poor poor and sick and the rich wealthy and healthy. And it's sad; it's really, really sad.
BET.com: Moving back to your time at Howard University. Are you troubled by the state of HBCUs with staying open and being threatened? I'm not sure about Howard specifically, but many of these schools are fighting for their very existence.
Lady London: It's dismantling, but, I mean, it's no one person's fault here. A lot of these places are privately funded, whereas PWIs have more access to federal funding, and it's unfortunate because we find that most of our help comes from the alumni endowment or just private donors. And that's why I'm such a big part of Howard's endowment. That's why I encourage everyone to give back to their university in order to keep it going. Historically black colleges are necessary - to teach us not to feel guilty about speaking out or organizing or taking issue with the conditions of African-Americans.
I became the woman that I am at Howard, and I would hate for any of my HBCU counterparts to be dismantled. I just wish I could do more.
BET.com Your uncle is Chino XL, the much-beloved underground rapper. Chino is a fierce critic of business as usual. When you were first starting out, did he talk to you about the pitfalls of the industry?
Lady London: Not at all. We've never spoken much about music, to be honest. My uncle is a very family-oriented guy, very jokey-joke. It's so funny how serious he is in his rhythmic compositions because he's one of the goofiest people I know. We don't speak about the darkness of the industry, but he has been plagued by it, and I think he tries not to force his perspective on me. He wants me to experience it for myself.
BET.com: A lot of contemporary NYC rap is regionally ambiguous; it could be made anywhere. Your music is different. Are you the most "New York" of today's Tri-State-based rappers?
Lady London: I actually don't think that I am. I wanna say that I'm a little more versatile than the average New Yorker, especially as it pertains to girl rap. But to me, my female counterparts in New York - 'cause I'm from there originally, but I was raised in Jersey — all sound way more New York than me. Like, all of them. But they don't have as much shine, I guess you could say, so you don't hear it as much.
New York nowadays also has this drill sound that has the city shaking, and I don't do any of that.
BET.com: So what's in store for the remainder of 2022?
Lady London: My new single comes out next month, and I'm super excited about that. And, of course, I'm hoping for a full body of work by the end of the year. That's really my goal: to make my sound known in the industry and transition from being this freestyle rapper to someone you can be like,
"OK. This is who I can see her on tour with. This is who I associate her with." I'm excited to see my fans grow with my music.
BET.com: Who in particular would you like to tour with?
I would love to tour with Drake and Jazmine Sullivan. I love neo-soul, R&B — toxic love songs is, like, my vibe, so I'd love to be on a tour stage with Jazmine at some point in my career.
BET.com: How would you describe the thought of "toxic love songs" being made in music nowadays?
Lady London: The everyday relationship stuff nobody wants to talk about is the stuff that sums up almost every song on The Boss Tape.
---
M.T. Richards is a Chicago-based freelance writer. His work has appeared in Entertainment Weekly, Billboard, Spin, Consequence of Sound, Brooklyn magazine, City Pages, and other publications.