Kerry Washington Makes Rare Appearance with Husband Nnamdi Asomugha at 2023 Met Gala
The star-powered couple is notoriously private about their personal life.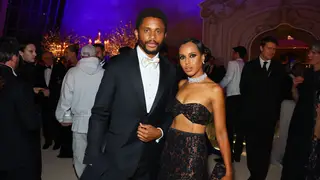 Kerry Washington turned heads on the white carpet of the 2023 Met Gala earlier this week in a sheer black floral lace two-piece by Michael Kors, featuring a hand-beaded bandeau and tulle rumba skirt.
According to People, Washington spent the evening inside the event with her husband Nnamdi Asomugha in a rare public appearance. The two actors are notoriously private about their personal life. They have been married since 2013 and share two children and are also parents to Asomugha's older child from a previous relationship.
In a 2016 interview, Washington said that she doesn't even address rumors about her marriage because as a rule, she does not discuss her personal life.
"Social media has actually been great for [other celebrities] relationships with the weeklies or the gossip sites because people say things and they say, 'That's not true!' So I'm thinking in some ways, it's been great because people are able to maintain their voice," Washington said, during a panel at SXSW. "It's a little different for me because I don't talk about my personal life."
"That means not only did I not tell you when I was getting married, it also means if somebody has rumors about what's going on in my marriage, I don't refute them, because I don't talk about my personal life," the former Scandal star added.
However, earlier this year in a March 2023 interview, Washington briefly gave some insight into her relationship with Asomugha in an interview with Marie Claire.
"I'm in my immediate truth with [him]," she said. "Those mirrors are important because they help me get back to myself."
Asomugha was an NFL player for 11 years before becoming a producer and actor. He also has The Asomugha Foundation which was founded "with the desire to have a positive impact on the disadvantaged youth in the United States and the underprivileged orphans and widows in Africa," per its website.
According to People, Washington's Met Gala ensemble was crafted with 135,000 recycled sequins and reportedly took 1,000 hours to hand-embroider them.
Washington accessorized her outfit with a diamond-studded choker by Mikimoto and a black Michael Kors blazer draped over her shoulders with her hair up in buns secured with Jennifer Behr bobby pins.