Keep It Simple: IDK On Neighborhood Influence, Kaytranada & Community Support
The PG County MC dropped a new offering for fans — a two-pack gift dubbed 'W13.'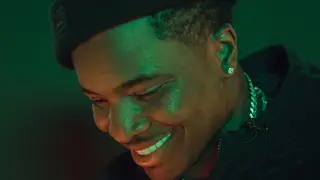 Currently impressing audiences with his latest EP, Simple, IDK — an acronym for "Ignorantly Delivering Knowledge" — has been one to watch since first introducing himself to rap fans back in 2014. Adept at telling connected stories, the PG County native has stayed true to himself without needing to deviate from his plan of impacting his community.

For Simple, he has worked closely with the People's Champ, KAYTRANADA, and much like his stage name, the eight-track project is fueled by duality. As one of rap's most daring voices, true fans of IDK are immersed in everything he does, which is why his latest release, W13, which dropped today, proves his multifaceted nature. 
RELATED: 5 Facts About Hip Hop Cares Honoree IDK

Beyond the raw nature of both projects, IDK introspective nature has led him to explore new terrains that also involve giving back to the community that impacted him. BET.com got some time with IDK to talk about the origins behind the album's title, his No Label Academy initiative with Howard and Harvard University, and why support from his people is anything but simple.
---
BET.com: For those just becoming familiar with your artistry and the new project, Simple, can you explain the origin behind the title?

IDK: Man, the origin behind Simple is basically taking the simplicity out of a routinely complex conversation— being Black and living under this oppressive place in America. Many people who aren't Black would look at that statement and say, 'Hey, why don't you get a job? Why don't you just say no to drugs? We can do these things, why can't you?' And in taking that conversation, I am letting people know through this album that it isn't simple.

The second part of the album's title is that there is a neighborhood in [Washington] D.C. called Simple City. The reason why it's called that is because you can get killed for any simple reason. I wanted the title to spark two conversations. One, I wanted to speak to the environment that people who look like me come from, and two, I wanted to share conversations happening within the Black community and the changes that need to be met for us to advance. Having that conversation with the listener shows that there isn't one simple fix.

BET.com: How did the experiences of being a part of the Black community in Simple City impact the message in this album?

IDK: I grew up in a middle class neighborhood outside of Simple City, but I have friends, who are basically family now, that lived there. When I would go to visit that place for the first time, I saw a whole new world and a different way of experiencing life. It wasn't until later in life that I embedded myself in the area and saw the real struggles that happen within Simple City and similar neighborhoods.

[For people] growing up in a place such as Simple City, the likelihood of success that mainstream American is very, very slim. I think it is because of the environment and the mentality of the people. All of those things they experience directly result from us still trying to figure out how to move forward in a post-slavery existence.

BET.com: The recording industry is interconnected, so could you tell the readers how you and KAYTRANADA got together for Simple? Were there any shared experiences that led to new discoveries about self-healing through reflection?

IDK: Him and I linked up at a Jordan party, where Reggie Saunders introduced us. We were both fans of each other's work, so when we finally came together and created based on that notion, we were just interested in getting our ideas out.

I loved about [working on Simple and with KAYTRANADA] was that he just made beats, and I rapped the raps. He did mess around a bit on certain things production-wise, but his beats served as the juxtaposition that I wanted to explore on the album. Between what he did and what I wanted to say, we were able to create an interesting and new sound.

BET.com: The timing of Simple was impeccable, IDK. With new records by Channel Tres, Beyoncé, and Drake, it seemed like everybody was cooking up records powered by House and Dance music. What were your thoughts on the timing of everything? Did you foresee Simple fitting into a sonic narrative that was taking place throughout the culture?

IDK: [Laughs] No, I was actually shocked. I was shocked that Drake's album came out and I had no idea. I've always loved House music and I enjoy the vibe. I've always loved rap over House music, and KAYTRANADA makes Black House music, you know what I mean? It's like he turns it from fist pump to a huge dance party.

He puts this Black swing to something that is already addictive and I always admired that about him. The surprising thing that I feel gets overlooked is that House comes from Black origins, so for him to take it and evolve it in the way he does makes working with him an honor to do so because of those reasons. But for Simple to fit into a narrative, I had no clue [laughs]. We started working on the album two years ago.
BET.com: What's the progress with the No Label Academy? Are there any updates that people should be keeping front of mind?

IDK: Yes, sir! We're putting things together currently. We're looking to incorporate Howard University into No Label Academy because that was the plan from last year. The original plan was to have No Label Academy happen simultaneous between Howard and Harvard. I love that word, juxtaposition. I love bringing two things that seemed to not go together.

Doing No Label Academy at Harvard was amazing because we were bringing people of color to Harvard that wouldn't normally have that opportunity. Whether it's finances or that they just didn't believe they couldn't be there, No Label Academy found people who were ideal students and wanted to create a situation for them to flourish. Howard [University] is an area I'm from, so to have been able to put these two together, would've been the ideal thing.

We're working on things right now so that the next time we see No Label Academy, God willing, it'll also include HU.

BET.com: With that said, IDK, you have this wealth of support from fans, those in the industry, and, of course, family and friends. Can you speak to the importance of having a solid community as an artist?

IDK: I just shared this with a friend about two days ago. I'm glad that you brought this up. Community, to me, is the most important thing to have. Some people, especially if you're an artist from the hood — let's say you're from Memphis — rely on the people that relate to you. That's your community. You want to have Memphis behind you. These are the people who are going to have your back no matter what.

It's always important to have that. But in order to have solid community support, you have to be of it, and the person representing the community has to be real. I come from a place where every guy grew up homophobic, and it was a practice considered normal, even to the point where back home, people would use certain words that you couldn't get away with saying now. They don't even know that, right?

So, in order for me to redirect that energy, I have to come from that community. I couldn't have someone see a different way or listen to me if I didn't relate to these people. Having your community support you is number one in any artist's list, but secondly, what does one do when you have that engagement? I realize that I have an unique opportunity to guide my community in a different place because of the places I've been, the people I've been around, and what I've been able to learn.

BET.com: This weekend, Aug. 27, you'll debut the second annual KKID event, a 5-on-5 basketball tournament in District Heights, Maryland. What message are you looking to send to the people there with such an engagement?

IDK: I'm always about bringing things that aren't available or present in our community to our community. With KKID (pronounced "KID"), the people get to come and see a basketball tournament run by and consisting of people of the community. They don't usually have access to these things, where it isn't a flex, as much as it is a chance to impact their environment — especially when it comes to the younger kids.

Now, they can see that there are experiences and things within reach. That's what KKID is for. To take influences from around the world and bring them to this community, because the people there doesn't have the same opportunity to travel around the world. So, because I can, I want to take what I've learned and bring it back so they can be inspired creatively.
BET.com: With that in mind, are there any plans for a Simple remix or deluxe album with other collaborations?

IDK: To be honest, I want a lot of street n****s on this s**t, man. I want Moneybagg Yo, Big Moochie, who is really fire, and a few more. Many people may think that House and Dance music is weird or considered "white people music," but it's not, which is the problem. I would love to challenge folks to be on these types of songs, to try and rap over this kind of beat, which I know they can. OMB Peezy is another rapper I'd like to add because he's fire, too. There are a few different people I am considering, but yes, I'd love to drop a deluxe version of Simple.

BET.com: The last question I have for you ties into hip hop's upcoming 50th birthday. Do you have any plans on celebrating the culture's golden anniversary?

IDK: For me, I never planned on it. I know that it is soon to take place, but I will celebrate by appreciating what I've been able to make happen thanks to the culture. My G, I cannot believe where I'm at right now. Every day, even when I want to get mad about certain s**t, I realize myself when I start tripping and reaffirming myself by actualizing that I'm really in hip hop and that I can make it in rap.

It's well deserved, which means that celebrating [hip hop's 50th birthday] means showing more gratitude to the founders and the architects and appreciating them for changing my life and making me a vessel to change so many other people's lives.
---
Simple and W13 are currently available on all digital streaming platforms.
Kevin L. Clark is a screenwriter and digital media specialist, who works at the intersection of music, film, Black pop culture, and social justice. Follow him on @IAmKevitoClark.