'Clean Beauty' Guide: What It Is And How You Can Make It Your Lifestyle!
Find out about the beauty movement that prioritizes non-toxic ingredients in hair, skin, and wellness products.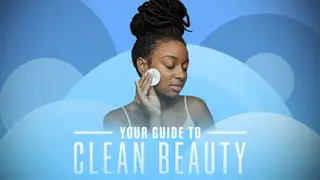 Beauty trends come and go, but beauty movements are forever! Just think about it. While lipstick and eyebrow trends have changed several times over the decades, the demand for all-natural and cruelty-free products has only increased over the years.
The latest "beauty movement" to take the multi-billion-dollar business by storm is Clean Beauty, a movement that prioritizes non-toxic ingredients in hair, skin, and wellness products. Simply put, it is a beauty movement all about transparency and sustainability.
Let us put you onto the beauty game, sis. Below, find out what we learned about the Clean Beauty movement that's taking personal care to the next level. Plus learn how you can get involved in the self-care vibe by shopping popular Black-owned brands.
What is Clean Beauty?

Okay, let's start with the basics. It is well reported that there is no industry-recognized definition or regulation on what "Clean Beauty" actually means. However, after speaking with experts, we quickly had a clearer understanding of the broad and undefined term.

Dr. Michelle Henry, MD FAAD shared this context about the movement: "Clean Beauty refers to a label given to brands or products that are seeking to formulate without using known toxic ingredients."

The dermatologist added, "Some brands take it a step further by only using sustainable packaging."

Rachel Roff, Aesthetician and Founder/CEO of Urban Skin Rx, added the following about the term, "The FDA does not regulate the definition, so brands must take it upon themselves to define. However, at its core, it means products that are safe to human health, safe to the environment, cruelty-free, and non-toxic."

What are the benefits of Clean Beauty?

The beauty of "Clean Beauty" starts with healthier skin without the worries of toxic formulas, which a 2017 study revealed the connection between toxic ingredients and hair loss, blistered scalp, neck and face rashes, nosebleeds, and other long-term health problems.

"With the skin being the largest organ on the body and most skin products being absorbed into the bloodstream, Clean Beauty products offer consumers the ability to rest easy knowing that what they are putting on their skin is completely non-toxic and cruelty-free," said Roff.

Lesley Thornton, a Holistic Esthetician & Founder of KLUR, clued us in on the most impressive benefit of working with cleaner and well-considered formulas vs. conventional products—and it wasn't just improved skin appearance!

"The most significant benefit was my clients' dedication to their daily routines, especially when they knew the product was made without harmful ingredients," she explained, highlighting her clients especially love Klur's gentle skincare products.

How is Clean Beauty beneficial to the Earth?

Besides boasting impressive health benefits, Clean Beauty is also designed to help prevent unnecessary environmental waste and polluted waterways. 

"Typically clean beauty products are formulated with ingredients that will not pollute our waterways or ecosystem," Dr. Henry tells us about many brands' conscious shift in formulas. "The benefits of Clean Beauty are that you can feel more confident that the ingredients that you're using on your skin are less likely to have negative consequences if absorbed. Also, you can feel more confident that the products that you are using are not causing long-term environmental harm."

It is also worth noting the benefits of sustainable packaging (i.e. aluminum containers and post-consumer recycled containers). 

"Brands are also starting to ramp up their sustainability efforts by offering reusable packaging and refill options," explains Roff before reminding us that small steps make big impacts. 

How do I know if a beauty product is "clean"?

It is important to remember that "clean beauty" is not a regulated term. However, if you are in search of products that are "clean" for your self-care needs, start by looking at the ingredients and finding out if the brand you want to shop has sustainability efforts. "On labels, look for icons that say things like Cruelty-Free, Vegan, Paraben-Free, Sulfate-Free, Gluten-Free, and Recyclable," Roff revealed.

Dr. Henry added, "To keep yourself safe, stay away from ingredients that are hormone disruptors such as oxybenzone."

Roff suggests shopping at retailers like Target, Ultabeauty, and Sephora, who are very strict about their clean beauty standards and list if a product is certified clean by their standards. Thornton adds Credo Beauty to the list. 

"I think Credo Beauty is a great place to start as it strictly carries well vetted clean brands and has the highest standard for Clean Beauty sustainability of all beauty retailers," she told us.

How to I get involved with the Clean Beauty movement?

Thornton explained that the easiest way to get involved with the Clean Beauty movement is to cut back on unnecessary products and focus on the basics. "Start with 3-4 core products: cleanser, treatment serum, transitional moisturizer, and sun protection. This will limit the number of ingredients you are using and inherently lessens the load on your skin, making for a cleaner routine."

For those wanting to try new products, Roff expressed the importance of doing your research. "Really spend time learning about ingredients and what these terms that brands are using actually mean," she insists. 

The expert explained, "Watch out for brands and products that market themselves as clean, green, natural, organic, responsibly sourced but their ingredients tell a different story. That is known as greenwashing." 

What brands do you recommend to support the Clean Beauty movement?

"There are so many Black-owned Clean Beauty brands to support," Roff shares with excitement.

"Get involved in the Clean Beauty movement by investing in brands that have a commitment to clean, sustainable beauty," Dr. Henry concludes.

You can also find Black-owned beauty brands on the BLK + GRN marketplace.

Editor's Note: This story/interview has been edited and condensed for clarity.