The 50 Greatest Hip Hop Samples of All Time
From Herb Alpert to The J.B.'s, BET.com counts down to hip hop's 50th birthday by celebrating these classic beats.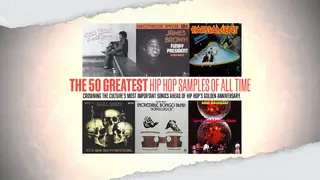 When it comes to the art of sampling, it can mean different things to different people, which makes compiling a "50 Greatest" list somewhat of a compromise to put together.
Some people will say that a truly great sample grafts the energy and spirit of the original onto a brand new experience, making it a completely fresh version for audiophiles to enjoy. (Think Mary J. Blige's "You Bring Me Joy," evolving out of Barry White's "It's Ecstasy When You Lay Down Next to Me.)
And in the past, others have thought that that approach was far too obvious.
The thought that the greatest samples actually come from discovering musical obscurities, used as accent markers that make listeners wonder aloud about where and if we've heard them before. As in the cooing baby from Aaliyah's "Are You That Somebody," which is interpolated from Prince's "Delirious."
With us nearing the new year when hip hop turns 50, this list is admittedly a hodgepodge, sampling both approaches to what constitutes as a great hip hop sample. "Obvious" samples are accounted for. So are not-so-obvious samples. (Would we be having this conversation at all without "Rapper's Delight," interpolating "Good Times"?) 
Whether you align with the Sean "Diddy" Combs sampling approach or the James "Dilla" Yancy method, BET.com presents the 50 Greatest Hip Hop Samples from both sides of the fence.
Billy Cobham, "Heather" / Souls of Mischief, "93 'Til Infinity"

Billy Cobham's effervescent "Heather" has an undeniable airiness that hip hop gravitates towards. Rick Ross and Lil Wayne's "Thug Cry" (2014) seized the energy beautifully, while Big K.R.I.T.'s "No Wheaties" (featuring Curren$y and Smoke DZA) arced the spirit into a triumphant ode. 

With dozens of MCs flexing their skills over Billy Cobham's creation, none have come close to doing it greater than Souls of Mischief's masterful "93 'til Infinity."

Herb Alpert, "Rise" / The Notorious B.I.G., "Hypnotize"

In the mid-1980s, trumpeter Herb Alpert released Janet Jackson-laced hits like "Diamonds" and "Making Love in the Rain," capitalizing on the urban radio cachet he'd already won with his number one funk instrumental from 1979, "Rise." 

Sean Combs—at the height of his sample-heavy production style—brought Alpert's vibe to R&B airwaves for yet another decade and beyond, using "Rise" to undergird the classic chart-topping lead single from the Notorious B.I.G.'s 1997 sophomore album, Life After Death.

David McCallum, "The Edge" / Dr. Dre, "The Next Episode"

David McCallum's "The Edge" has been flipped a few times in hip hop history. Missin' Linx tossed brolic, east coast rhymes back and forth on their under-heralded cut "M.I.A.," while Masta Ace took a reflective approach on "No Regrets" off his seminal album, Disposable Arts. 

But it was Dr. Dre's "The Next Episode" (featuring Snoop Dogg, Kurupt, and Nate Dogg) that propelled "The Edge" to forever classic status.

Rick James, "Super Freak" / MC Hammer, "U Can't Touch This"

According to director Sacha Jenkins's Bitchin': The Sound and Fury of Rick James documentary, the titular original bad boy of funk hated rap music usurping his biggest hit in 1990, when Oakland's MC Hammer introduced his diamond-selling magnum opus, Please Hammer Don't Hurt 'Em, with the instantly infectious "U Can't Touch This." 

Jay-Z—dipping into the '90s again with the Rick James classic—used the same Rick James hit for his own hit "Kingdom Come," from the 2006 album of the same name.

The Clash, "Straight to Hell" / M.I.A., "Paper Planes"

The Clash's "Straight to Hell" is an awesome example of hip hop's unifying force. British rapper M.I.A. sampled the track for "Paper Planes," a gargantuan song that stands tall on its own. 

Then Kanye West co-opted the energy and brought it stateside for T.I.'s "Swagga Like Us" featuring West, Lil Wayne, and Jay-Z. Seeing all five artists rock live during the 2009 Grammys remains a testament to hip hop going global.

Chic, "Good Times" / Sugarhill Gang, "Rapper's Delight"

Anyone criticizing the obvious samples chosen by producer Sean "Puffy" Combs in the 1990s could always be silenced with a reminder that hip hop's original hit—Sugarhill Gang's nearly 15-minute monster single, "Rapper's Delight"—relied just as heavily as any Puff single on Chic's "Good Times." 

These days Chic concerts feature both songs live as a medley; "Rapper's Delight" is the first example of a songwriter (Chic guitarist Nile Rodgers) getting added to hip hop production credits because rappers basically recycled a song.

Nina Simone, "Strange Fruit" / Kanye West, "Blood on the Leaves"

Nina Simone's tragic Civil Rights era tome "Strange Fruit" carries an inextricable somberness that reverberates through the Black community. Rapsody (on her track "Nina") and Cassidy featuring John Legend (on their track "Celebrate") juxtaposed that sorrow with empowerment and jubilance, respectively. 

But Kanye West's "Blood on the Leaves" made "Strange Fruit" a certified anthem that merged all those feelings together over a triumphant and resonating beat.

Lou Reed, "Walk on the Wild Side" / A Tribe Called Quest, "Can I Kick It?"

A Tribe Called Quest entered the 1990s hip hop scene as the bohemians of rap, but even their fans probably had no idea that a counterculture rock anthem was sampled underneath "Can I Kick It?," which talked about walking on the wild side of transgenderism. 

Produced by David Bowie and Mick Ronson (DJ Mark Ronson's dad), Lou Reed's "Walk on the Wild Side" sings of male prostitution and Andy Warhol superstars too, making it an unlikely choice for a rap song sample—probably one of the reasons why Q-Tip picked it.

Boom Clap Bachelors, "Tiden Flyver" / Kendrick Lamar, "Bitch Don't Kill My Vibe"

Sounwave reached deep into the crates for the sample to craft Kendrick Lamar's definitive hip hop classic, "Bitch Don't Kill My Vibe." 

Crafted by Danish electronic group Boom Clap Brothers' "Tiden Flyver" is an ethereal experience on its own, but transcended genre once K.Dot's good kid, m.A.A.d city captured it and presented it to the culture.

Led Zeppelin, "When the Levee Breaks" / Beastie Boys' "Rhymin and Stealin"

Run-DMC already remade Aerosmith's "Walk This Way" earlier that same year (1986) and crossed over into the suburbs big time. But Beastie Boys, three Def Jam-endorsed white boys from "Money-Making Manhattan," took what they knew ('70s rock) and tossed it in a Cuisinart to create hip hop that beer-guzzling suburban fratboys would relate to. 

Dropping the needle on their multiplatinum debut Licensed to Ill, "Rhymin and Stealin" would be the first thing listeners heard—introducing the bombastic drums of Led Zeppelin's John Bonham (via a sample of "When the Levee Breaks") to hip hop heads forevermore.

Wendy Rene, "After Laughter (Comes Tears)" / Wu-Tang Clan, "Tearz"

Wendy Rene's "After Laughter (Comes Tears)" is a frequent go-to for the Wu-Tang Clan and affiliates. The pensive ode has been sampled on multiple tracks including Shyheim's "Party Going On" (1994), Method Man's "Stimulation" (1994), and RZA and ODB's "Black Widow Pt. 2" (2001), and, of course, the Clan's powerful "Tearz" off their classic debut Enter the Wu-Tang (36 Chambers). With so much Wu-Tang love, maybe Wendy Rene should be considered an unofficial member of the clan.

The J.B.'s, "The Grunt" / Public Enemy, "Rebel Without a Pause"

In the summers of the late 1980s, the only sound more annoying to Baby Boomers than the repetitive "woo! yeah!" of Lyn Collins's "Think (About It)" (courtesy of Rob Base & DJ E-Z Rock's "It Takes Two") was the looped squeal of saxophonist Robert McCollough, from the opening of The J.B.'s "The Grunt." 

Blame Public Enemy's "Rebel Without a Pause." The Bomb Squad, P.E.'s sample-crazy production team, elevated the sonic texture of their debut album to make "Rebel" the centerpiece of what was long considered the greatest hip hop album of all time, It Takes a Nation of Millions to Hold Us Back.

Isaac Hayes, "Hung Up on My Baby" / Geto Boys, "Mind Playing Tricks on Me"

"Mind Playing Tricks on Me" by the Geto Boys is one of hip hop's most visceral narrative tracks and Isaac Hayes's "Hung Up on My Baby" sets the tone for this beautiful paranoia lovely. But the inspiration doesn't end there. Wyclef Jean took a turn with the track, sampling it in "Mona Lisa" from his celebrated solo album, The Carnival. 

Kodak Black did the same on "Transportin'" off of his 2017 release, Project Baby 2. And of course, Ini Kamoze's raucous "Here Comes the Hotstepper." It goes without saying that the culture's hung up on The Black Moses.

Sylvia Striplin, "You Can't Turn Me Away" / Junior M.A.F.I.A., "Get Money"

Most heard Erykah Badu's "Turn Me Away (Get Munny)"—her second single from 2010's New Amerykah Part Two (Return of the Ankh)—and only caught the sonic reference to "Get Money": the mid-'90s Junior M.A.F.I.A. track featuring one of the wickedest early rhymes by Lil' Kim. 

Truth is, both songs owned an enormous debt to "You Can't Turn Me Away," the centerpiece of Roy Ayers protégé Sylvia Striplin's one and only album, 1981's unsung Give Me Your Love.

Joe Chambers, "Mind Rain" / Nas, "N.Y. State of Mind"

Joe Chambers' "Mind Rain" isn't necessarily a ubiquitous hip hop sample. It doesn't show up in the talisman of the culture often. Maybe that's because few felt worthy of following Nas and DJ Premier's genre-breaking song called "N.Y. State of Mind." 

Maybe the culture just feels like some classics are better left untouched.

Chaka Khan, "Through the Fire" / Kanye West, "Through the Wire"

Reportedly, Chaka Khan never really loved Melle Mel's presence on one of her biggest hits, 1984's "I Feel for You," even though it ushered in collaborations between R&B and hip hop for all time. 

"I'm not looking to hear from him," said Khan of the track, "Through the Wire," which Ye famously recorded after a near-fatal car accident. "I was upset about sounding like a chipmunk, 'cause he didn't put that [in] when he asked [if he could] sample my song."

The song cemented Ye as a legend despite Chaka's concerns and gave hip hop another example of a classic sample gone supernova.

Tom Scott and The California Dreamers, "Today" / Pete Rock & CL Smooth, "They Reminisce Over You (T.R.O.Y.)"

Pete Rock and C.L. Smooth's anthem "They Reminisce Over You (T.R.O.Y.)" from their 1992 release Mecca & the Soul Brother sits at the pantheon of quintessential hip hop flavor to own in your collection. 

A large part of the credit belongs to the majestic horns littered across Tom Scott and The California Dreamers' "Today," which Rock sampled to craft this top-shelf production.

The Doors, "Five to One" / Jay-Z, "Takeover"

As an up-and-bubbling young producer, Kanye West went crate-digging through '60s classic rock for just the right menacing groove to soundtrack one of the greatest hip hop beef songs of all time. 

Jay-Z serving Nas to the tune of The Doors' "Five to One" sounded downright scary, given the then-recent deaths of 2Pac and Biggie over similar rap issues.

Stan Getz and Luiz Bonfá, "Saudade Vem Correndo" / Pharcyde, "Runnin'"

The brilliance of J Dilla is well documented in music circles for so many well-deserved reasons. Arguably his ability to reach well beyond the typical crates and create anthems revered by rap fans is his truest superpower. 

"Runnin'" by The Pharcyde is a great example of this feat as few were reaching to Brazilian bossa nova for inspiration. Dilla turned Stan Getz and Luiz Bonfá's "Saudade Vem Correndo" into hip hop necessary listening.

Ray Charles, "I Got a Woman" / Kanye West, "Gold Digger"

The timing was kismet: Jamie Foxx singing the chorus of "I Got a Woman" as the hook to Kanye West's latest, "Gold Digger," while also performing an Oscar-winning turn in the Ray Charles biopic, Ray. 

Ye and Foxx had already proven their synergy on Twista's "Slow Jamz" (produced by Kanye). But this number one pop smash between the duo sealed the deal and made it a hit that still gets played to this day.

James Brown, "Funky Drummer" / Numerous Hip Hop Hits

The gold standard of hip hop breakbeats, drummer Clyde Stubblefield's improvisation on the 1970 James Brown single "Funky Drummer" runs underneath an estimated 1,764 different songs (according to WhoSampled.com). 

Rappers from Wale and Big K.R.I.T. to Public Enemy, Big Daddy Kane, and LL Cool J to pop artists like Depeche Mode, George Michael, and Sinéad O'Connor have all borrowed from this funk that keeps on giving.

Beside, "Change the Beat" / Numerous Hip Hop Hits

"Aaaah, this stuff is really fresh!" says Yo! MTV Raps host Fab 5 Freddy on the B-side of his obscure 1982 single, "Change the Beat." 

Any hip hop lover knows the line when they hear it: the initial sine wave tone, Fab's electronically distorted line spoken through an EMS vocoder, the transformer scratch. 

Herbie Hancock's jazz/hip-hop hybrid "Rockit" utilized the sample two years later, and it never ceases to crop up.

Lyn Collins, "Think (About It)" / Rob Base & DJ E-Z Rock, "It Takes Two"

The late, great James Brown owned several record labels in his day: Try Me Records, Brownstone Records, and People Records, which released the classic funk staple "Think (About It)" from his 24-year-old Texas-born protégé, Lyn Collins. 

Not to be confused with the 1968 Aretha Franklin hit "Think," Collins's version features the break ("It takes two to make a thing go right…") that rapper Rob Base used to structure his own inescapable hip hop hit around 26 years later: "It Takes Two." 

Over 3,000 other songs also feature either drummer Jabo Starks's breakbeat or Lyn's instantly recognizable "woo! yeah!," which forever cements this sample as one of the greatest of all time.

The Honey Drippers, "Impeach the President" / MC Shan, "The Bridge"

The drum pattern that veritably defines old-school boom-bap hip hop dates back to 1973, from a song advocating (or is it protesting?) the impeachment of dishonored former president Richard Nixon. 

Producer Marley Marl first unearthed the beat for Juice Crew legend MC Shan's "The Bridge," opening the floodgates for Rakim, Big Daddy Kane, Public Enemy, N.W.A, De La Soul, and literally hundreds of others to flip the iconic sample to similar success.

Billy Squier, "The Big Beat" / Run-DMC, "Here We Go (Live at the Funhouse)"

Rocker Billy Squier never lied: he did indeed have the big beat, featured on hundreds of records from Jay-Z's "99 Problems" to Big Daddy Kane's "Ain't No Half-Steppin'." 

Park jam DJs were intimately familiar with drummer Bobby Chouinard's basic backbeat on Squier's 1980 "The Big Beat" as a favorite for freestyling MCs. And though it's been used by everyone from UTFO to Britney Spears, its barest hip hop appearance has to be Run-DMC's live-recorded classic, "Here We Go (Live at the Funhouse)."

Public Enemy, "Bring the Noise" / LL Cool J, "The Boomin' System"

For a brief, shining moment in hip hop history, rap producers were sound collagists, and the whole genre stood in danger of becoming a music form sampling sampled samples. 

But that wasn't always a bad thing. 

Though Public Enemy's hard-hitting "Bring the Noise" cribbed liberally from James Brown's "Funky Drummer," Funkadelic's "Get Off Your Ass and Jam" and more, Chuck D's stentorian voice itself became an accent on future rap masterworks like LL Cool J's Marley Marl-produced "The Boomin' System."

Kraftwerk, "Trans-Europe Express" / Afrika Bambaataa & Soulsonic Force, "Planet Rock"

Having taken part in creating hip hop culture itself (along with DJs Kool Herc and Grandmaster Flash), Afrika Bambaataa branched out from the South Bronx early on, deejaying in downtown Manhattan for hip college kids and white scenesters down with the likes of Blondie, Devo and Kraftwerk. 

In crafting his own electrofunk sound, Bambaataa borrowed liberally from the German synth band's "Trans-Europe Express" (as well as "Numbers") and diverged into a whole new genre that would inspire Miami bass and early West Coast hip hop efforts.

Janet Jackson, "Any Time, Any Place" / Kendrick Lamar, "Poetic Justice"

Hip hop hadn't heard such a wholesale sample in a while when Kendrick Lamar released the fourth single from his major label debut, good kid, m.A.A.d city, in 2013. 

An obvious nod to director John Singleton's Poetic Justice (featuring K.Dot idol Tupac Shakur opposite Janet Jackson), Lamar's radio-friendly "Poetic Justice" leaned heavily on Janet's sexy 1993 ballad, "Any Time, Any Place," while giving primo placement to a guest verse by Drake.

This song enabled the Compton lyricist to not only stand out but to show producers how to put together a song that would be an iconic effort.

George Clinton, "Atomic Dog" / Snoop Doggy Dogg, "What's My Name?"

Snoop Dogg lays claim to one of the most highly anticipated album debuts in hip hop history after lighting up so much smoke on Dr. Dre's rap classic The Chronic, so much that Dre took no chances producing Doggystyle's first single: using George Clinton's tried and true "Atomic Dog" did the trick, and how Dre flipped the sample into something newfangled while keeping the original's funk wholly intact, crafting one of the greatest singles of Snoop's career.

Diana Ross, "I'm Coming Out" / The Notorious B.I.G., "Mo' Money Mo' Problems"

"Take hits from the '80s/But do it sound so crazy?" Ma$e asks on his debut single, referencing the production habits of Sean "Puffy" Combs during the mid-1990s. 

The greatest case in point? Reaching back to Diana Ross's 1980 hit "I'm Coming Out" to power a feel-good hit for Bad Boy Entertainment's flagship MC, The Notorious B.I.G. on "Mo Money Mo Problems."

The Isley Brothers, "Footsteps in the Dark" / Ice Cube, "It Was a Good Day"

Internet sleuths eventually determined that the date of the day Ice Cube described so vividly in "It Was a Good Day" ("…no smog/and momma cooked a breakfast with no hog") must have been Jan. 20, 1992. 

Always far more obvious was the undercurrent of The Isley Brothers' 1977 slow jam, "Footsteps in the Dark." This R&B radio staple was only ever a B-side—to the less memorable "Groove With You"—but Ice Cube, Compton's Most Wanted, Black Milk, and J Dilla all mined its groove over the decades.

Aerosmith, "Walk This Way" / Run-DMC, "Walk This Way"

Run-DMC knew so little about the song, they just referred to it as Toys in the Attic (the title of the 1975 rock album that featured it) whenever they wanted its breakbeat to rhyme over. Because of its ubiquity as a freestyle backing track to emcee over—and his own love for the song—producer Rick Rubin suggested they cover Aerosmith's classic rock staple, and the rest was crossover history.

Shelly Manne, "Infinity" / Jeru the Damaja, "Come Clean"

Two schools exist when it comes to the art of sampling: either make the most of an obvious choice (à la "Funky Drummer") or mine the depths for unknown head-scratchers and create a banger. Before Google, YouTube, or even broadband internet service, no one could know what created the mysterious dripping water effect DJ Premier used in 1994 on Jeru the Damaja's boom-bap classic, "Come Clean." Nowadays, it takes all five seconds to reveal jazz drummer Shelly Manne's 1972 "Infinity" as the source.

Leon Haywood, "I Want'a Do Something Freaky to You" / Dr. Dre, "Nuthin' but a 'G' Thang"

Major royalties must have been due to '70s soul singer Leon Haywood, most famous as the songwriter of "She's a Bad Mama Jama," when Dr. Dre utilized his 1975 song, "I Want'a Do Something Freaky to You," as the lead single of The Chronic. Dre and Snoop rhyme over what amounts to an instrumental of Haywood's hit, but it never distracts because rap fans were overwhelmingly unfamiliar with the original.

The Charmels, "As Long as I've Got You" / Wu-Tang Clan, "C.R.E.A.M."

The opening five seconds of The Charmels' "As Long as I've Got You" (co-written by Isaac Hayes in 1967) were all RZA needed to hear when recording The Wu-Tang Clan's iconic "C.R.E.A.M." in the early 1990s. Golden age MCs defended sampling by mentioning how the process often brought newfound attention to commercially unsuccessful, forgotten songs; this is a prime example.

The Winstons, "Amen, Brother" / N.W.A, "Straight Outta Compton"

Grabbing attention straight out the gate, the title track to N.W.A's debut, Straight Outta Compton, locks listeners in with a slightly slowed-down drum break from The Winstons' 1969 instrumental "Amen, Brother." According to WhoSampled.com, producers have sampled drummer G. C. Coleman's breakbeat over 4,500 times, making it the most sampled song in music history.

Joe Cocker, "Woman to Woman" / 2Pac, "California Love"

Dr. Dre qualifies as the Quincy Jones of hip hop, but average listeners would probably be surprised many Dre-blessed rap songs borrow from unknown sources. Case in point: the Joe Cocker deep cut "Woman to Woman," which wasn't even a single in 1972 but forms the basis for the "California Love" we all know and love.

Zapp, "More Bounce to the Ounce" / The Notorious B.I.G., "Going Back to Cali"

When the time came to record "Going Back to Cali" (where Biggie Smalls would ironically, tragically be murdered before the song's release), producer Easy Mo Bee didn't hit up the source material of LL Cool J's song of the same name. Instead, he tapped Zapp's 1980 funk staple "More Bounce to the Ounce" to bubble beneath Big's rhymes diffusing east coast/west coast hip hop beef.

The Jackson 5, "Dancing Machine" / Q-Tip, "Move"

Whole books have been written about the late J Dilla's off-kilter time signatures. When Q-Tip released this Dilla production from his 2008 album The Renaissance, there it was again in all its brilliance: the Detroit genius transmogrifying one of the most recognizable grooves of The Jackson 5 into its own stellar hip hop moment. Even the video references Michael Jackson's low-fi visual for "Rock With You."

Doug E. Fresh & Slick Rick, "La Di Da Di" / Snoop Dogg, "Lodi Dodi"

If hip hop lyrics truly qualify as poetry, then rappers covering other rappers' poetry was understandably once a controversial idea. Such was the case when Snoop Dogg's 1993 debut album contained his own G-funk interpretation of the '80s rap classic, "La Di Da Di." Rap covers are still rare, but producer Dr. Dre and his most talented protégé make "Lodi Dodi" hold their own weight in hip hop history.

Otis Redding, "Try a Little Tenderness" / Jay-Z & Kanye West, "Otis"

The lead single from Watch the Throne led a few bewildered Baby Boomers around in the summer of 2011 wondering why DJs wouldn't let Otis Redding's "Try a Little Tenderness" play all the way through. The reason? Kanye West cut and diced the late soul singer's 1966 original, transforming it into a hip hop banger years before Ye went MAGA and The Throne became billionaires.

James Brown, "Funky President (People It's Bad)" / Numerous Hit Hip Hop Songs

Listening to the opening guitar scratches of Joe Beck (or, possibly, Sam Brown) as the Godfather of Soul ad-libs "funky, down… nasty" can jog one's memory about hundreds of different rap classics. Eric B. & Rakim's "Eric B. Is President," N.W.A's "Fuck Tha Police," A Tribe Called Quest's "Oh My God" and scores more samples from different sections of this ode to President Gerald Ford.

The Soul Searchers, "Ashley's Roachclip" / Eric B. & Rakim, "Paid in Full"

Hip hop collected a lot from "Ashley's Roachclip," a 1974 funk instrumental by The Soul Searchers (the band of legendary go-go pioneer Chuck Brown). 

LL Cool J resurrected Chuck Brown's guitar-scratch hook for "Jack the Ripper," while Run-DMC jacked Lloyd Pinchback's flute break for "Run's House." But the drum break receives the most play on Eric B. & Rakim's "Paid in Full," Slick Rick's "Hey Young World," and so many others.

Beastie Boys, "The New Style" / The Pharcyde, "Drop"

There's literally no "Drop" hook without the King Ad-Rock exhorting his famous command to "droooop" the deep Roland TR-808 bass drum on Beastie Boys' "The New Style." (Ad-Rock's "kick it!" has also been sampled from this song hundreds of times.) 

Kendrick Lamar, Drake, Future, and others have mastered the beat switch, but nothing beats the middle of "The New Style" and its flip to a whole new trunk-rattling rhythm.

Dido, "Thank You" / Eminem, "Stan"

Rihanna left fans with a masterpiece before stepping off into the Fenty sunset (2016's Anti), and when listeners first heard the melody of her "Never Ending," they might've mentally jumped straight to Eminem's stalker anthem, "Stan." 

That's because at this point, the melancholy vocal phrasing of English singer Dido's "Thank You" has been completely identified with Eminem because of the song's central sampling of the track.

Snoop Dogg, the late Nipsey Hussle, Lil B, and even reggae legend Bounty Killer have all found ways to flip this melody into staple entries in their own discographies as well.

Funkadelic, "(Not Just) Knee Deep" / De La Soul, "Me Myself and I"

De La Soul rapper Posdnuos has been known to chant "I hate this song, I hate this song!" during live performances of "Me Myself and I," the track which pigeonholed the rap trio as hippie rappers for the briefest of hiccups in hip hop years. 

The infectiousness of their huge hit single stemmed directly from this favorite Funkadelic track of the hip hop nation, "(Not Just) Knee Deep." Sampled about 188 times, hip hop culture has loved this track, as The Digital Underground to Bobby Brown to X-Clan, and more have made this track a memorable favorite.

Ms. Lauryn Hill, "Mystery of Iniquity" / Kanye West, "All Falls Down"

For all the criticism over Ms. Lauryn Hill releasing only one album in her solo career from The Fugees, the truth is there are two when factoring in her live-recorded album for MTV Unplugged, which is full of original acoustic material like "Mystery of Iniquity." 

Some tracks would eventually connect with the mainstream secondhand, as with Kanye West's self-reflective critique of consumerism, "All Falls Down." Despite his being unable to get the New Jersey legend on the track, the sampling of her hook, sung by Syleena Johnson, became an inescapable song, making it a rare, but classic sample that cemented Ms. Lauryn Hill as one of the greatest voices of all time.

A Tribe Called Quest, "Bonita Applebum" / The Fugees, "Killing Me Softly"

By 1990, acts like Public Enemy and De La Soul had helped to make hip hop into a wild west of sample-heavy collage work when A Tribe Called Quest debuted with People's Instinctive Travels and the Paths of Rhythm. 

And so by mid-decade, when The Fugees' cover of Roberta Flack's "Killing Me Softly" literally killed radio with its prominent sample of ATCQ's "Bonita Applebum," no one really noted that what everyone was hearing was actually a 1967 sample of "Memory Band" by the Chicago-based psychedelic soul band, Rotary Connection.

Since then, acts such as Snoop Dogg ("Dumb S**t), Nick Grant ("Royalty"), and Pro Era ("Last Cypher") all have utilized the Rotary Connection sample. Even, ATCQ went back to the well, proving how great the tune was, sampling the record again for the group's retirement album, We Got It From Here... Thank You 4 Your Service, for the song, "Enough!!"

The Incredible Bongo Band, "Apache" / Nas, "Made You Look"

Over 700 songs can lay claim to the unofficial anthem of the Bronx, hip hop founder Kool Herc's signature record: "Apache" by the Incredible Bongo Band. 

Certainly The Roots' "Thought @ Work" and Sugarhill Gang's own "Apache" deserve an honorable mention. But no one slaughters the beat quite like Nas (courtesy of producer Salaam Remi) on the God's Son lead single, "Made You Look."

The Isley Brothers, "Between the Sheets" / The Notorious B.I.G., "Big Poppa"

Funky obscurities from James Brown and Parliament-Funkadelic make up a mass of hip hop samples. But when it comes to The Isley Brothers, the familiarity of the group's music is the draw. 

"Between the Sheets" constituted quintessential mood music since its 1983 release, so it comes as no surprise that Sean "Puffy" Combs chose the track as the smooth musical backdrop to find the Notorious B.I.G. his widest audience possible on the legendary MC's second Ready to Die single, "Big Poppa."