Boko Haram Leader Claims Responsibility For Mass Kidnapping At Nigerian Boys School
Armed gunmen from the Islamic fundamentalist terror group raided the school, forcing some to flee, while abducting hundreds.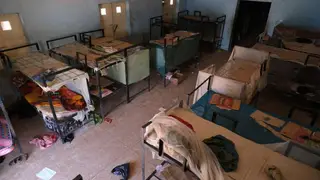 Boko Haram, the terrorist organization operating in Nigeria and a few other African nations, claimed Tuesday that it was responsible for the kidnapping of hundreds of boys from a school in the northwestern area of the country, CBS News reports.
On Friday (Dec. 12), students were abducted from the Government Science Secondary School in Nigeria's Katsina state. Reports say more than 100 armed men riding motorcycles invaded the school as students tried to flee and hide in the rural area. But many were caught by the marauders and taken away. School officials put the number of kidnapped students at 333, but The Daily Nigerian reported that more than 600 of the 800 youths are missing.
"In a nutshell, we are behind what happened in Katsina," said Abubakar Shekau, leader of the jihadist group said in a voice message left with the newspaper, which rambled against what he called "western education" and saying that it violates Islamic teachings. "What happened in Katsina was done to promote Islam and discourage un-Islamic practices."
Katsina State police spokesman Gambo Isah said in a statement that the abductors were armed with AK-47 rifles and exchanged gunfire with police as some of the students escaped.
"The police, Nigerian Army and Nigerian Air Force are working closely with the school authorities to ascertain the actual number of the missing and/or kidnapped students," said Isah, according to the Associated Press. "Search parties are working with a view to find or rescue the missing students."
Nigerian defense minister Bashir Magashi said that his office has been briefed by local and regional law enforcement agencies and are close to locating the abducted boys and their kidnappers.
"Our interest is to keep ourselves abreast of what actually happened two days ago and we believe with their briefings, this task is going to be simple for us," he said, according to The Daily Nigerian. "We have strategies and I believe we can do it without any collateral damage to the people of Katsina State. We have the intelligence, the information, their whereabouts, their movements and their methods of operations. The task is easy for the armed forces and the police."
Boko Haram has been a longtime menace in Nigeria's northwestern states, as well as Chad and Niger. The Islamic fundamentalist group is most infamously known for its abduction of about 300 girls from a school in the town of Chibok, with 112 reportedly still kept in captivity. Outrage over that incident spurred the "Bring Back Our Girls," along with harsh criticism of the Nigerian government.