Denzel on Colorism in Hollywood: 'The Easiest Thing to Do Is to Blame Someone Else'
The 'Fences' star and director keeps it real.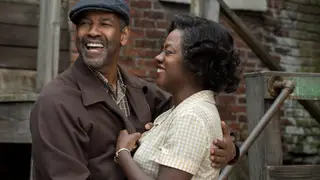 In his new film Fences, Denzel Washington plays a former baseball player who never quite realizes his big league dreams. In real life, though, the actor/director hit it out of the park with this film. 
We sat down with the two-time Oscar winner, who is surely on his way to a trifecta this year, to talk about the issues of race the film brings to light, and colorism in Hollywood. His thoughts may surprise you.
Asked if colorism holds dark-skinned actors and actresses back in show business, Denzel replies, "One of the best roles for a woman of any color in the last, in a good good while or at least any movie that I've been in, a dark-skinned woman has in this film. So as long as you're being lead by outside forces or just being reactionary then you won't move forward. You have to continue to get better."
However, he goes on to add, "You can say, 'Oh I didn't get the part because they gave it to the light-skinned girl, or you can work, and one day, it might take twenty years, and you can be Viola." He continues, "The easiest thing to do is to blame someone else, the system. Yeah, well, there's a possibility, maybe, that you're not good enough, but it's easy to say it's someone elses fault. But there's a possibility that you're not ready and you can still blame it on someone else instead of getting ready."
Check out our full interview with the Hollywood icon above. Fences hits theaters nationwide on Christmas Day.