Commentary: Kennedy, King and Lincoln
Speeches by great orators John F. Kennedy, Martin Luther King Jr. and Abraham Lincoln remind us how far we have come and how far we have yet to go.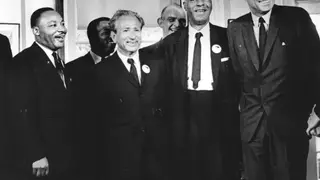 But these two famous presidents were actually joined together half a century ago by another famous American: Martin Luther King Jr.

Hours after Dr. King spoke at the Lincoln Memorial on August 28, 1963, President Kennedy welcomed him and other civil rights leaders to the White House. It was a meeting that symbolically joined three great leaders on a momentous day.

Their influence today is inescapable. Visitors to New York fly into Kennedy Airport, pass through the Lincoln Tunnel and stroll down Martin Luther King Drive. Two of them appear on coins. One is remembered by his own holiday. All were killed by assassins' bullets. Now they are considered America's most eloquent orators.

Kennedy, King, and Lincoln left us with three of the most famous speeches in American history — Kennedy's inaugural address, King's I Have A Dream speech and Lincoln's Gettysburg Address. Although the three speeches each responded to the unique needs of the times in which they were delivered, they all echoed common themes of citizenship, unity and equality.

All three men called on Americans to do something constructive to make their country a better place. Lincoln had asked them to join in a civil war to preserve the union. King asked Americans to engage in civil disobedience to end segregation. And Kennedy asked Americans to practice community instead of selfishness.

"And so, my fellow Americans: ask not what your country can do for you — ask what you can do for your country," Kennedy said at his inaugural address. Meanwhile, Dr. King told marchers in Washington to "go back to Mississippi, go back to Alabama, go back to South Carolina, go back to Georgia, go back to Louisiana, go back to the slums and ghettos of our northern cities, knowing that somehow this situation can and will be changed."

But when Lincoln delivered his famous speech at Gettysburg, thousands of Americans had already given the ultimate sacrifice for their country. He visited the battlefield to remember those who had fought in the war and to remind the living of why they were still fighting. "We here highly resolve that these dead shall not have died in vain," he said. The president pledged "that government of the people, by the people, for the people, shall not perish from the earth."

President Kennedy's inaugural address spoke to a global audience, but his words applied to Americans equally as well. "United, there is little we cannot do in a host of cooperative ventures," Kennedy said. "Divided, there is little we can do — for we dare not meet a powerful challenge at odds and split asunder."

Dr. King called on the same spirit of unity in his March on Washington remarks when he told demonstrators "we cannot walk alone." He dreamt not of angry black separatism that day but of hopeful racial inclusion. "I have a dream that one day on the red hills of Georgia, the sons of former slaves and the sons of former slave owners will be able to sit down together at the table of brotherhood," he said.

It was fitting that King should speak those words at the Lincoln Memorial because Lincoln had committed the nation and his presidency to the goal of unity. "Now we are engaged in a great civil war, testing whether that nation, or any nation so conceived and so dedicated, can long endure," Lincoln said in his Gettysburg Address.

All three men also spoke eloquently about equality in their most famous speeches. "If a free society cannot help the many who are poor, it cannot save the few who are rich," said Kennedy at his inaugural address. He acknowledged that "man holds in his mortal hands the power to abolish all forms of human poverty and all forms of human life."

King, of course, had dedicated his life to equality and spoke about it that hot August day in Washington by quoting from the Declaration of Independence. "I have a dream that one day this nation will rise up and live out the true meaning of its creed: 'We hold these truths to be self-evident, that all men are created equal,'" he said.

It was the same creed that Lincoln had invoked when he spoke his most famous words at Gettysburg to explain why the nation had been formed in the first place. "Four score and seven years ago," he said, "our fathers brought forth on this continent a new nation, conceived in liberty, and dedicated to the proposition that all men are created equal."

Today, 150 years after Lincoln's Gettysburg Address, five decades after Kennedy's assassination, 50 years after King's I Have A Dream speech, their words remind us how far we've come. But five years after electing our first African-American president, our nation has become so bitterly divided that even when President Obama recited the original version of the Gettysburg Address for a Ken Burns video project this week, he was attacked by conservatives because Lincoln's original version did not mention God.

This is how far our country has fallen. And so today, as we find ourselves still bitterly divided over bedrock principles of citizenship, unity and equality, we're reminded how far we yet must go.
Keith Boykin is a New York Times best-selling author and former White House aide to President Clinton. He attended Harvard Law School with President Barack Obama and currently serves as a TV political commentator. He writes commentary for BET.com each week.
The opinions expressed here do not necessarily reflect those of BET Networks.
BET National News - Keep up to date with breaking news stories from around the nation, including headlines from the hip hop and entertainment world. Click here to subscribe to our newsletter. 
(Photo: Three Lions/Getty Images)