'The Matrix: Resurrections' Is A Fairly Weird, Self-Aware Love Story
Keanu Reeves, Yahya Abdul-Mateen II, and more talk about the sci-fi actioner.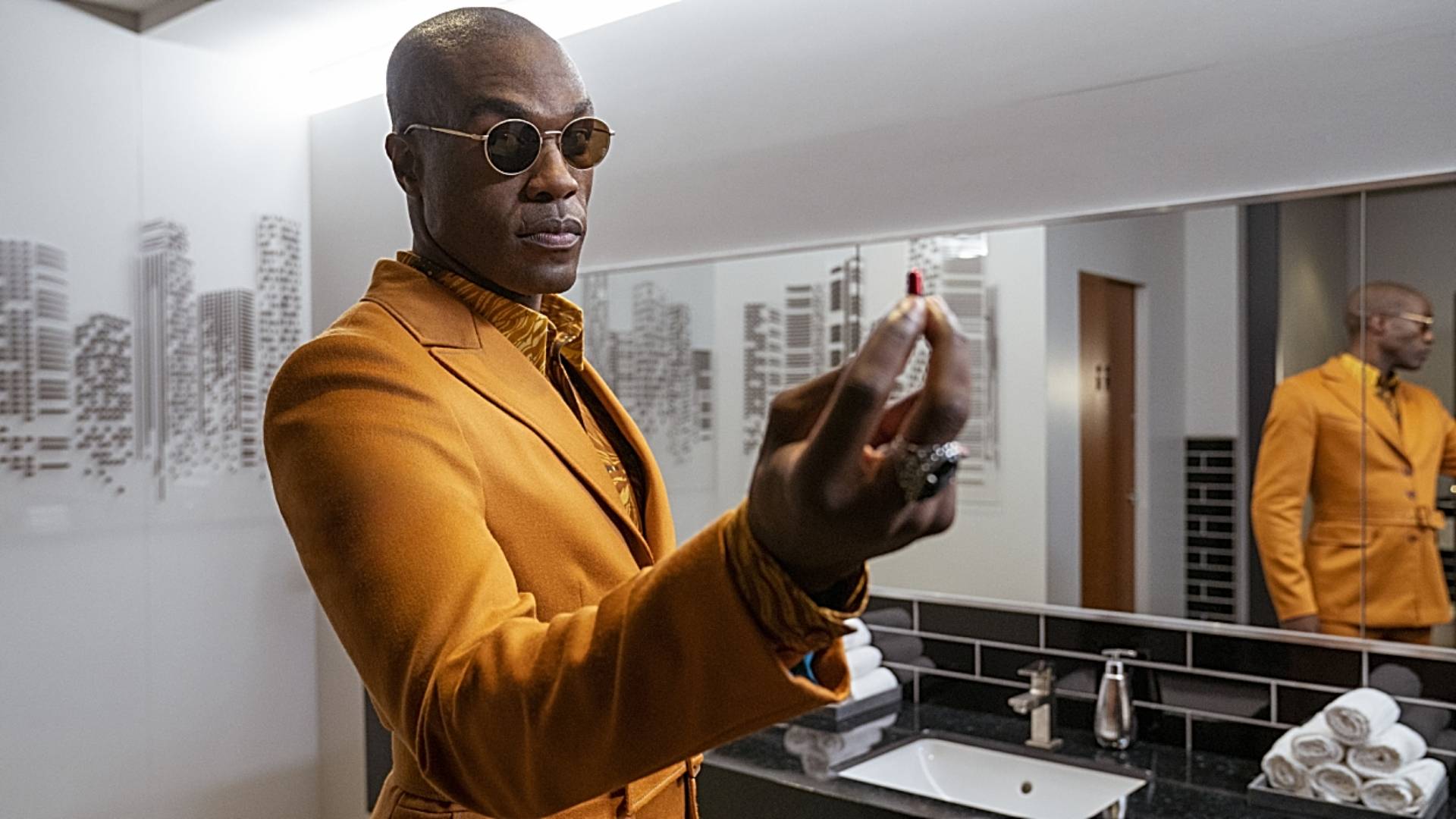 The Matrix, originally written and directed by Lana and Lily Wachowski, has revolutionized the way cinephiles watched big action blockbusters.

Everything from the imaginative wire work to the cyberpunk vibes gave audiences a feel of something they've never seen before. With The Matrix Resurrections out now (Dec. 22) — the film is a direct sequel to 2003's The Matrix Revolutions and attempts to answer the question of how can you reinvent what you already invented?

It is a promising premise in a series already hallowed by hardcore sci-fi fans. BET.com was able to screen and review the film, plus talk with returning stars Keanu Reeves, Carrie-Anne Moss, and new featured players Yahya Abdul-Mateen II and Jessica Henwick about the spiced-up series. "We're trying [to escape]," Reeves, who plays the hero Neo in the film, told us during a press junket. "We're running for our lives [and] I don't want to give [the movie] away, but when [Trinity] and I are together, [the action] is unlike anything audiences have ever seen."
Matrix Resurrections plays out like a new canvas with flourishes that callback to iconic Matrix scenes from the past, while stylishly introducing new characters and a fairly weird (and trippy) plot that includes a tongue-in-cheek element that adds a dose of levity to the franchise. If you want to know as few plot points as possible before seeing the film on IMAX screens and HBO Max, you can skip this next paragraph.

The fourth Matrix installment forwards audiences 18 years into the future, a full decade after Reloaded and Revolutions, and finds Thomas Anderson (Reeves) back in the Matrix despite his — SPOILER ALERT — prophecy-fulfilling death that concluded the last movie. But in Resurrections, Thomas is unaware of his alter-ego Neo, his true love Trinity (Moss), or his place in a digitized world run by machines. The love story, which made up the heart of the original trilogy, makes up the larger part of the narrative in Resurrections, but it is written in a way that makes it feel disjointed in a frustrating way. Neo and Trinity's reunion is quickly brought up and almost immediately abandoned, but for the pair of Keanu Reeves and Carrie-Anne Moss — it felt so good to be back on set together again.
"It was really fun to work together again and to partner up and go through this extraordinary experience of making 'Resurrections' [with Carrie-Anne," Reeves said. "Everything [that] we've done together in making [this] film has been wonderful," Carrie-Anne Moss added. "It's [been] hard to talk to people — even my own husband — about the depth of the story. I can't wait for him and other fans to see this and talk about all of the things that Neo and Trinity go through."
RELATED: Keanu Reeves Reveals His Favorite Hip Hop Song

"It's Lana Wachowski's passion and her love of Neo and Trinity that imbue this story," Reeves continued. "I think she roots for them as we do, and they're also inspiring, which I think audiences will enjoy." In the film, the two have no memory of their earlier selves, and the former has achieved this meta-verse-styled fame inside the simulation as a video game programmer while the latter has a family and a quiet life.

Reeves is a lot of fun to watch in the film's first act, and you can tell that the love from the people during 2019's "Keanaissance" and his run as John Wick will pay big dividends when those box office receipts come in. Moss gets to play a less stringent and jaded Trinity, settling into a more human version of the role that touches on how attachment and connection play out inside a virtual world.
The trailer for The Matrix: Resurrections first caught fire on social media and in comment sections around the web after Abdul-Mateen II's Morpheus ' confirmation left many asking why the O.G. Laurence Fishburne was absent from the new film. Hollywood's latest "It" leading man of action hinted at differences between the characters in the past, but despite the lines between reality and fantasy being blurred, Abdul-Mateen's cooler-than-thou performance means it is a variant that fans will still know and love.

"[Keanu and Carrie-Anne] didn't give me any verbal advice [about playing Morpheus]," the New Orleans native said to BET.com during the second day of press. "They lead by example and we all know to come in prepared to work hard. But in working with Keanu — because I didn't share very many scenes with Carrie-Anne — we approached everything as if it were the first time." Before when Neo as a still hard-wired Thomas Anderson is downing blue-pills like Skittles, Abdul-Mateen II as Morpheus, who was named for the Greek god of dreams, plays the role of Morpheus deftly and serves as a superb replacement to the beloved Laurence Fishburne.
Without Abdul-Mateen II's effortlessly cool demeanor and knowledge of the Matrix, escape from the Wachowskis' series of conflicts would be more broken code than successful syntax. In fact, Jessica Henwick (Marvel's Iron Fist), who plays the blue-haired Bugs, is an electrifying addition to the franchise since the original debuted in 1999. Henwick, alongside franchise newcomers Jonathan Groff, Neil Patrick Harris, and Priyanka Chopra Jonas, help infuse some freshness into the many, many narrative threads that make Resurrections feel like a Reddit AMA come to life.

To its credit, The Matrix: Resurrections is self-aware of its own joke, using amusing meta-references involving sequels and even Warner Bros. to its benefit. And at the core of it, Lana Wachowski and the cast deliver a deeply-engrossing offering — equipped with bullet-time and gravity-defying kung-fu — but does run in too many directions for the reimagined Morpheus (and its villain, Agent Smith, played by Jonathan Groff) to even be concerned with their evolution.

The adulation and mythos that make up The Matrix as a whole over 22 years mean this is still worth viewing on the big screen, but newcomers will treat this act as a soft reboot for further movies that possibly shift its focus away from Neo and Trinity.
Watch the trailer for The Matrix Resurrections above and note the film is now available in theaters and on HBO Max now.
---
Kevin L. Clark is a screenwriter and entertainment director for BET Digital, who covers the intersection of music, film, pop culture, and social justice. Follow him on @KevitoClark.