Kendrick Lamar's Pulitzer Prize Means More For Other Hip-Hop Artists Than You Think...
We spoke to a member of the Pulitzer Prize Administrator about Kendrick's ceiling-breaking impact.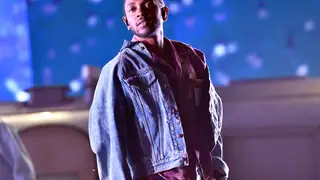 Compton emcee Kendrick Lamar continued to make history with his fourth studio opus, DAMN. after the critically-acclaimed project swept the 2018 Grammys, topped national and international music charts and reached double-platinum status within the first year of its release.
All of these accolades are worthy of further heralding of Kung-Fu Kenny, but none quite like his latest DAMN. achievement: the prestigious Pulitzer Prize award of 2018. The album historically marked the first non-jazz or classical work in the Pulitzer Prize for Music category, placing hip-hop on the board's forecast for musical excellence for the first time ever as well. As the most influential genre to date, some called the accolade overdue for any artist of the genre.
However, BET Digital's conversation with Pulitzer Prize administrator Dana Canedy details how the selection came about and speaks to just how well-deserved K-Dot and all of hip-hop is of recognition and consideration for the award.
The decision was unanimous, but what can you tell me about how the decision for Kendrick Lamar's DAMN. came about.
Dana: So, the music jury was considering several entries and the discussion turned to the fact that some of the entries seemed to be influenced by hip-hop. So someone on the jury said, 'Well, if we're intrigued by work that is influenced by hip-hop, why don't we just consider hip-hop?' Someone said that's exactly what we should do, and one of the jurors said, 'Like, Kendrick Lamar!' They decided right then to listen to the entire album, and thought this is one of our finalists.
This is a land marker for the Pulitzer Prize Board as well as hip-hop for awarding him the very first Pulitzer given to a hip-hop artist for a hip-hop album. What does that reflect about the considerations of "musical composition" excellence?
Dana: I think this reflects that hip-hop often i as brilliant as any other genre, and [Kendrick] is considered by many to be a genius in his field. This is a very sophisticated album. I would it's a dense and sophisticated collage of hybrid sounds and polyrhythms. I would say it's an album that is a work of vernacular avant garde.
When the album first came out, there was a rumor that Kendrick would be releasing a second album shortly after. That wasn't the case, but there was an alternative way to listen to the album: backwards, which would narrate a different story when listened from the last track to the first. Did the board ever get a chance to do this?
Dana: Not that I'm aware of. That discussion could have happened at the jury level, but if so, I'm not aware of it. But, that is absolutely interesting!

Were there any particular songs that stood out from the project that made a large impact in the decision?
Dana: No, always in this category and even in books, there's not a chapter that stands out. It's the entire body of work. So, as every year, the entire album was considered.
Were there any other hip-hop albums up for consideration?
Many critics of the Pulitzer Prize Board have said that a hip-hop artist receiving the award is long overdue. What are your thoughts on that?
Dana: I'm glad they can no longer say that [laughs.] I think that we're just proud that we've arrived at this moment, and we think this artist and his work is deserving. The selection speaks for itself.
Do you think this could be a ceiling-breaker for other hip-hop artists to receive this award in the future?
Dana: I think that it is quite likely that, until this year, most hip-hop artists would have never considered putting their work forward for consideration by the Pulitzer board. I hope that this means that'll change.