We Spoke to Chrisette Michele About Post-Inaugural Backlash and Being Called a 'Coon'
"You understand the narrative that's happening?"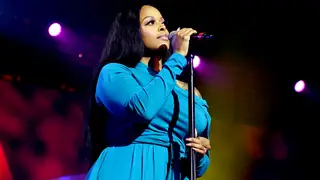 When Chrisette Michele agreed to perform at this year's Presidential Inaugration, the clapback was heard around the world. The singer joined a rather scant list of confirmed performers, as many declined to perform for newly-elected Donald Trump. And the response was vicious, albeit understood considering Chrisette being both Black and a woman — two identifiers that seem to be in direct opposition with anything Trump stands for. So yes, it turned pretty ugly pretty quickly. Spike Lee pulled Chrisette's music from his She's Gotta Have It reboot on Netflix, leading to the release of Chrisette's new spoken word track "No Political Genius," attacking Spike Lee and the haters.
"F**k yous" were thrown around, open letters penned, Basquiat references, and there was even a guest appearance by Lil' Mo to kick Spike Lee's a**. In simple terms, it was a mess. But Chrisette had her reasons for performing, and she talks with BET.com about them. Find out what she thinks about the internet's response, how the performance even happened and what she thinks will be the consequences in the long run for this controversial inaugural performance.
Can you walk me through that fateful phone call asking you to perform at the inauguration?
Sure. So my team receives phone calls from this particular production company that puts together and books a lot of artists for all kinds of events. I mean, from performing with Frankie Beverly and Maze to opening for Maxwell, so this was a regular call that we receive all the time. But this time they said that they wanted me to perform at the inauguration and so my manager calls me into his office and he says it to me. And literally, without even seconds of thought, I said, "Absolutely." Like, literally. And he looked me in the face and was like, "Oh hell no." So I turn my head to the side like, "What?" He thought about it maybe far more than I did. He might have had time to ingest it and digest it, but for me it was an automatic "Absolutely." No questions asked.
I'm glad you cleared up one thing that was on people's minds: This idea that Donald Trump called you like, "Hey, girl" and you were like "Hey, Don," and you suddenly befriended that man. So this was a third party that came through with this offer.
Yeah, so long story short — and just so we can shed light on how that all worked out — is that there was about $160 million I think spent on the inauguration in general, as far as security or, if you were in D.C., you saw the military, military tanks. It was a real crapload of money spent. And that money came from taxpayers' dollars. Some of the money was allotted to this particular production company to literally put on a production and they sold tickets to the public. So people purchased tickets to go to this [Inaugural] Ball and that was the ball that was televised on TV. So I think, even me, I think a lot of people were like, "Oh, Donald Trump's having a party." No. Our tax dollars are having a party. So you negotiate this deal like you negotiate anything else. We received this phone call seven days before the inauguration, so it was kind of one of those things where we were like, "This is not real" because who would call you seven days before this huge event? You would think this kind of thing was planned far in advance. And we signed the contract two days before the inauguration. It was really a quick turnover and a quick decision. And you know, people ask "Why did you do it?" or "Why was there no hesitation?" And all I could think of was that somebody had to see our face there. I couldn't let it be that the entire world watched Donald Trump be sworn into presidency and nobody had any idea that we still lived here. I felt underrepresented. I felt sad that the Democrats walked away from this moment. Because the truth of the matter — and by "the Democrats" I mean the people sitting in Congress and Senate — I felt like if they didn't have the equipment or weren't equipped to represent us and get us through this moment, then who the heck is gonna do it? You know what I mean? Again, our taxpayers pay their salaries, so what does that say about where our tax dollars are going?

"I think a lot of people were like, 'Oh Donald Trump's having a party.' No. Our tax dollars are having a party."
 
Just to confirm, when you said you "didn't think twice" about accepting the performance offer, you weren't happy or excited were you?
Girl... it was almost dread! If that makes any sense. I'm not a mom, but like a mom having to spank her child. You know you have to do it, but it's not fun. Like you're excited about being a mom, but not excited about this spanking that's coming up. So it kind of felt like that. It felt like something I had to do, even if people didn't understand. Sometimes you spank your kid and the kid doesn't necessarily understand why you did that. I know that there are people who aren't going to understand why I did it. But I did know that it was a responsibility to lift up the name of Jesus on the highest platform in the land during a time like this and start this inauguration with some love. Show that some love still exists, that hope will exist and that at the end of this, I'm gonna be vindicated because God is in control and Donald Trump doesn't hold the fate to my soul.
Amen. So then how do you respond to this backlash? I know people say "don't read the comment section," but Black people in particular are thinking you're on the wrong side of history with this. Then add to that the citing of what happened this past summer, where this "all lives matter" type of message was coming from you along with the idea of not protesting. So adding that to this, there seems to be this collective opinion [about you].
But wait, I just want to clarify: did I say "All Lives Matter"?
Well, no, but as the news traveled through the summer, it became "Chrisette Michele and All Lives Matter."
Oh, no I didn't say that. I just want to be clear, I didn't say that.
OK, well I think there's this overarching opinion though now of how your fan base feels abandoned.
Let me just speak to that quickly, because this is the time for conversations. I was in the Lenox Mall when a protest broke out in the mall. I had my three-month-old goddaughter with me and I ran for the closest door. And I got to my hotel and looked out the window, and there were young people standing on 18-wheeler trucks on the highway. And [Atlanta Mayor] Kasim Reed came out and urged people to be safe, and at the same time that Kasim Reed was speaking about people being safe, I said for us to be safe. That turned into my saying that "Black lives don't matter." You understand the narrative that's happening? So, first of all, I don't know that anyone's listening. The reason why I don't feel obligated to defend myself is because I don't feel like anybody is listening anyway. I don't feel like anybody knows what they're upset about besides Donald Trump's combover. So I'm urging people to pay attention. I'm urging people to watch the news and listen in between the "bad tie" jokes and the "way he holds his hands" jokes and his "orange tan" jokes. I'm urging people to fight the issues and not the people. If we don't fight or if we don't know what we're fighting for and we're all just hating each other, then nothing's going to come of this. We're going to go through the next four years tearing Black people down as Black people the way that they're tearing us down and wonder why we're not moving ahead. So, again, I don't have a choice but to go where I'm called to go and make the noise that I'm called to make and say what I see and call out the news for what it is and not make believe this is about whether or not you like my weave or not.

"How come Meryl Streep is being lauded for standing up, but anytime a Black woman who is not a politician says anything about politics, she's 'slayed through the media?'"
 
I know you're pretty cool with President Obama. Did he reach out about this performance at all?
I don't have Obama's phone number, but Obama was at the inauguration. As much as we cheer him on and say that we're on his bandwagon, how come we weren't on his bandwagon with the choice that he made to be there? I don't know that we're paying attention to the people who know what's going on and are behind the scenes working on our behalf. Those are the people we are looking towards and up to right now.
Is it true that Donald Trump didn't even say hello to you?
Yeah, I haven't spoken to Donald Trump, and again I wasn't there for Donald Trump. I was there for people. I was there to show what we look like. And I've done a lot of interviews with the Associated Press, NPR, Billboard, the list is now going on and on. The next is CNN, and so I'm getting all different types of perspectives — whether the perspectives of people who look like me or perspectives from people who are or aren't from my background. And so there was backlash and there is backlash, but there are 300 million people in America and there are 6,000 comments on my Instagram. So while I understand that there are some people who have a lot to say, there are other people who don't even know what you're upset about. So I feel comfortable talking to those people and sharing with them what I'm upset about and that's why I was at the ball.
Let's talk about how "No Political Genius" has now sparked this campaign and movement you're doing now for political awareness, which is very important.
So I've been doing spoken word for a few years now, and "No Political Genius" is this spoken word piece that kind of came to me after the inauguration. At the end of the day, we always kind of want to tell people when they're allowed to speak up, who they have to be in order to be able to speak up. It's kind of like if you're a white actress, you're allowed to speak up. If you're a Black civil rights activist, you're allowed to speak up. But if you're just a Black singer in the R&B circuit, you're not allowed to say anything. So the point is, no I'm not a political genius, but how come Meryl Streep is being lauded for standing up, but anytime a Black woman who is not a politician says anything about politics, she's "slayed through the media" or whatever the terminology is. I feel like we're our own oppressors sometimes. When is it OK for us to say anything about what really matters? So folks like Meryl Streep and folks like John Lewis and folks like Spike Lee and folks like The Breakfast Club and folks like people like yourself have the rights and the audacity to speak up. I'm not afraid to join that number.
And you're right about that number of 300 million people in this country versus 6,000 people in your comment section. But how do you respond to this "you'll never work in this town again" attitude toward you and this one night that you decided upon?
I mean, the truth of the matter is that I'm booked for the next six months. And while it's trendy to say things like that, at the end of the day I've been booked. It's never been trendy for me to work hard. It's just what I've been doing for the last ten years. And I'll still continue to do it for however many years God still keeps me here. The phone hasn't stopped ringing. I mean, you're calling. And whether you have good intentions or not good intentions, whatever the phone call may be or whoever it's coming from, it ends in a check.

"I mean, the truth of the matter is that I'm booked for the next six months."
 
Well, admittedly, I was one of your first interviews ten years ago. This interview was for you to clear the air and answer the questions people were asking. Not for clickbait.
It's so interesting, the amount of people that are in that space. Which is why I have to say that in comparison to however many comments versus 300 million people in America, the interviews have been these lovefests. I've been trying to do as many of them in person as possible, so that it's not intimidating or uncomfortable. The Breakfast Club was a lovefest. It ended in hysterical laughter and it ended intention-setting for all of us to push each other ahead. I'm overwhelmed, and the truth is I'm overjoyed with the outcome of beginning a conversation. And it's only four days.
Well to be honest, when people see open letters and they see tweets, they kind of misconstrue what your intentions are until they actually hear your voice. 
Which is why I haven't been tweeting or posting. I posted one open letter before I performed and I haven't had anything else to say really outside of art since then. What do you say to "You're a coon?" We've been called "b*****s and h**s" in hip-hop music for years. I'm almost desensitized to hate, because we've been hating each other for so long. What more can hate do? I'm excited about love.
You mentioned that your family stopped talking to you over this. Have you mended fences with them over the last few days after they actually heard why you did this?
Well, I'll start by saying that my parents and my brothers and my sister have been incredibly supportive. But I do have those older family members who understand the climate of civil rights and understand the activism of the '60s that only see this moment as hopeless. Those people were on the fence about anything American or anything progress in general. Many of those people don't even refer to themselves as Americans. While I love and adore them and I'll always appreciate them, I don't expect them to understand 2017's kind of civil rights activism. But yeah, after I performed — and you know all of my family is Christian, so after it was a gospel song and after everyone saw it was a long skirt, after I did everything that you do in holiness churches, in COGIC churches on the stage... At one point I wanted to say, "What did y'all think, I was gonna get up there and sing 'Blame It on Me'?" This wasn't an R&B concert. I wasn't singing at the first dance. I was singing a gospel song that hopefully will bring hope some comfort. I wore a Basquiat skirt that had "no to police brutality" written all over it. But you know, I don't even know who watched. So, for all the people who were so disenfranchised by me wanting to go there, they didn't even know what terms I went on. But yeah, no I haven't taken out the time to try to explain myself to much of anybody yet, including my few older aunts who kind of didn't understand. But they've been writing me on my private Facebook page, sending me prayers and love. I think they're just upset with the system. I don't think that they're really upset with me.
In retrospect, any regret on doing it?
No. The goal here is to start conversations like these. The goal here is to open up the eyes that we're all allowed to activate. The "p***y riots" the other day [at the Women's March on Washington] was the beginning of something beautiful, something great where we all know that it's OK and important for everybody from all backgrounds — no matter what you sing, no matter what your job is, no matter what you wear, how how you dress — it is your responsibility to speak out against injustice and to invoke hope and love on your community. Whether you're an R&B singer or whether you marched over in Selma.