Sugarhill Gang Fights to Get Their Name Back
The hip hop pioneers document their 30-year battle with the record industry in new film.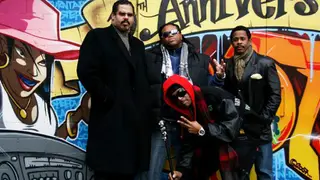 Sugarhill Gang's seminal 1979 hit "Rapper's Delight" ushered hip hop music into the mainstream, officially introducing the masses to rap. While fans worldwide can recite the classic song's carefree lyrics from memory, few are aware of the nightmare contract dispute that left the song's original creators with nothing to show for their monumental contribution to the culture. In the new film, I Want My Name Back, director Roger Paradiso brings Sugarhill members Master Gee's and Wonder Mike's struggle to light by documenting their 30-year battle against the record industry that stole the rights to their music, their names (there is a group led by Sugar Hill Records owner Joey Robinson that currently performs under the same stage name) and obstructed their proper placement in music history. With the world premier screening of I Want My Name Back going down Saturday (November 5) at New York University, BET.com spoke with Paradiso and Wonder Mike about what viewers will learn from the film, how it relates to the Occupy Wall Street movement and why it's taken 30 years to bring this gripping story to the light.
BET.com: After seeing I Want My Name Back, what will people learn about the Sugar Hill Gang and "Rapper's Delight" that they didn't already know?
Wonder Mike: We got together and we recorded a song that blew up around the world and ushered in a whole new art form, a whole new genre of music. But they're gonna learn how the greed of the label tore that apart.
Roger Paradiso: Even if they're into hip hop and they think they know the story, there are things they will find out that they did not know. And they will be surprised. There are amazing things and details in this story and I think people will be surprised by it.
This film seems very timely with Occupy Wall Street protesters taking on banks and corporations in the same way that you all have been fighting the greed of the record label for 30 years. Do you think that parallel will help audiences connect to your story?
Roger Paradiso: YEAH! That's the thing! You hit on it. That's what we're trying to get across. This story is universal. What people are going through in the country now didn't start a year ago. It started in the late 70's, exactly when these guys started out. It's stunning because in the late 70's, people were doing OK. There was relative equality among the classes. There was a large middle class, and from the '70s to now the middle class has eroded, the poor got worse and the rich have gotten richer. This story is about corporate greed, identity theft. And I think people can identify with it now because a lot of people are saying, 'Yeah man, our lifestyles have really gone down. I make less at my job and my benefits are worse.' And that story is a mirror of what these guys went through. That's an amazing parallel that you just made because that was sort of in the back of my head as we put this together. It was like, if we can get this out to the public, it's not just a hip hop story; it's about these two guys and their 30-year struggle against this same system that creates the movement Occupy Wall Street. It's the same syndrome: corporate greed and just the lack of respect for people and taking anything you can from them without any fear or conscience.
It took a financial crisis for people to recognize and address the corruption on Wall Street. Why did it take over 30 years for you guys to get this story out?
Wonder Mike: Well, we had to find (a director) who was convicted to do it. A lot of people, you know in this business, a lot of it is talk, talk, talk. I don't like to talk, I like to do. I like results. I think I'm a can-do person. I don't like excuses. You have a lot of people, 'Aw man, we gotta do a story on you guys.' But we never got a chance to go in depth to do it. One guy, Anthony Michael Hall, we worked with him for about six months then he got a call to be in one of those Batman movies. He's a cool guy, but we haven't heard from him since. He got really busy. Then Roger came along and took the time to listen to us and took it at a slower pace. So we were able to peel back the layers of this thing and we started formulating the story and formulating a way to film this story and we just took off from there.
How long has this film been in the making?
Roger Paradiso: We met about three years ago and it didn't take long for me to be convinced to make it. What I didn't want to do was get involved in a story about sex, drugs and rock 'n' roll — blah, blah, blah. There had to be a story in there. And when I sat with Mike and Guy [O'Brien] (Master Gee) they started piecing together a story. And that's king. Story's king. Without that, it's a concert film. Probably about a week or two after talking to them for a while I came up with this buddy film concept that was the framework for making the story. Two guys over 30 years and their relationship, which was based off of a lot of love — they're like brothers — and the obstacles that they went through together are pretty immense.
I saw some familiar faces like Treach and Vin from Naughty by Nature in the trailer, have you guys gotten a lot of support from the hip hop community on this project?
Wonder Mike: Yeah there's a lot of people that's not in the film because there's just too many to even name. We get love wherever we go. Sometimes we run into different artists on the road and it's all good.
Do you still keep in contact with other hip hop pioneers?
Wonder Mike: Yeah, everyone from Whodini to Big Daddy Kane, Funky 4 +1, Melle Mel, we all are in this "keep old school alive army." We did a TV show about eight years ago, it was us, Melle Mel, Chuck D and Flavor Flav, Slick Rick and Doug E Fresh and we all rocked it. I think it was the Soul Train Awards. We turned it out. I'm lookin' out in the audience, and there's Denzel Washington…Danny Glover, Jay-Z, Beyoncé, Andre 3000… saying my words back to me. It was jammin'. We're all united. It's like an unspoken bond that we don't have to hammer out in stone. The old school pillars of hip hop are still united.
How do you feel about hip hop today? What surprises you most about how it's grown in the 30 years since you helped bring it to the masses?
Wonder Mike: I like a lot of music today but the most surprising thing is sometimes people are saying the same things. I think some of it needs to change up. There's more than poppin' champagne in the VIP. I mean, give me a break. How many times can that be said? Especially in this day and age of worldwide problems on a grand scale and class warfare, and countries going bankrupt and 1% of a nation's population owning almost the whole nation by themselves. I mean, give me a break. There's so many other things to talk about. We could be our brother's keeper. We could help give to one another and work together instead of all this polarization that's pulling the world apart. So much more to talk about besides popping some damn champagne in the VIP.
Are there any current rappers that you are feeling?
Wonder Mike: I like Lupe Fiasco.
Word is there is going to be a special performance at Saturday's premier.
Roger Paradiso: They're going to be performing after the screening. We wanted to show that this is not a group that we're doing a biography on that is not vital. They're still performing; they still got an album coming out. We got a soundtrack coming out. And I can tell you, some of the songs are amazing. They're different sounds than what people are used to hearing from these guys. And I personally think that people should come just for that.
How far along are you on your next album?
Wonder Mike: We're about halfway through with it. Some of the stuff we did have we're not gonna even put it on there because the new stuff is gonna musically crowd it out. It's more sophisticated and we have a lot of different flavors on this CD. A little reggae, a little rock — real rock, not that just strumming the guitar and put some drums on it bullsh** — and some old school slow joints like Delfonics type stuff. We're really mixing it up this time. I think the music industry needs to be shaken up and put on its head and awakened again.
What's the one thing that you want everyone in the theater to take away from this documentary?
Wonder Mike: That we never ever gave up or even thought about giving up. The thing that struck me after viewing the doc was I lived everyday this uphill battle. I don't know how many people would have gone that distance but there's no other way to do it. I'll still fight til the day I die because of the principle of the matter. I think it's the perseverance and the ability to overcome adversity. It's kind of a Rocky story in a way.
(Photo: Courtesy Black Ivy Media)