Pam Grier Says She Once Had An Orgasm That Lasted "Hours" And More NSFW Things
*Gasp* Aunty Pam!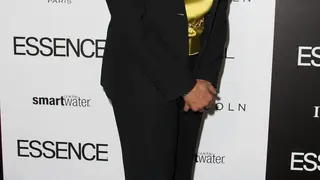 '70s sex symbol and honorary doctor of Humane Letters Pam Grier is not afraid to talk about her sex life. Known for being romantically involved with celebrity men that include Richard Pryor, Kareem Abdul-Jabbar and Don Cornelius. She is also known for her sexually enticing roles in movies including Foxy Brown and Sheba Baby.
Today, the 69-year-old ambassador for Brown Sugar on Bounce TV  is still turning heads as she makes her rounds during a press tour and shares some of her most intimate sex secrets that has many of us clutching our pearls.
Ms. Grier stopped by the studio of Page Six's "The Sexy Six" and gave very descriptive details of her sex life in a Q&A that dug deep (no pun intended) into her sex life.
She was asked things like what makes someone a good lover and even where is her favorite place to have sex to which she answered openly, "I gotta try the barn."
When asked about her longest orgasm she was completely uncensored and her answer had us all gasping.
The brown beauty said she had an orgasm that lasted for hours which she explained made her teeth ache and thought that a defibrillator would have to be used on her.
See the interview for yourself:
Oh, lawd! Is this what we can expect when we get a little more mature? I guess we have to be careful when we are as fine as wine like Aunty Pam!