David Oyelowo: 'People Want to See Us as Victims, Not as Heroes'
The actor on his new film, Nightingale, facing rejection and more.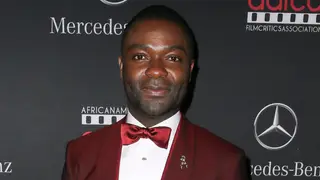 David Oyelowo is having moment right now. After a stirring performance as Dr. Martin Luther King Jr. in Selma, for which nearly everyone believes he was snubbed for an Oscar nomination, he's become Hollywood's go-to guy for a great performance. 
But Oyelowo isn't an overnight success fresh off the 747 from England, where he was raised. He's been working in film for nearly two decades, plugging away at his craft and his career in films like The Best Man and The Last King of Scotland. Now that he's officially a bold-faced name, Oyelowo is using his status to advance his mission of cultivating more interesting roles for Black people in mainstream films and more Black films in the mainstream. 
We caught up with the star to talk about his new film, Nightingale, in which he guides us through the unraveling mind of a disturbed young man, as well as dealing with rejection, his commitment to working with female directors and how his use of American accents has become a metaphor for the Black experience.

In Nightingale, you play a guy seemingly in the midst of a mental breakdown. I heard you stayed in character for the full three weeks you were shooting the film, and even moved out of your house for the duration. What made you want to go so far for this role?
It's something I had never done before, but I had seen Forest Whitaker do it when he played Idi Amin in Last King of Scotland, and I witnessed Daniel Day-Lewis do it on Lincoln. Now, I don't equate myself with those actors in terms of ability, but [Nightingale] seemed like that right time to try it out, playing a character who is so disturbed and bouncing in his own head. And it's something I ended up doing again in Selma. We shot Nightingale before we did Selma, and having experienced what it feels like to play a character where you don't second guess their actions or intentions, I wanted to have that when I played someone of Dr. King's stature. 
This film was rejected by most film festivals and distributors before it found a home at HBO. How did that come to be?
Funny story. The day the Oscar nominations were announced, Brad Pitt, who is a producer of Selma, wasn't very happy with the results. That was the day he watched Nightingale. I had given a copy of the film to [Pitt's producing partners] Dede Gardner and Jeremy Kleiner while we were shooting Selma, but Brad's a busy guy and hadn't gotten around to watching it. But something about [Oscar nominations day] made him decide, "Today's the day I'm going to watch Nightingale." He so loved it that, after the film had been rejected by so many festivals and distributors...it was that day Brad saw the film and gave the film the kind of platform I never could have imagined. 
Why do you think people didn't immediately respond to this film, which is superbly made and features such a great performance by you at its core?
I have to tell you, I don't think a lot of these festivals knew what to do with a film like this that had a Black protagonist. We're used to seeing white actors stretch themselves in this way and do roles like this, and if they have a certain profile, then it's a no-brainer that film will be given a platform at a festival. Nightingale has nothing to do with race or civil rights or him being a gang banger or anything like that. 
You're a producer on this film as well, and I know your Selma director Ava DuVernay has talked a lot about how instrumental you were in getting that film made. What is your mission behind the camera?
One of the things I'm most passionate about is the representation of Black people on film. I do believe that film exposes and educates us about who we are and can break down prejudice. We are so underrepresented on film that it's a way to show the world who we are beyond the stereotypes. Selma wouldn't have happened without Oprah Winfrey. Nightingale would not be on HBO without Brad Pitt. I want to do that for other people...especially for female filmmakers. I just don't understand a world in which women represent fifty percent of the population and such a minute amount of those who get to make films. 
There are rumors that you and Ava DuVernay will soon be joining the Marvel universe. If that's true, are you prepared for the kind of backlash that can come with that? You've seen what's happening to Michael B. Jordan...
I'm so proud of Michael B. Jordan for speaking up so bravely and eloquently, but I'm glad when something like this happens. People like to paint us as crazy or as always playing the race card when we point out these challenges. But they are very real. They are very, very real. There's a reason why these people are trolling Michael...some people only want to see us as victims, not as heroes. That's why I'll be first in line to see Michael, and first in line to see Ava's Marvel movie if and when that comes about. It takes people as smart as Marvel to be confident enough in their brand to engage with a filmmaker like Ava, and I applaud them for it.
You've had to put on an American accent in a number of films now. Does it get easier with time?
[Laughs] It's a new challenge every time I do it, because I try to make each accent specific to the character. Dr. King was the most difficult...the way he speaks is so particular, I was afraid people are going to think I'm an English actor doing a bad accent. [Nightingale's] Peter Snowden, I wanted him to have an accent that was hard to place. I didn't want people to think, "Oh, he's that kind of Black person." And that's what I'm talking about...so much of what you see on film is just one kind of Black person, and I want to represent the whole array of Black people and Black life on film.
Nightingale premieres Friday, May 29 on HBO. Check your local listings.
BET.com is your No. 1 source for Black celebrity news, photos, exclusive videos and all the latest in the world of hip hop and R&B music.

Click here for a chance to win a trip to the 2015 BET Awards! 

(Photo: Chelsea Lauren/Getty Images for Mercedes-Benz USA)