EXCLUSIVE: Venus Williams Talks About Her New EleVen Collection
The tennis star's 'Psychedelic Collection' pays homage to the fashion of the '70s.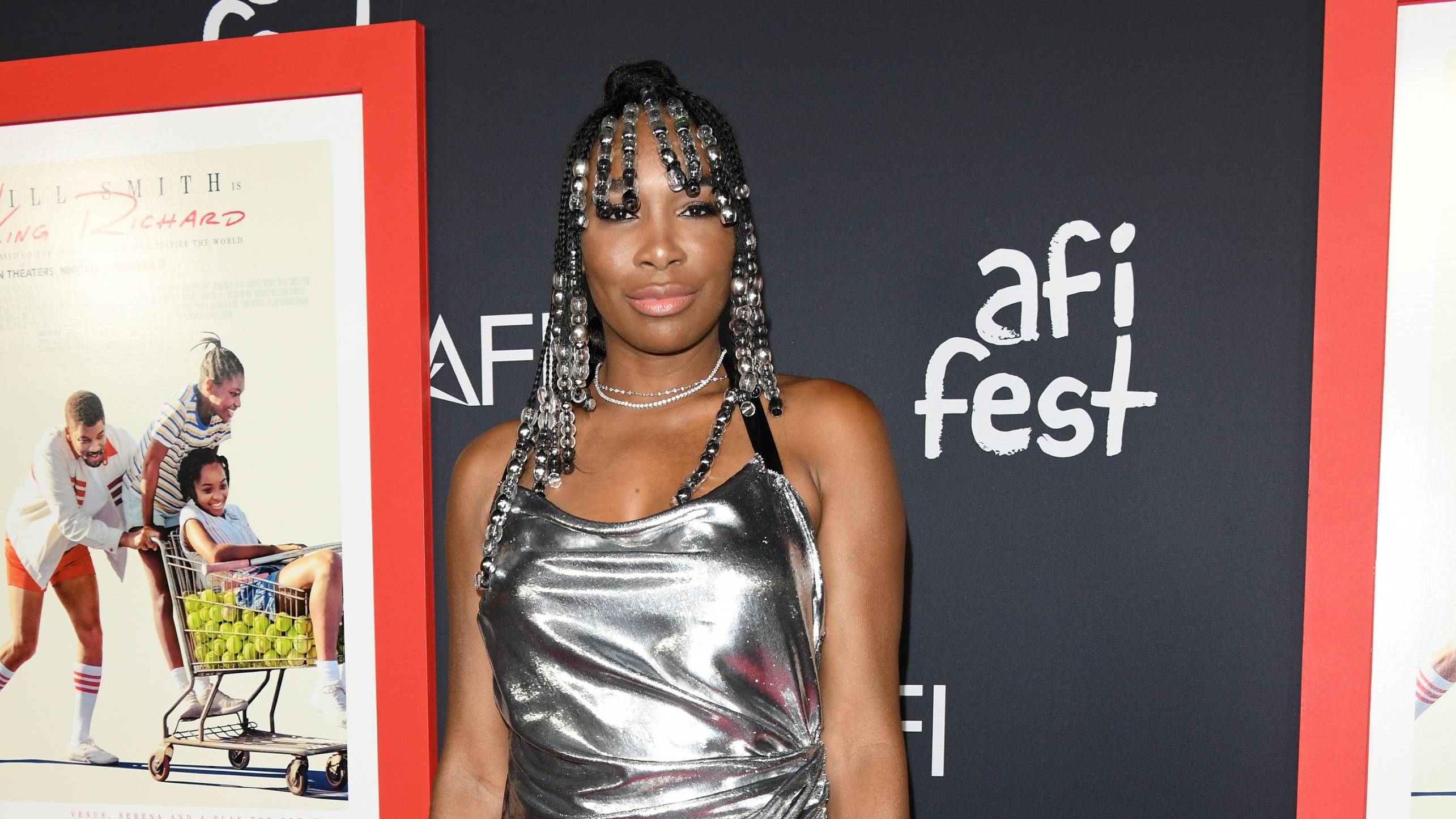 Whether on a college campus, running daily errands, or training in the gym, Venus Williams' confidence and performance-boosting brand, EleVen, is perfect for women of all ages. The fashion-forward brand produces high-performance activewear without compromising quality and comfort.
"I launched this company intending to create a brand that empowers women to feel their best. Feeling good in what you're wearing always adds a layer of self-confidence. I want our customers to feel like they can conquer whatever their day might bring when they wear EleVen," Williams, the Founder, and CEO, told BET.com.
Since the beginning of Williams' career, she has made many fashion statements on the court, from her beaded braids to her trendy attire, and she attributes her added confidence, and sequentially, her performance to expressing herself through her outfits.
EleVen's newly released Psychedelic Collection encourages individuality with vibrant colors and unique textures to ensure those donning the collection exude bold and playful energy. With a nod to 1970's fashion, the Psychedelic Collection features modern mock necks, fearless pleats, psychedelic animal prints, and sustainable cozy quilts.
"I love this throwback moment that fashion is having right now, and I wanted to harness that with this collection," said Williams, an alumna of the Art Institute of Fort Lauderdale.
Although Williams loves the entire collection, the unique look of the Uneven Swirl Sparkle Tennis Dress shows the versatility of EleVen activewear.
"[The] reflective sheen looks incredible on the tennis court, not to mention its stretch makes it so easy for quick movements," said Williams. "I also love that you can throw on a pair of white tennis shoes for a more casual look or black booties, and you're ready for dinner with friends."
Since launching in 2007, EleVen has released five collections: Tennis Essentials, Legacy, Retro, the K-Swiss Limited-Edition Capsule, Psychedelic, and King Richard.
In November, Williams released the King Richard Capsule, inspired by her father, Richard Williams. Williams honored her father's love for intense colors and classic silhouettes by designing pieces inspired by his most memorable fashion choices, one being his iconic red shorts, as seen in the eponymous film, "King Richard."
"I'm sure my dad still has those red shorts somewhere," said Williams. "Those were his staple item for training when we were growing up. It was so fun to give his looks a modern revamp for this collection."
The EleVen collection consists of a tank top, tennis skirts, a short-sleeve polo shirt, a dress, and a cropped warm-up jacket. Williams supplies style tips and insight into her inspiration behind the item with each piece.
"[The cropped jacket] is my favorite piece from the collection," Williams said on the EleVen website. "This jacket was inspired by a jacket that my father used to wear during practice; it's something that I'll never forget. I wanted to turn it into a bold statement piece for you to love just as much as I do!"
With apparel for tennis, golf, lifting, pickleball, running, and yoga, EleVen spans a range of sports and preferred training styles. The seven-time Grand Slam singles champion was adamant when choosing sustainable fabrics with high technology for her pieces. The garments include features such as Four-Way Stretch, which allows for comfort and performance, and Pro-Dri technology that is breathable and sweat-proof. Also, the items with Ozone, as implied by the name, protect skin from up to 98 percent of harmful ultraviolet rays.
Apart from the five apparel collections, EleVen has a beauty line with a sun serum and lip balms containing SPF 15-35 for those gruesome days in the sun.
"I am a huge advocate for skin protection, so this was big for me," said Williams.
However, Williams' advocacy exceeds skin protection. According to Williams, she is a longtime advocate for equal pay. Last March, she implemented the #PrivilegeTax on the EleVen website. The #PrivilegeTax allows customers to donate 19 cents per purchase to the non-profit organization, Girls Inc.
"We chose to donate these proceeds to Girls Inc. of Greater Los Angeles because it's a charity committed to inspiring girls to be strong, smart, and bold, which is everything we stand for at EleVen," Williams said.
Williams exemplifies EleVen's mission by inspiring many through her narrative articles. The Vee Blog, also found on the EleVen website, allows Williams to share personal stories and receive comments from her supporters.
"Since creating EleVen, it's been so humbling to see the reaction from women across the country who feel inspired to push their own boundaries because of this brand," said Williams.
Williams has written and shared eleven posts since the eve of 2020. These journal-like entries affectionately signed "Love, Venus" range from entrepreneurial, wellness, and motivational topics.
The post titled "11 Principles to Live By" encourages her readers to #BeAnEleven using the rules and lessons that brought her joy, wellness, and satisfaction throughout her life.
Williams wrote, "EleVen stands for constant improvement and empowerment in the post. Eleven is the story and the result of maximum effort, which takes you past where you ever dreamed you could go, past a 10, all the way to EleVen. Being an EleVen is a continual, iterative, and daily process."
EleVen is much more than a luxury fashion line. EleVen is a wellness hub promoting empowerment, equality, self-care, and comfort to aid your journey to your most fabulous self.
(This interview has been edited and condensed for clarity.)