The iPhone X Will Apparently Help Playas Get Women According To Too Short
Here's why facial recognition is the X's best feature.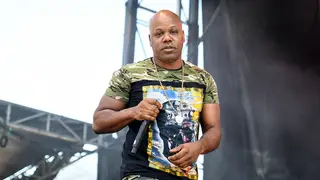 The iPhone X was recently announced at the Apple Event on Tuesday (Sept. 12), and it's coming with some brand new features. One of its most notable features that has the masses going wild is its facial recognition. While the new technology definitely provides an advanced experience for the iPhone owner, rapper Too Short says it could come in handy for bagging the ladies.
TMZ caught up with the rapper outside the TAO nightclub in Hollywood where he explained his reasoning. "We're going in the right direction," Too Short said of the upcoming Apple release. "It would work for me because I know a lot of chicks and I can't remember their name, I just turn my phone… Like, who are you." In the video, Short was seen turning his phone towards the camera, implying that it would help him keep track of which woman was which.
That's definitely the player's version of how the facial recognition feature would come into play. But a number of other fans offered alternative uses as well. Several others suggested the device could defend them against prying significant others.
Other new additions to the iPhone X include Animojis and wireless. But for all the players out there, the new cellular comes with a hefty price tag of $1,000. Nevertheless, the X will be available for pre-orders on Oct. 27.