REVIEW: 'Solo: A Star Wars Story' Suffers From Too Much Empty Space
The Force is not so strong in this one.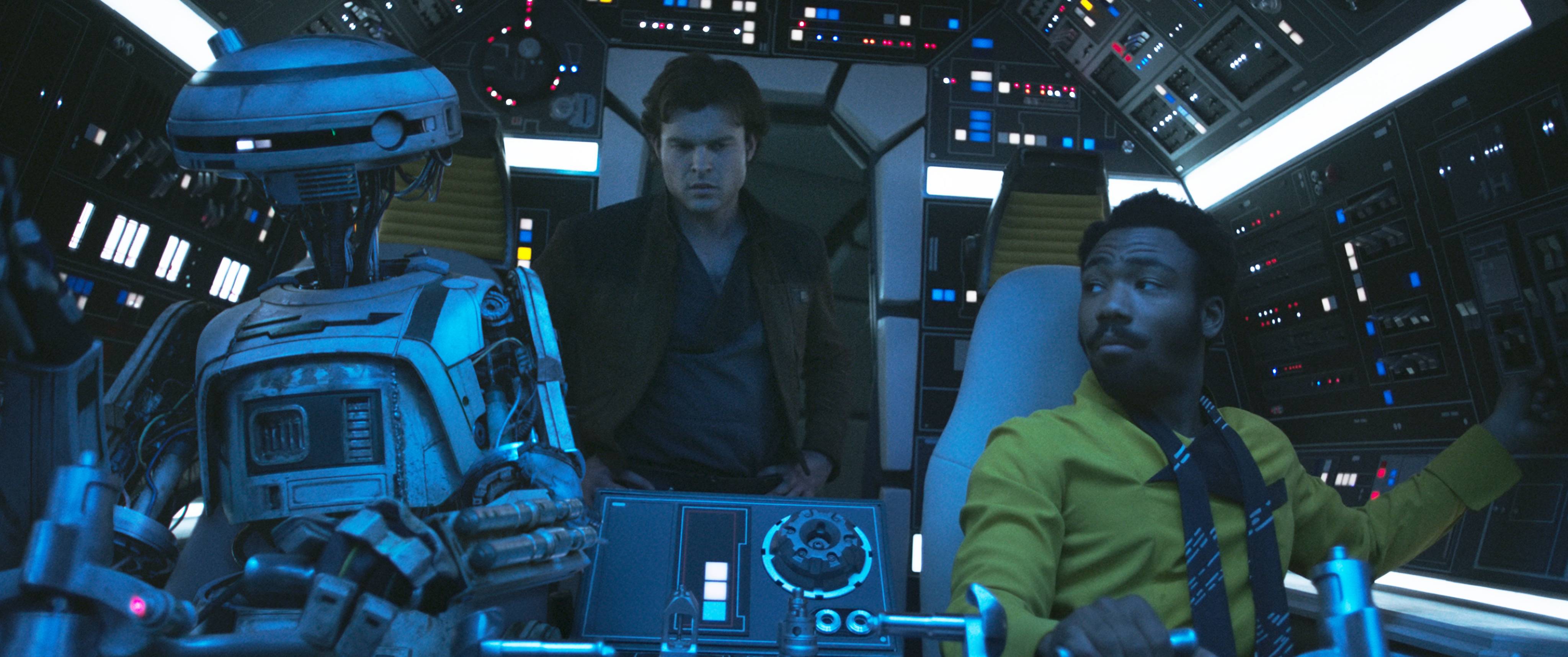 Movie prequels are a tough hustle. Typically, they try to fill in the back story on a franchise that fans love so much that the odds of ruining a good thing are high. For one, we already know what is going to happen, so where is the surprise? Also, depending on who is driving, you can raise serious continuity issues for an overly observant fandom. Hence, tackling something as ambitious as a Han Solo origin story can offer just enough exposition to be entertaining but has potential to blow up in your face like a quarter ton of Coaxium.
Solo: A Star Wars Story is the ambitious origin story of the Star Wars hero Han Solo, made famous by Harrison Ford. It's a full-circle moment for director Ron Howard, who starred alongside Ford in George Lucas' 1973 coming of age film American Graffiti.  Billed as a tangential "Story film" like Rogue One, this narrative fills in the legend of Solo and how he came to pilot his famous ship, the Millennium Falcon.
The story centers around a young Solo, played by Alden Ehrenreich, and his relationship with Qi'Ra, played by Game Of Thrones' Emilia Clarke. As teenagers, the two orphans plot a daring escape from the bonds of Proxima, a caterpillar-like boss who seems straight out the old "Contra" video game. However, the two become separated during their escape and Han vows to return for Qi'Ra as soon as he's able. During all of this we learn that Han is a bad liar who makes friends quickly. We also become privy to little tidbits like how he got his name and under what circumstance he and Chewbacca become friends. The rest of the story takes us down the rabbit hole of theft and deception as Han stumbles his way into one predicament after another in his attempts to reunite with Qi'Ra.
Han cons his way into a crew of mercenaries lead by a dusty leader named Beckett (played by Woody Harrelson). They find themselves in desperate need of a ship and Lando Calrissian—intergalactic playboy, gambler and lover of capes has one.
It's the interactions between Lando (played by Donald Glover) and Han that give Solo its color, literally and figuratively. Ehrenreich's Han is eternally uptight and lacks the charisma and wit that was imbued by Ford. He may come into his own down the line, but right now he's as fun to watch as Luke milking that walrus-creature on Ahch-To. For all intents and purposes he is the straight man to Lando's swagger. Glover gives us the ground work for Lando's confidence, cunning and survival instincts, that fans came to witness firsthand in the infamous betrayal of Han Solo in the Empire Strikes Back.
Like a good prequel, Solo takes a singular thread and stitches together a broader narrative out of it. In this case it is the famed Kessel Run, the death-defying hyperspace route that is the litmus test for the Millennium Falcon's prowess in space. Acquiring the ship and the circumstances that surround that record-breaking run are what make up the majority of the second act of the film and provide many supplemental footnotes for the Star Wars enthusiast. It is also a visual delight worthy of the Star Wars fold.
But like a bad prequel, Solo also mires us in unnecessary and uninspiring plot pockets that leave us looking for the fast forward button on the movie screen. We want to get to the stuff we know and like and how this will give us a deeper understanding of it. Solo reminds us that Han is a lovesick, stubborn yet good-hearted criminal, but not much else.
Sadly, the franchise's less than stellar representation of Black women isn't salvaged by the presence of Thandie Newton's Val, who is underutilized. And the fact that the "woman" with the most personality is Lando's Android L3-37 doesn't help.
What made Han Solo an endearing character in past films is that, despite being self-serving, he saw the bigger picture and wanted to help others. But before he comes to this realization we are dragged through his egocentric dark days of his youth. While it's well and good to plot a hero's evolution, when this rock is turned over, the ants and mold don't make for a compelling enough story. Thankfully the Han Solo legacy will not depend on the success of this film.